Ozzie Guillen: Marlins Must Fire Manager Following Community Backlash
April 10, 2012

Sarah Glenn/Getty Images
Ozzie Guillen fumbled and bumbled through a press conference that blended Spanish and English as much as he minced words. The Miami Marlins manager has been humiliated and dragged through the South Beach mud, but it's not enough, and it will never be enough. 
Miami Marlins management, Cuban-American fans and every last person who was affected by words spoken by Ozzie Guillen, the ball is now in your hands. 
The problem is that this messy situation is not black and white, rather more colored than the interior of Marlins Park. 
Let me tell you, it is possible to think one thing and say another.
At the heart of Guillen's explanation is that he was thinking in Spanish, his native language that he no doubt processes thoughts in, but he made comments in English, and what he meant to say was lost in that translation, via ESPN. 
The interpretation didn't come out as I wanted. I was thinking in Spanish and I said the wrong thing in English. 
Let me state straight out that I do believe that Guillen should be forgiven after a press conference where he looked genuine and spoke from a sense of humility. 
If the Marlins were to keep him on as manager, I would have no issue, but I am not one of millions of Cuban-Americans and the many from the exile community that now equate Guillen as something far more than just the manager. 
He is now the symbol of something sinister, and that is not easily wiped clean and forgotten. 
Towards the end of his marathon press conference, Ozzie Guillen admitted that he had made a mistake. In fact, he owned that this was, in fact, the biggest mistake of his life, via ESPN. 
This is the biggest mistake of my life. When you make a mistake this big ... I will learn from this," 
More importantly, he wanted all to know that he doens't want his mistake to affect the Miami Marlins organization, but it has.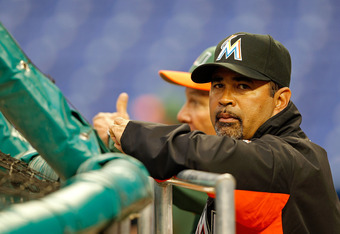 Mike Ehrmann/Getty Images
He wants you to know that everyone deserves a second chance—he has already had a few. This is hardly the first time Guillen has had to answer for his comments and, most importantly, it will not be his last.
This is who he is, and is the reason he is the best and worst manager all in the span of a few hours. He can ignite and incense in all of an inning, but he has gone too far this time. 
ESPN reported early Tuesday that the team had suspended Ozzie Guillen for five games, a reprimand that will be more than enough for many but not nearly enough for all. 
Again, he should be able to go on and lead this team, but we don't live in a vacuum where emotional ties are cut so easily. 
Guillen is supposed to be the face of the franchise, but that face is now tied to atrocities and a past that many would love to forget. 
I am not so sure that the community in Miami can move on. While I think they should, they have every right not to. 
If Guillen continues to be taken to task for poorly-thought out comments, then his reign as leader, face and manager of this team needs to end. 
The franchise moved the stadium, changed its colors and breathed fresh air into a club that had grown stale with fans. The last thing you want is a controversy leading the team.