Ranking the NFC North QBs, Pre-NFL Draft Edition
April 9, 2012

Scott Boehm/Getty Images
If there's one area where none of the NFC North teams need help in right now, it's quarterback, right?
Well, maybe one could argue the Vikings, but why throw the baby out with the bathwater when last season was not exactly one which set Christian Ponder up for success?
Beyond Ponder, though, it's really no secret that all the teams in the NFC have pretty darn good quarterbacks. I'd say, actually, that there is no other division with the talent across the board that the NFC North has.
Not the NFC South with their pretty Drew Brees, inconsistent Matt Ryan, still developing Cam Newton and spinning out-of-control Josh Freeman. Not the AFC North with Ben Roethlisberger followed by a young Andy Dalton, mediocre Colt McCoy and not-as-elite-as-he-thinks Joe Flacco. Not even the NFC East with Eli'te' Manning, oft-injured Mike Vick, inconsistent Tony Romo and potentially a rookie for the Redskins.
The North has three elite or near-elite talents with a young quarterback trying to make his way. I'd stack them up against any division in football.
Heck, I'd stack them up against each other.
In fact, that's what I did.
Here is my ranking of the quarterbacks in the NFC North.
I'll get shot at no matter who I put here, but can you really argue with this? Rodgers has made everyone forget what's-his-name and become one of the most consistent, dangerous quarterbacks in the league. In a pass-first world, Rodgers is a guy who you want on your team every Sunday.
2. Matt Stafford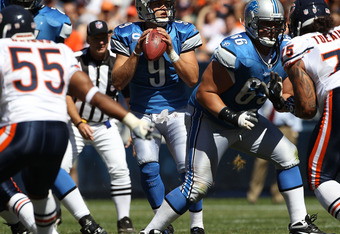 Jonathan Daniel/Getty Images
Stafford is finally getting to where we thought he could be when he was drafted. He's been hurt so much that I was beginning to worry he might be a huge bust, but this season showed us a glimpse of what we had hoped to see.
When healthy, Stafford is a tremendous quarterback with one of the deadliest receivers in the game at his disposal. If he can stay healthy long term, he will be an elite quarterback soon enough.
3) Jay Cutler
Cut.er has the talent—the questions are about his health and head. When he's on—oh man, is he something to watch. When he's rattled, he can be as disaster.
If they could only keep him from being hit like a punching bag (he is the most hit quarterback since he's come into the league) he might be able to challenge the first two for supremacy of the NFC North. Until the Bears can do that though, he's stuck in third.
4. Christian Ponder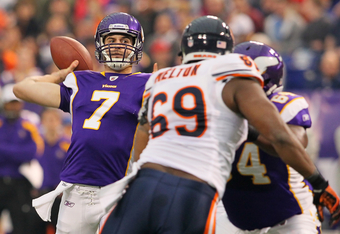 Adam Bettcher/Getty Images
I like a lot of what Ponder does, and really, given he lost Adrian Peterson, had only Percy Harvin to throw to and the offensive line had some issues, he didn't do too bad. Ultimately wins are what matters, and he needs to do more of that if he's ever going to challenge any of the top three guys.
Or even survive the next few seasons.
5. Shaun Hill
A career backup, he filled in very well when Stafford has been hurt. Not starter material perhaps but the best kind of backup—one who wins you games.
6. Jason Campbell
Campbell might have finally given up shooting for a starting job, but then again the way Cutler gets hit, he may get an audition this season. Not that he would replace Cutler, but don't think the likelihood that the starter in Chicago went down a lot in 2011 didn't enter his mind.
Campbell is limited, but a hard worker. Mind you, I don't believe he'd last long behind an O-line that gives up the hits Cutler gets.
7. Joe Webb
Webb played much better when given the chance than people expected. A long-term project who was nearly made into a wide receiver, Webb proved he can play in this league, at least as a backup.
8. Graham Harrell
I like Harrell more than Webb, but I've seen less of him. Everything I've heard from Green Bay people is that he is coming along well—which was why nobody blinked when Matt Flynn left. The Packers put on a "Quarterback Camp" every year, and when he gets a chance to attend, I think Harrell will progress very nicely.
9. Sage Rosenfels
Ah, Captain Checkdown. He'll dink and dunk, but he's not someone who will win you too many games. That's why he's a third stringer.
10. Josh McCown
McCown has not played well in his opportunities, and I don't see him doing much more than holding a clipboard for a very long time.