Chicago Cubs: What the 2013 Roster Will Look Like
April 10, 2012

Jonathan Daniel/Getty Images
Two blown saves and a 1-2 record later and Cubs fans are already calling for the release of Carlos Marmol and Kerry Wood. Dale Sveum can't escape criticism for the use of his bullpen. Some fans have already thrown in the towel for the 162-game schedule.
If we're using a three-game schedule to determine seasons, then those of you that had the Cubs finishing with more wins than both Boston and the New York Yankees, enjoy your pay day.
For the rest of us, there is still plenty to watch for this year. But there's no doubt Cubs fans are already peeking into what 2013 might have to offer.
The Cubs remained active this offseason despite the lack of a big-name signing. Will that trend continue next year as well? Who knows? But looking into a projection of next year's roster, I think it will look something like this.
Lineup
C- Welington Castillo
1B- Anthony Rizzo
2B- Darwin Barney
3B- Ian Stewart
SS- Starlin Castro
LF- Bryan LaHair
Brian Kersey/Getty Images
CF- Brett Jackson
RF- David DeJesus
Castro returns as the centerpiece surrounded by DeJesus, Stewart and Barney. Those three are all serving as the bridge to long-term solutions. Barney isn't an everyday second baseman on a championship team. Stewart has yet to prove himself while Javier Baez awaits. DeJesus will be a solid player but likely look elsewhere at the end of his current contract.
Castillo is a sure-fire pick to replace Geovany Soto next season, if not sooner. Teams like the Tampa Bay Rays could be interested in dealing for Soto this season, but regardless his contract is unlikely to be renewed when it expires at the end of the season.
Rizzo and Jackson take over and join Castro as the foundation of a championship roster. Rizzo will hit cleanup and be the left-handed power hitter the Cubs are in dire need of after players such as Milton Bradley and Kosuke Fukudome didn't work out.
Left field is the biggest question mark for next season. Soriano won't be a free agent until 2015. It may very well be his last contract and he could finish it with the Cubs. The Cubs have to eat much of Soriano's remaining $58 million over the next three years if they wish to move him.
Rumors swirl about signing Jorge Soler or seeing Matt Szczur man the outfield next season. Maybe they take over. Or maybe Soriano stays.
Soriano will put together a good enough year this year that by the July trade deadline an American League contender will bite. It takes away Soriano's weakness placing him at DH where he doesn't have to field, and he still has a capable bat that can produce.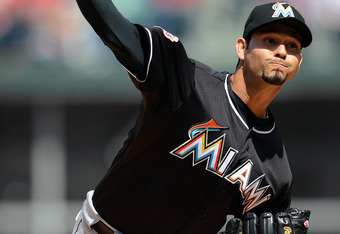 Drew Hallowell/Getty Images
As Soriano is sent off to what should be cap tips and a standing ovation, LaHair will move from first to left.
LaHair, as I've previously said, will have a good year and prove his worth. At the same time, Rizzo will be ready to take over next year and is the ideal long-term solution. With left field open and no immediate options, LaHair is the best fit.
He brings a left-handed bat that can and will produce. His glove won't be the best, but neither was Soriano's. His bat will make up for it in the short-term.
Epstein and Jed Hoyer want prospects getting at least a year in Triple-A before coming to the majors. In that case, Szczur won't be ready, and signing a free agent for one year makes little sense. LaHair is the optimal way to go.
Starting Rotation
Matt Garza
Anibal Sanchez
Paul Maholm
Travis Wood
Trey McNutt
Bullpen
SU- Kerry Wood
SU- Jeff Samardzija
CL- Rafael Dolis
Ryan Dempster's contract expires at the end of the season. It's unlikely he'll be back. Chris Volstad is a cheap option who can be moved to the bullpen.
With Matt Cain signing an extension, Cole Hamels and Zack Greinke own the headlines this offseason for free-agent pitchers. I'm not sure Epstein wants to spend the money for either, as Hamels will look for an astronomical contract and Greinke won't be cheap either.
Miami will have a tough time re-signing Sanchez this season after an offseason of spending this year. Look for the Cubs to lock up the 28-year-old with a four-year deal and insert him behind Garza.
From there, Maholm remains with the team after his $6.5 million option gets picked up.
Wood and McNutt are refining their skills in the minors this season. McNutt, the Cubs' top pitching prospect, will be on the brink of the rotation and snag the fifth spot.
Wood showed flashes of a quality starter in Cincinnati before struggling last season. A year of work in the minors will do him good.
But this mostly comes down to Samardzija. He's coming off the best performance of his career with 8.2 innings pitched against the Nationals on Sunday. He gave up just one earned run and struck out eight.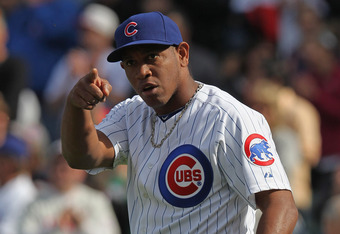 Jonathan Daniel/Getty Images
I'm still skeptical.
It's easier to get up for your first start of the season than it is in June and July. Adrenaline may have carried Samardzija through that first start.
What worries me the most was exemplified with his last pitch. Adam LaRoche took a straight fastball and drove it over the right field wall for a two-run bomb. 
Samardzija has never shown consistency in his off-speed pitches, making it easy to tee off on his fastball. Perhaps he keeps it up throughout the year, but his big arm is better suited for the bullpen if anywhere.
As far as the bullpen goes, Dolis should be and will be the closer in the future. That future is 2012.
Marmol won't finish the year as the closer, but it won't be easy finding a suitor. He makes $16 million over this season and next. At his best, he can be the best closer in baseball. But it's been few and far between that we've seen that side of him.
Dolis is a young arm with closing experience in his career. He didn't allow a baserunner in his first outing on Saturday, while Wood and Marmol imploded.
Wood will be back because of his leadership and cost. Despite how the boo birds felt on Saturday, Wood is plenty capable of handling the eighth inning. His clubhouse presence is imperative during a time of transition.
The roster isn't the ideal playoff contender, but it's a big step closer.