Yu Darvish: Everything You Need to Know About Texas Rangers Ace Before MLB Debut
April 9, 2012

Kevork Djansezian/Getty Images
At long last, Texas Rangers offseason prize Yu Darvish will be making his major league debut on Monday night against the Seattle Mariners at the Ballpark in Arlington.
There's a lot of hype surrounding Darvish's debut, which is no real surprise considering the circumstances that have led him to it. Darvish put up video-game numbers in Japan, and the Rangers ultimately shelled out over $100 million to secure Darvish's rights and then sign him to a contract.
Expectations for Darvish are through the roof. ESPN's Keith Law has predicted that Darvish will win the American League Rookie of the Year and Cy Young awards, and The Hardball Times has projected Darvish to win 16 games with an ERA well under 3.00.
But today is all about, well, today. We got to see Darvish strut his stuff in the exhibition season, but the regular season is a completely different animal. We're going to find out today what Darvish really brings to the table.
If you're on pins and needles to find out, here's a rundown of everything you need to know.
Where: Ballpark in Arlington, Arlington, Tex.
When: 8:05 p.m. ET
Watch: ROOT Sports for Mariners, Fox Sports Southwest for Rangers; streaming online via MLB.TV (minimum $19.99 payment)
Darvish Scouting Report
Note: There are numerous Darvish scouting reports already out there, including a very helpful one posted in December by Grantland's Jonah Keri. What follows is a scouting report based on what Darvish showed in the spring.
Four-Seam Fastball
When Darvish was pitching in Japan, the book on him was that he threw in the mid-90s with good command.
So far, not many changes have had to be made to the book. Unlike, say, Daisuke Matsuzaka, Darvish's velocity has carried over to the States. According to ESPN's Richard Durrett, Darvish was clocked consistently at 94 and 95 mph in his final Cactus League start against the Colorado Rockies. Darvish has also been clocked as high as 96 mph. 
The only issue with Darvish's fastball is command. I'll have more on that shortly.
Two-Seam Fastball
Darvish's two-seam fastball is nasty. It'll come in a little slower than his four-seamer, but Darvish has shown that he can run it in off the plate to right-handers and away off the plate from lefties. It's going to be a huge asset against righties, as it will allow Darvish to get the ball in on their fists for some easy outs.
Cutter
Darvish's cutter will come in at right around 90 mph per hour, and he'll use it pretty much the same way he uses his two-seamer on righties, except he'll use it on lefties. He'll run it in on their fists and get some jam shots, though he's going to have to be able to locate his fastball inside to set them up.
Slider
As you might expect, Darvish's slider is his swing-and-miss pitch. It's nice and tight with sharp movement, and it's a deadly weapon when he's commanding it. It will be fun to watch him throw it off the outside corner to righties and as a back-door pitch to lefties. Don't be surprised if the bulk of Darvish's strikeouts this season come on his slider.
Curveball
This is a tricky one, as Darvish really throws two curve balls. He'll throw a sharp, get-me-over kind of curveball and a more classic, 12-6 Uncle Charlie curveball. The latter is a pitch that he can use to freeze right-handed hitters by locating it on the inside corner, and he can also bury it in the dirt to make hitters look foolish. If he's commanding it, it's a nasty out pitch.
Splitter
Per Durrett, one scout has described Darvish's splitter as a "trap-door splitter." It will come in straight towards the plate and then fall off the table—you know, just like a good splitter should. It's yet another pitch he'll be able to use to record punchouts.
For a good look at Darvish's full repertoire, I recommend checking out the highlights from his last Cactus League start against the Rockies. MLB doesn't allow embedding, but you can head on over to the Rangers' official website to see the video.
Red Flags
The biggest knock on Darvish is his disappearing-reappearing fastball command. Durrett wrote at length about Darvish's struggles with his fastball command back in March, but we're not really talking about anything too complicated. Sometimes, Darvish throws his four-seamer for strikes, and sometimes he doesn't.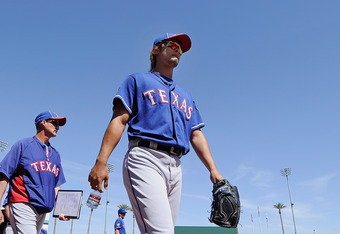 Kevork Djansezian/Getty Images
Because the rest of Darvish's stuff is so nasty, he doesn't really need fastball command to have a good outing. However, he's only going to be a Cy Young-caliber pitcher if all his other stuff is working off his fastball. If he can use it to hit the corners, he's going to be able to punch out a lot of hitters chasing stuff that starts in the zone and then breaks out of it.
There is, however, one thing that worries me about Darvish and his fastball. If you go watch the highlights of his start against the Rockies, you'll notice that he throws a couple of fastballs down and in to lefty hitters. Dexter Fowler swung through one of them, and Jason Giambi sent another into orbit.
So a word to Mr. Darvish: Be careful with that inside corner against lefty hitters. You don't want to go there.
Prediction for Monday
Darvish picked the right opponent for his major league debut. The Mariners lineup is not as hopeless as it was last season, but it's a lineup that good pitchers are going to have little trouble negotiating. 
The key for Darvish will be limiting the first three hitters in Seattle's lineup: Chone Figgins, Dustin Ackley and Ichiro. All three of them are hitting above .300 in the early goings, and they can beat you in a variety of ways. Figgins has speed, Ackley is a fantastic line-drive hitter and Ichiro is Ichiro. He had a down year last year, but he still has plenty of gas left in the tank.
Still, I'll give Darvish the edge against the Mariners. They haven't faced anybody with stuff as electric as his, and that will lead to some ugly swings and some frozen legs.
Darvish's debut is going to be a good one.
Stat Line: 7 IP, 4 H, 2 BB, 1 ER, 9 K