2012 NFL Draft: Players Whose Stock Has Soared the Most
April 9, 2012
Bob Levey/Getty Images
With the 2012 NFL draft less than three weeks away, we are starting to see the stocks of certain players rise dramatically. Whether it is warranted or not, it is certainly happening.
These types of astronomical pre-draft rises happen every single year. This year is no different. Numerous players have seen their stock soar in the past few months.
Here are the players in the 2012 draft whose stock has soared the most.
Stephen Hill, WR, Georgia Tech
Hill started the draft process as a third-to-fifth round pick, based simply on his size and athleticism.
However, after a ridiculously impressive performance at the NFL Combine, Hill is now being talked about as a potential late first-round pick.
There is no doubting the potential that Hill has to be an effective receiver in the league, but his abilities as a route runner leave much to be desired.
Considering the importance that route running has in the NFL, this is a big question mark for a first-round prospect. Will Hill become the next Darrius Heyward-Bey, or does he actually have the skill set to make an impact instantly in the league?
Quinton Coples, DE, North Carolina
Coples started the 2011 college football season as one of the top prospects in the country. However, after an unimpressive season that saw him lack any type of effort during games, Coples' draft stock plummeted to where he was hardly considered a first-round pick anymore.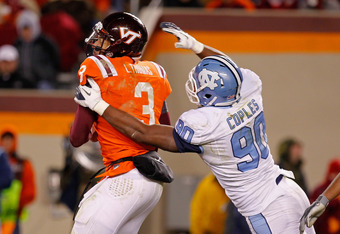 Geoff Burke/Getty Images
Then came the Senior Bowl and the combine and Coples is now back to finding himself atop most draft boards. When watching the defensive end play, it's easy to see why so many teams love him. As far as being a pure pass-rusher is concerned, there isn't anyone as elite as Coples in this year's draft.
The question mark surrounding Coples is his passion for the game. That being said, despite showing hardly any during actual football games, he may still find his name called in the first 10 picks in April.
Fletcher Cox, DL, Mississippi State
Cox is another player who was unknown to the majority of people before the NFL Combine.
He wasn't an overly productive player at Mississippi State, but it is all about potential with Cox. His crazy athleticism literally has teams drooling for the chance to draft him. His overall abilities are still raw, but when you run a 4.79-second 40-yard dash and weigh nearly 300 pounds, you'll definitely draw attention.
While the general consensus on Cox's draft spot ranges, he could hear his name called as early as sixth to the St. Louis Rams. We definitely won't see his name fall past the mid-20s.
Ryan Tannehill, QB, Texas A&M
Before the Super Bowl ended and draft season began, few people actually knew the name Ryan Tannehill.
However, now Tannehill has a legitimate chance at being drafted within the first 10 picks at the 2012 draft. If there is one player that scouts either love or hate, it's Tannehill.
He has the athleticism and skill set to be a franchise quarterback in the league. However, he is still extremely raw and undeveloped and could take a year or two to become competent enough to be a starting quarterback.
Most would say that a top-10 pick should be an instant impact type of player, yet Tannehill could very well find his name called before that pick. No player has seen their stock improve as much as Tannehill over the past month.