2012 NFL Draft: Presbyterian's Justin Bethel Is a Sleeper
April 8, 2012

Every April, small-school prospects are drafted much earlier than most would expect. These selections consistently ignite the same responses from people each and every year.
There's the common response, "Never heard of him."
The follow-up, "Never even heard of that school."
And the classic reaction, "Who the (expletive) is that?"
Justin Bethel will be drafted somewhere in the middle rounds of the 2012 NFL Draft, and when he's picked, someone is sure to question his existence.
Coming out of Blythewood, South Carolina, Bethel was largely unnoticed on the recruiting front.
The head coach at Blythewood High was given a job at Presbyterian College during Bethel's junior year, per Damond Talbot. Upon finishing high school, Bethel had just two offers: a full ride to Presbyterian and a partial scholarship to Charleston Southern.
Bethel chose to attend Presbyterian College, where he was a four-year starter for the Blue Hose. He also became the first player from the school to be invited to the East-West Shrine Game and NFL Scouting Combine.
Today, Bethel looks forward to joining the NFL ranks among players from much bigger schools and more prestigous programs.
After playing cornerback at Presbyterian, most view Bethel as a safety at the professional level. On top of displaying impressive ability in pass coverage, Bethel appeals to teams looking for a safety because of his physical nature when playing at the line of scrimmage. On top of intercepting six passes at the college level, Bethel blocked nine kicks in his four years at Presbyterian.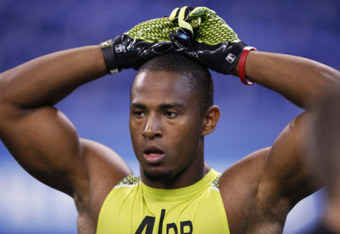 At 5'11.5" 200 pounds, Bethel has an adequate build for a safety by NFL standards but still has room to add bulk.
A somewhat similar path to the NFL was taken by Pro Bowl safety Nick Collins of the Green Bay Packers. Collins was measured at 5'11" 206 at the 2005 combine and, like Bethel, was a college cornerback at a similarly small school. After playing cornerback during his career at Bethune-Cookman, Collins has successfully made the transition to safety at the NFL level.
While combine numbers only tell a small part of the story, there are some similarities between Collins and Bethel that go further than just height and weight. Collins was clocked at a swift 4.36 in the 40 at the 2005 combine, much better than Bethel's time of 4.58, but Bethel compares favorably to Collins in other measurables.
On the 225-pound bench press, Bethel posted 19 repetitions while Collins posted 11. Bethel's vertical jump was 39.5", just half an inch shorter than that of Nick Collins; however, Bethel broad jumped 10'11", one foot further than Collins at 9'10". Despite many combine tests not applying to certain positions, both the vertical jump and broad jump apply to the safety position in that teams want their safeties to cover a wide range in the middle of the field.
Collins has been sensational in the first seven seasons; to quote Tommy Callahan, Collins has "cat-like speed and reflexes," but Bethel bested Collins's performance in the three-cone drill with a time of 6.79.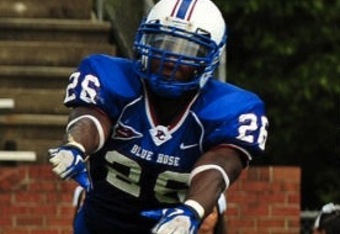 That's not to say that Justin Bethel will one day become half the player Nick Collins currently is, but between being small-school prospects and superior athletes, there are some parallels between the two players.
Footage has hit the Internet of Justin Bethel jumping a 60" box jump while standing flat-footed. If you watch the video, do yourself a favor and turn down the volume. The audio is worse than a Nickelback record.
From John Wendling jumping a 66" hurdle to Jarron Gilbert jumping out of a pool, new YouTube sensations are born in April. Standing just over 71" himself, Bethel's 60" flat-footed jump may be the most impressive draft-related YouTube hit in recent years.
NFL Draft Scout has Bethel has the eighth-best free safety and the 192nd overall player in the draft. ESPN Scouts, Inc. gives Bethel a grade of 57, which equates to a fifth-round value.
The best-case scenario for Bethel to be selected likely would be the middle portion of the third round. It only takes one team to look past the fact that he's a small-school product and instead focus on impressive showings against better competition. Bethel intercepted a pass and returned it for a touchdown against Cal and impressed scouts at the East-West Shrine Game.
If there's a team looking for a sleeper at the safety position in the middle rounds, Justin Bethel could be the guy. While the fourth or fifth round seems to be where most draft gurus think he'll be drafted, don't be surprised if Bethel comes off the board at the end of the third round.