NFL Draft: Eric DeCosta, Baltimore Ravens Normally Don't Crap out in This Game
April 7, 2012

Teams in the NFL can master their art or destiny through the systems and schemes they run. Free agency is a great shortcut for franchises to get the right individual(s) to implement into their system because they capabilities are well-documented, due to their performances in the NFL. Free agency is a crapshoot for teams, but clubs often know what their cards are.
However, the NFL draft is the ultimate high stakes game of who will be the best or a bust, and many teams around the NFL go home after the draft event broke.
For the Baltimore Ravens and director of player personnel Eric DeCosta, it is safe to say that when these high rollers stand up to the crap table, they often roll "sevens" on draft days on consistent basics. The 2012 NFL draft will be no different for the Ravens, as they system is nearly full proof, thanks to their scouts led by DeCosta.
Ravens executive vice president/general manager Ozzie Newsome said at the Pre-draft media meeting press conference:
I think it's the work that the area scouts do during the fall with Eric and Joe (Hortiz, director of college scouting) and George (Kokinis, senior personnel assistant) over the top.  And then, [it's] the involvement of the coaches during the spring. We mesh the two, and when it's time for us to get on the clock, I think we're prepared for a bunch of different scenarios and it allows us to proceed, with caution. But I think we are really prepared for any situation.

Each year before the draft starts, Eric and Pat (Moriarty) put together the draft scenario, the trade scenario – trading up four or five spots, maybe as much as 10 spots – then, trading back as far as 10 spots.  It's already prepared for.  We make calls to teams ahead of us and behind us to alert them that we have the potential to move. So, that happens every year. At 29, I think the best way to start off is you have to have 29 players, because you can't control the other 28. So, if you're on the clock and 28 players have been taken, you have to be ready to take that 29th if the phone call doesn't come.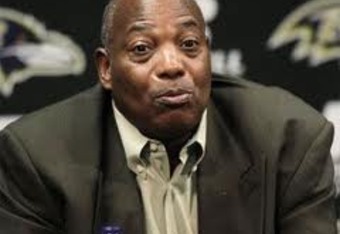 The odds of hitting a home run in the first two rounds are much higher than the later rounds. 
Kyle Boller (first-rounder, 2003), wide receiver Travis Taylor (first-rounder, 2000), cornerback DeRon Jenkins (second-rounder, 1996), defensive back Gary Baxter (second-rounder, 2001), defensive tackle Dwan Edwards (second-rounder, 2004) and wide receiver Mark Clayton, linebacker Dan Cody and offensive tackle Adam Terry (2005) did not live up to expectations. 
Other than them, the Ravens have been money in the first two rounds of the NFL draft since day one in Baltimore.   
From 1996 to 2011, here are the players who the Ravens drafted in the first two rounds:
Offensive tackle Jonathan Ogden (1996)  Defensive tackle Haloti Ngata (2006)  
Linebacker Ray Lewis (1996)           Center/guard Chris Chester (2006)   
Linebacker Peter Boulware (1997)    Guard Ben Grubbs (2006)
Linebacker Jamie Sharper (1997)     Quarterback Joe Flacco (2008)  
Safety Kim Herring (1997)                Running back Ray Rice (2008)
Cornerback Duane Starks (1998)      Tackle Michael Oher (2009)
Wide receiver Patrick Johnson (1998)
Linebacker/defensive end Paul Kruger (2009)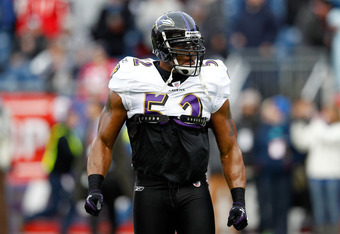 Rob Carr/Getty Images
Cornerback Chris McAlister (1999)   Linebacker Sergio Kindle (2010)   
Running back Jamal Lewis (2000)      Defensive tackle Terrence Cody (2010)  
Tight end Todd Heap (2001)              Cornerback Jimmy Smith (2011)  
Defensive end Anthony Weaver (2002)
Wide receiver Torrey Smith (2011)  
Safety Ed Reed (2002)
Linebacker Terrell Suggs (2003)
That is 24 out of 32 selections, which has paid or is paying off for the Ravens.
However, Baltimore has made their name, and money, from selecting solid talent in the later rounds of the draft, which is by far more difficult and where most teams in the NFL crap out.  The Ravens are recognized as one of the best, or if not the best, teams on draft day for selecting countless solid players in the later rounds.
Such players like Casey Rabach (2001), Marshal Yanda (2007), Lardarius Webb (2009), Ed Dickson (2010), Edwin Mulitalo (1999), Jarrett Johnson (2003), LeRon McClain (2007), Dennis Pitta (2010), Jermaine Lewis (1996), Dawan Landry (2006), David Reed (2010), Pernell McPhee (2011), Adalius Thomas (2000), Chester Taylor (2002), Sam Koch (2006), Ed Hartwell (2001), Jason Brown (2005) and Haruki Nakamura (2008), to name a few, were all successful selections for the Ravens.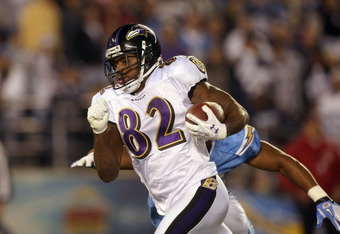 Donald Miralle/Getty Images
Not to mention the star undrafted rookies free agent they discovered in Mike Flynn (1997), Priest Holmes (1997), Will Demps (2002), Bart Scott (2002), Maake Kemoeatu (2002), Jameel McClain (2008), Dannell Ellerbe (2009) and Morgan Cox (2010).
Each year, the Ravens establish a deep draft board of names.  When it is selection time, they chose the best talent available from their chart.  So, do not be surprise if the Ravens select guys like wide receiver Dwight Jones from North Carolina, offensive tackle Ryan Miller from Colorado and defensive tackle Derek Wolfe from Cincinnati.
If they take them, they could be impact players for Baltimore.
DeCosta said:
We'll have about 150 names of guys we think are draftable. In reality, most of our draft picks – in a good year – most of our draft picks will come from our Top 100. That doesn't always happen; sometimes we have to go outside of the lines. There have been a couple years where we've actually had to pull a few players up from outside our 150, but that doesn't happen very often.
DeCosta went into more detail of the team's drafting process, where character plays a role, saying:
We are bringing guys in to give them additional physicals and check them out. Sometimes that changes.  The medicals can change, as you know. It doesn't happen a lot. In terms of the character stuff, we have discussed taking guys off the board. Ultimately, that is going to be up to Ozzie and Steve…Typically, we'll take off, on average, about 10 guys that will fail physicals that we think are draftable players for us. More than that, fail their physicals, but we don't necessarily consider those guys to be draftable players for us, so it doesn't really matter.

In terms of the character guys, it varies from year to year.  It could be anywhere from, I would say, five to 10 guys that we would typically take off the board because of various character things," he added. There is no absolute-type of thing. I think one of the things that we're all concerned about is repeat behavior.

It's not necessarily that the guys does one thing that is really, really stupid, but when you see a pattern develop over the course of two, three, four years where he continues to do destructive things, whether it's substance related, whether it's domestic-type stuff, whether it's criminal-type stuff, that's when we really get concerned.  And as I said, that's when Ozzie and Steve talk about these guys, with all of the information. They will make those decisions.
Most specifically, the initial gut feeling in drafting a certain player does play a role, but according to DeCosta in a conversation, selecting is more of an art than science. He explaiined:
I don't think it's a science…I can't think of a specific player (being a gut selection), but I will say this about the draft, we try to make it a science, we really do in a lot of things that we do and in the end, it's probably more of any art than a science.  There are more things involved, it's a big picture thing, a lot of bits and pieces of information.

It's gut instinct, it's experience, which I think is really, really important," he added.  Having to run a draft for many years working with Ozzie…It's past things that has happened.  It's memories and it's gut and also with a little science involved and it all works together like a mosaic.  And it just ends up doing the best you can and at the end, you have to make a pick and hope to hit.  You can't run away from it (the selection) and pick the guy.
The Ravens now have eight picks for the 2012 NFL draft (two fifth-round selection and one in all other rounds) after receiving two compensatory selections—a fourth-round pick (130th overall) and a fifth-round selection (169th overall).  
When the Ravens were established in Baltimore in 1996, DeCosta joined the franchise.  For a non-athlete in the NFL, DeCosta is one of the hottest names in the league for personnel.  Yearly, several organizations around the league seek for DeCosta's services due to his record of accomplishment. 
Fortunately, for the Ravens, this Boston native is stable and is in love with Baltimore and the Ravens' organization.
Apparently, DeCosta will continue to find hidden jewels for Charm City's finest. He grinned and said:
I just love it here, you know.  I grew up in Boston and I saw Larry Bird and those guys, I saw what Ozzie has done in Cleveland as a player and here in Baltimore.  I think guys sometimes want to move around for a lot of different reasons and I' m just not wired that way.  So, we (his family) are happy here, my wife loves it here, she's from Baltimore and I think this is the best organization in sports, quite honestly.
Barry Barnes is a featured columnist for Bleacher Report. Unless otherwise noted, all quotes were obtained first-hand.