2012 NFL Draft: Analyzing the Chicago Bears' 1st Round OL Prospects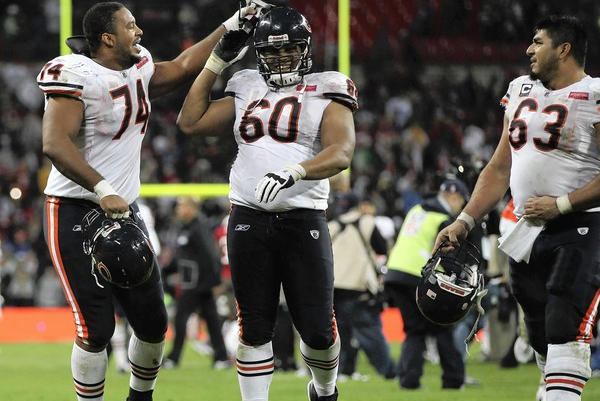 These guys may look happy, but they are in dire need of some help.
In part two of this series analyzing possible first round draft picks the Chicago Bears may choose in the upcoming draft, we will take a look at some of the available prospects on the offensive line.
The offensive line of the Bears has long been a recurring issue that has yet to be resolved. Last season, the Bears line ranked 28th in sacks allowed giving up 49. One thing we do have to acknowledge is the absence of Gabe Carimi and Chris Williams. Carimi had shown flashes of promise and Chris Williams was excelling as a pulling guard, sticking impressive blocks for Matt Forte on a number of occasions.
Despite the prospect of the line taking steps in the right direction, it's still an obvious weakness. Without question though, the biggest area of concern resides at the left tackle position where J'Marcus Webb was rated by Pro Football Focus as the leagues worst left tackle, allowing 38 quarterback pressures.
Taking all of this into account, let's take a look at some of the possible offensive lineman that could be available for the Chicago Bears.
Begin Slideshow

»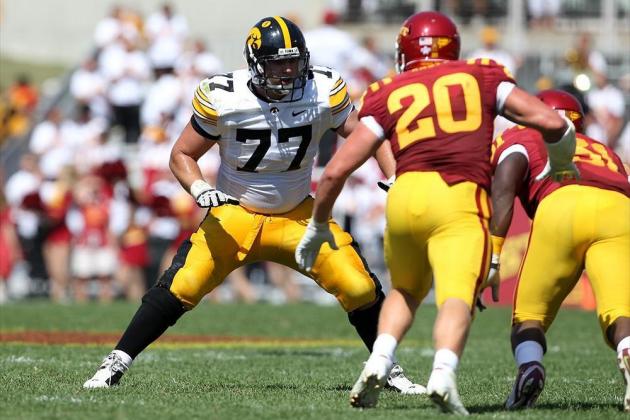 Riley Reiff is an immediate starter at left tackle...he also most likely won't be available.
Throughout his career, Riley Reiff has been thought of as a first round draft pick. His size and experience on the offensive line have given scouts reason to believe he has the skill set to excel in the NFL.
After redshirting his first year at the University of Iowa, Reiff played left tackle, left guard and right tackle while starting all but two games. Over the next two seasons, Reiff only played the left tackle position and received praise from scouts and coaches, which led to being awarded All-Big 10 and All-American.
At the combine, Reiff measured in at 6'6", 313 lbs with a 33.25 inch arm length, with the arm length being the only negative they could identify. The issue with arm length has caused some scouts to say that he won't be able to excel at the left tackle position in the NFL, but other than that, he's thought of as the number two tackle prospect behind Matt Kalil.
If for some reason Riley Reiff falls to the Bears at No. 19, it would be wise of them to solidify the left tackle position by drafting him.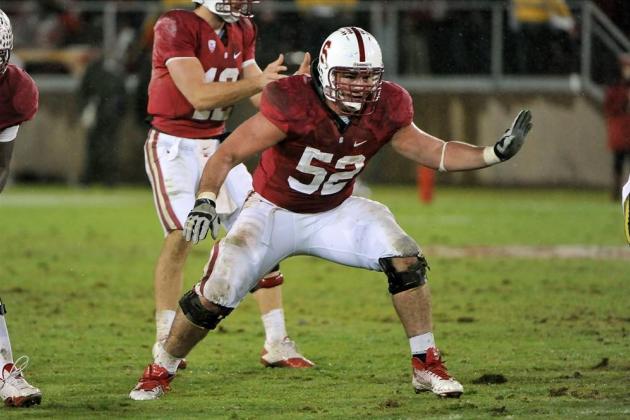 David DeCastro helped Andrew Luck become the #1 draft pick he's about to become.
David DeCastro is a right guard.
Right. Now that we have that out of the way, DeCastro is also one of the best guards to come out of the draft in a long time. We all know there is no such thing as a guarantee pro-bowler in the NFL draft (think back to Crabtree, who was touted as one of the best receivers in years), but DeCastro is about as close as they come.
DeCastro has excellent size at 6'5", 316 lbs and was a big reason why Andrew Luck had the protection needed (the line allowed nine sacks in the 2011 season) to showcase his rare talent that has caused him to be the future number one pick in the NFL draft. On top of those stellar stats, DeCastro has also not missed a game since being named the starter. Awards he has won include being named a unanimous All-American as well as first team All Pac-10.
DeCastro has been projected to go anywhere from pick 11 to a pick or two before the Bears. If he were available when the Bears pick, they would be drafting a 10-year starter at the guard position which could possibly allow Chris Williams to give another shot at left tackle, his drafted position.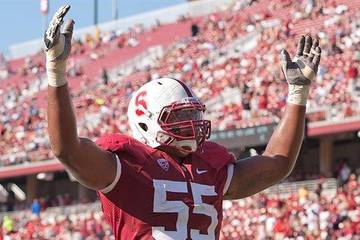 Jonathan Martin just may be the tackle that can stabilize the offensive line.
In the previous slide we discussed David DeCastro and how instrumental his blocking was for the University of Stanford's Andrew Luck to display his skills.
This guy has a big hand in that same offensive line unit that allowed a mere 24 sacks over a three year span. Jonathan Martin was a three year starter at Stanford who started 37 of a possible 39 games. He missed two games in three seasons at Stanford; that breathes pretty darn good durability.
Coming into the NFL combine Martin was measured at 6'5", 312 lbs and a slightly longer arm length than Reiff, being taped with 34 inch long arms. Scouts were particularly impressed with how technically sound he was and how well he carried his size. Martin was also touted as "simply an NFL-ready tackle who possesses all the traits." That sounds like just the kind of left tackle the Bears have been looking for.
Mock drafts have Martin going anywhere from pick eight to pick 22, but if he is available when the bears pick at 19, I would be ecstatic at the drafting of him.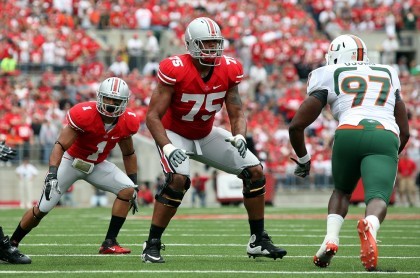 Mike Adams remains a gamble at the tackle position.
When you look at Mike Adams' measurements, he's hard to ignore. Towering at 6'7" and weighing in at 323 lbs while also having 34 inch long arms, Mike Adams displays the ideal size for an elite left tackle.
The issues with Adams comes when you look at his tape and injury history.
Adams has been pinned by scouts as a player who doesn't put in full effort at times, which causes him to lose battles at the line and allow defenders to speed by him. His footwork has also been called just good enough to not get beat at the collegiate level. If it's just good enough to not get beat at the collegiate level, what does that mean when he moves into the NFL?
In addition to his issues with work ethic and footwork, Adams also has cause for concern with injuries. In 2008, Adams underwent shoulder surgery while also sustaining a season-ending foot injury. In addition, Adams also missed five games in 2009 due to a knee injury.
Despite the injuries and issues with footwork, most scouts believe Adams has the makings to develop into a quality left tackle. Most mocks project Adams to be drafted between picks 23 and 32, so if the Bears did look to draft him it is highly likely they would trade back to avoid reaching for Adams.