2012 NFL Draft: Is There Any Way Green Bay Goes Offense with Its First Pick?
April 7, 2012

It's nearly impossible to know exactly what Packers GM Ted Thompson is thinking less than three weeks from day one of the NFL draft.
After all, Thompson is the guy who once used the 16th overall pick on Justin Harrell when Green Bay's strongest position was likely defensive tackle. In 2008, Thompson drafted Jordy Nelson with his first pick despite already having established veterans Greg Jennings and Donald Driver on the roster, just one year after spending a third-round pick on James Jones.
For a while, trying to predict the Packers' draft plans was so difficult that it became simple. The rule of thumb seemed to be as follows: Ted Thompson will draft exactly who you think he won't.
Just weeks away from the first round, the vast majority of those familiar with the 2012 NFL Draft expect Green Bay to focus on the defense early and often.
In my personal opinion, it's clear that the Packers' personnel on offense is better than that of the defense as it stands today; and thus, it seems likely that Green Bay would prefer to use its first selection on the defensive side of the ball.
However, it isn't always safe to assume when it comes to Ted Thompson.
If the Packers choose to spend the 28th pick on an offensive player, the most likely selection would seem to be Wisconsin center Peter Konz. With Jeff Saturday being the answer for only the short term, Green Bay's future at center is cloudier than any other position on the offensive line. Assume Konz is already off the board or the team simply passes on him, what other offensive prospects could be considered by the Packers in Round 1?
Again, it's pretty evident that the majority of Green Bay's deficiencies are on the defensive side of the ball, but it'd be foolish to think the Packers would simply ignore the first-round talent on offense.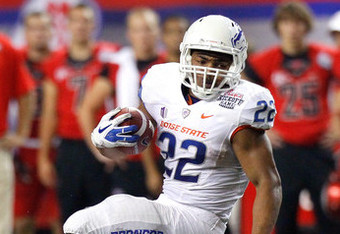 No matter what they think of Brandon Weeden, Kirk Cousins or anyone else for the matter, the Packers won't be spending a first-round pick on a quarterback.
Despite the importance Ted Thompson appears to place on wide receivers, it would be a complete stunner if Thompson spent the 28th pick on a pass catcher. Green Bay has a pair of elite players on the outside in the form of Greg Jennings and Jordy Nelson. Armed with capable backups in Randall Cobb, Donald Driver and James Jones, the Packers may have five starting caliber receivers.
The Packers have two of the league's best 21 offensive guards in Josh Sitton and T.J. Lang, and the two likely first-round guards—David DeCastro and Cordy Glenn—both figure to come off the board in the first 24 selections.
Green Bay has spent its first-round pick on an offensive tackle in consecutive seasons, and Marshall Newhouse filled in adequately in the absence of Chad Clifton for an offense that shattered several team records.
There's a decent chance a first-round talent at the position will be available with the 28th pick. Ohio State's Mike Adams is projected to go in the middle to late portion of Round 1, and some see Jonathan Martin in the same area while others consider him a solid second-round guy. Ole Miss offensive tackle Bobby Massie has been mentioned as a dark-horse candidate to go late in Round 1, but the Packers appear to be in solid shape at the position.
In late February, starting tight end Jermichael Finley signed a two-year extension with Green Bay worth about $15 million.
Behind Finley, the Packers are stacked at the position. D.J. Williams was relatively quiet in his rookie season, but fellow 2011 draftee Ryan Taylor showed promise in the preseason and QB Aaron Rodgers has spoken highly of Taylor on multiple occasions. Andrew Quarless suffered a season-ending injury in 2011, but he's shown improvement on the field and, perhaps more importantly, between the ears.
However, if Ted Thompson thinks highly of Stanford's Coby Fleener, that could be at least a slim possibility in Round 1.
While nearly all draft enthusiasts consider Fleener to be the top tight end in the draft, opinions on him vary widely. Some think Fleener is good enough to go in the middle of Round 1, possibly to the Chicago Bears with the 19th pick, while others think he's not worth anything more than a pick in the middle of the second-round.
In his last two seasons at Stanford, Fleener caught 62 balls for 1,101 yards and 17 touchdowns. Forming a natural connection with top 2012 prospect Andrew Luck, Fleener appears ready for the professional game and he answered any questions about his athleticism by running a 4.45 at his March 22nd pro day.
Head coach Mike McCarthy is creative in getting his best players on the field, so Fleener would see playing time on a rookie despite having a surplus of pass catchers already on the roster.
Green Bay's weakest position on offense seems to be running back. When he's been able to get on the field, James Starks has shown flashes of brilliance early in his career. Last year's third-round pick Alex Green was impressive in preseason action, but his 2011 season ended early due to a torn ACL. Ryan Grant is an unrestricted free agent and seems to be generating no interest whatsoever on the free agency front.
The running back position has been devalued to a degree as the NFL has transitioned into a pass-first league, but rare talents like Trent Richardson still find their way into the first 10 selections.
After Richardson, there are three running backs who figure to have at least a glimmer of hope at going towards the end of Round 1.
Miami speedster Lamar Miller, an early entry with just two years of college football experience, ran the fastest 40-time at the combine among running backs. It's possible that a team could fall in love with his burst and take him in the first round, although most think Miller will be selected at some point in Round 2.
Virginia Tech's David Wilson is an impressive athlete, and a highlight reel waiting to happen at the running back position. Wilson pumped out 1,709 yards on the ground last season and averaged a gaudy 5.9 yards per carry in his first year as the full-time starter.
Both Miller and Wilson will most likely be selected in the second round, but it's possible that one of them could sneak into Round 1.
If the Packers choose to grab a running back with their first-round pick, the likeliest possibility would be Doug Martin from Boise State. More so than Lamar Miller of David Wilson, Martin has the looks of an every-down back when it comes to running between the tackles, catching the ball and pass blocking out of the backfield.
When I watch Doug Martin, I see Ray Rice. At the combine, Rice measured a stout 5'8" and 200 pounds, while Martin checked in at a sturdy 5'9", 223 pounds.
Although college teams rarely ask much of their running backs in the passing game, both Rice and Martin showed the ability to catch the football at the collegiate level. Rice caught 25 passes in his final year at Rutgers, and Martin had 28 catches and two touchdowns in each of his two seasons as Boise State's starting running back.
A very peculiar and subsequently unlikely situation would have to unfold on draft day for me to consider running back as Green Bay's smartest option in Round 1, but Doug Martin is the only back I could possibly see the team drafting with the 28th pick.
While it seems quite likely that the Packers will select a defensive player with their first selection, they will certainly do their due diligence on potential first-round offensive prospects as well. If Green Bay chooses to bolster an offense that already is among the league's best, the assumption would be that Peter Konz would be the most likely selection.
Beyond Peter Konz, there are just a select few who would make any sense whatsoever for the Packers at the 28th pick.