Chicago Bears 2012 Draft: Analyzing the 1st Round Prospects by Position—WRs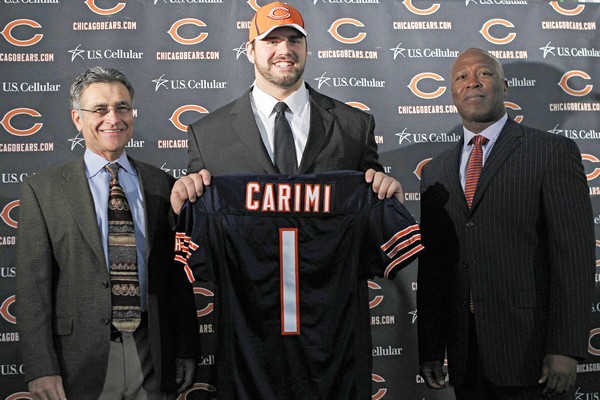 Ignore the guy on the left...he won't be picking anymore. Promise.
The Chicago Bears organization has initiated a new era within the NFL draft.
No longer will we have to stand idly by and watch as Jerry Angelo makes bone-headed picks in the first two rounds, only to later see those picks become released and join other teams, or fail to play in the NFL again.
With the Arrival of Phil Emery, we have obtained a quality draft scout who knows what to look for in potential draft picks, someone who is determined to fill our roster with quality players without wasting those precious early round picks as Angelo did for so long.
Taking all of this into account, in this four part series, I'm going to list and provide some information (stats and such) about potential players Phil Emery could select with the first pick in the 2012 NFL draft.
Positions reviewed will be wide receiver, offensive line, defensive end, and defensive tackle.
Let's take a look at some of the potential wide-outs now.
Begin Slideshow

»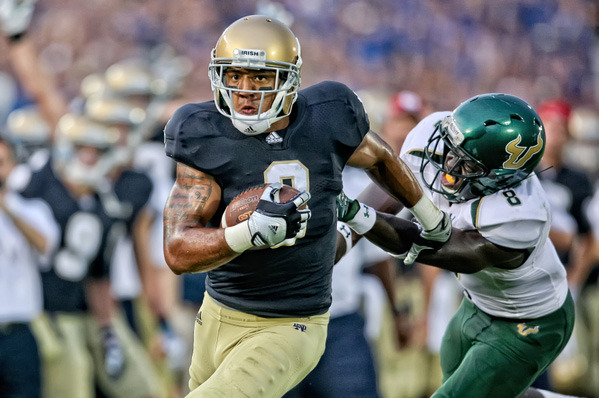 Michael Floyd is an absolute beast...who may no longer be available when we pick at #19.
Michael Floyd, prior to the combine and acquisition of Brandon Marshall, had been the common consensus draft pick by the Chicago Bears at No. 19.
After the combine and his stellar pro-day in which he received rave reviews, Floyd is projected to go prior to the Bears selection. That being said, I know there are many Bears fans who are still holding out hope that Floyd falls to us, thinking he will complement Brandon Marshall in a way that would give us one of the elite passing attacks in the NFL.
At 6'3", 220-lbs Michael Floyd is a big physical receiver who also has the ability to block very well down field. Consistently a game changer at Notre Dame, Floyd's ability to fight for the ball while also being able to get separation due to his polished routes, allowed Floyd to rack up 100 receptions, 1,146 and nine touchdowns his senior year.
At the NFL combine Floyd impressed scouts with his speed (clocked at 4.47 in the 40-yard dash) which was an initial concern.
Other concerns in regards to Floyd include a few drinking tickets he acquired in college, but taking into account his impressive athletic ability it's doubtful that will steer any teams away from drafting him. Lovie Smith and Phil Emery were both spotted at Floyd's pro-day.
If Floyd is available when the Bears pick, I think I can safely say that the Bears must draft him simply because he's too rare of a prospect to pass on.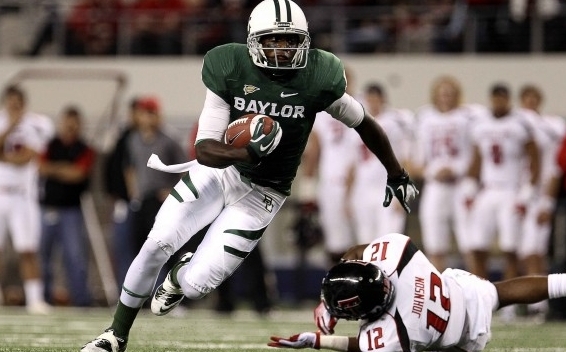 Kendall Wright would be an excellent compliment to Brandon Marshall.
Kendall Wright came into the combine being touted as the second best receiver in the draft. After the combine, along with Michael Floyd's impressive pro-day that perception has changed.
Playing at Baylor with Robert Griffin III, Wright was able to rack up an amazing 1,663 receiving yards, on 108 receptions while also reeling in 14 touchdowns. Those stats are too impressive to ignore.
Known as a speedster, Wright severely disappointed at the combine running an official 40-yard dash time of 4.61—hardly a time someone advertised as a speedster should run.
Despite the atrocious 40-time ran by Wright, scouts claimed that his game speed is much faster than he displayed at the combine, and he would rectify his mishap at his Baylor University pro-day. Boy did he. Being clocked consistently in the mid 4.4 range, Wright caught nearly every ball thrown to him by RG3.
His showing at his pro-day certainly helps, because at 5'10", 196 pounds, Wright looks to be a slot receiver in most offenses. That kind of skill and speed could be appreciated in the Chicago Bears offense opposite Brandon Marshall.
Wright looks to be available when the Bears pick, so expect them to at least consider the drafting of Wright.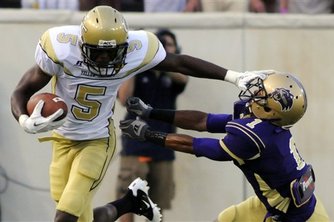 Stephen Hill seems to be the biggest question mark in the draft.
Stephen Hill came into the NFL Combine as one of the unknowns.
Receivers like Justin Blackmon, Michael Floyd and Kendall Wright were the stars, and all eyes were on them. That has changed.
Playing at Georgia Tech as a junior, Hill caught only 28 passes, while also racking up 820 yards with five touchdowns. Those numbers are less than flattering, except the yards per catch (29.3 YPC). These numbers, along with the fact that he played at Georgia Tech (a school not typically known to produce receivers outside of Calvin Johnson), made Hill unimpressive coming into the combine.
Hill measured in at 6'4", 215 pounds upon arrival. Despite his staggering size, Hill was clocked on the 40-yard dash at a 4.36—the fastest time at the combine. That size and speed is something you don't see every day, so immediately, scouts began to take notice.
Since the combine, Hill continued to impress at his pro-day with his ability to run routes, which was a primary concern. Hill seems to be the biggest gamble in the draft being a receiver with a unique size and speed, giving him an incredible up side.
Hill will almost certainly be available for the Bears to select, but I personally think there is simply too much risk and other positions to address. It is worth noting though that Lovie Smith did attend Stephen Hill's pro-day, as well as had dinner with him, so you never know.