Chicago Cubs Trade Rumors: Marlon Byrd to Washington Nationals for John Lannan
March 29, 2017
Sarah Glenn/Getty Images
According to ESPN.com's Rumor Central feature, the Nationals are entertaining offers for left-handed starting pitcher John Lannan, who reportedly has requested a trade after being optioned to the minor leagues in a surprising transaction.
Gordon Wittenmeyer of the Chicago Sun-Times writes that the Cubs have inquired about Lannan, and added that Marlon Byrd could be a candidate to be traded to Washington in return.
This move wouldn't be a shock, as Theo Epstein and Jed Hoyer have made it a point to build rotation depth, knowing how the lack of starting rotation depth in 2011 negatively affected the club.
However, while that concern has been addressed, the bullpen follies continue. Set-up man Kerry Wood and closer Carlos Marmol picked up where the Cubs bullpen left off last year, combining to blow a late 1-0 lead in an opening day loss to these same Nationals.
But instead of looking for bullpen help, the Cubs are apparently still evaluating starting pitchers. The main obstacle to such a trade is Lannon's salary. He makes $5 million, despite losing his arbitration case, so there will be teams expecting Washington to pay a chunk of that salary.
But in the ESPN post, Doug Mittler reports that "the Nats are unwilling to eat any of his salary."
Still, this move is questionable to me since the main reason that Lannan is unhappy in the first place is that he wants to start in the majors. But where is the opening in Chicago right now for Lannan?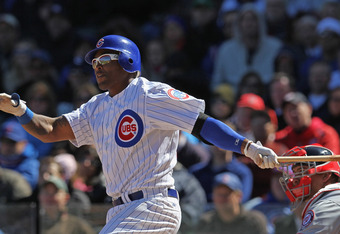 Jonathan Daniel/Getty Images
Ryan Dempster, Matt Garza and Paul Maholm are cemented as the first three starters in the rotation. And much has been made of the Jeff Samardzija experiment and how much improved he looked in the spring, so I hardly see that changing without even one start under his belt.
So that leaves only Chris Volstad and given that he was the centerpiece of the Carlos Zambrano swap, and hasn't even had one start for Chicago, I can't see him leaving the rotation so soon.
But the main reason I don't like this rumor is that Lannan is just not a very good pitcher.
All that said, I figure this is just a lot of noise. Plus, I don't expect Byrd to be dealt until Brett Jackson is ready. Epstein has said so himself—the needs of the ballclub will not dictate when Jackson and Anthony Rizzo get called up, it will be their development being the deciding factor.
As for Lannan, the 27-year-old southpaw has a career record of 38-51 with an ERA of 4.00 in parts of five seasons. He has struck out 393 in 751 innings, so he is not a strikeout pitcher. He has thrown two complete games and one shutout. 
Lannan has been very hittable in his career, having given up 787 hits in those 751 innings. FanGraphs suggests that his ERA of 101 is better than his FIP/xFIP would suggest is sustainable. 
Perhaps the Cubs are simply laying the groundwork for a mid-season deal. At some point this season, I do expect both Jackson and Rizzo to be in the Cubs starting plans, and Byrd will almost certainly be traded.
But not now. And hopefully not for Lannan.