MLB Opening Day 2012: Grading the Performance of Every Team's Ace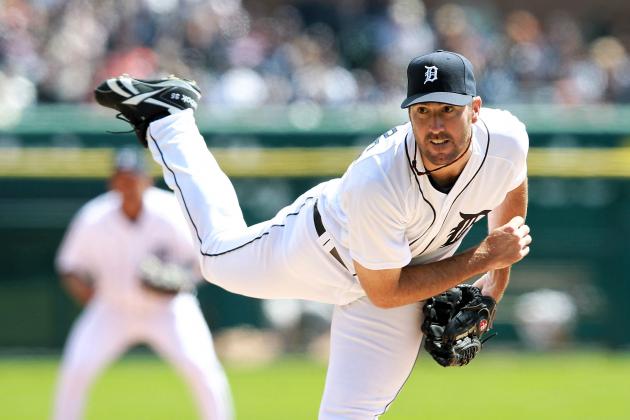 Leon Halip/Getty Images
Justin Verlander
Grading the performance of every team's Opening Day pitcher was an easier task than normal because, for the most part, the hitters were overmatched in every game.
As it turned out, 10 of the 14 teams that played Thursday scored three or fewer runs, with teams like the Red Sox, Tigers and Blue Jays waiting for the starters to leave the game to wake up.
Thus, even though some teams started the season 0-1, the fans of these teams—namely the Pirates, Braves and Cubs—should focus on the positives that came out of Opening Day rather than the bump in the road.
With that, here are my grades for every team's Opening Day starter!
Begin Slideshow

»
Nick Laham/Getty Images
Johan Santana
Coming back from a torn anterior capsule, Johan Santana could not have had a better debut.
Santana pitched five scoreless innings, giving up only two hits and two walks while striking out five. Despite his velocity hanging around 87-90 mph, Johan retired 12 consecutive Braves hitters at one point, and he showed he still had the devastating changeup that made him one of the best pitchers in baseball from 2004 to 2008.
With a Mets win in the books, today could not have gone any better for Santana or the Mets franchise.
Grade: A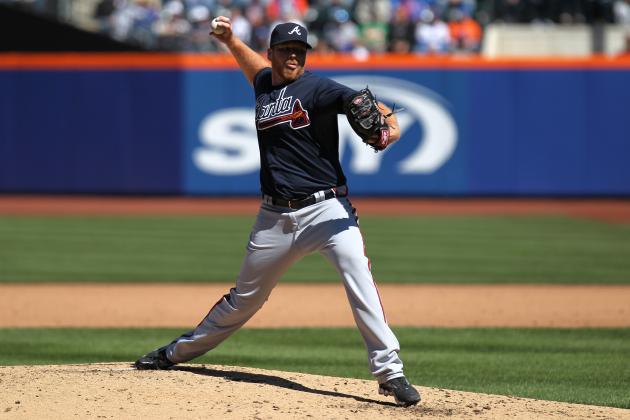 Nick Laham/Getty Images
Tommy Hanson
I am going to give Tommy Hanson a break for this game, because it appears he just ran out of gas.
For the first five innings, Hanson was spectacular, limiting the Mets to four baserunners while showing off a great curveball throughout his outing.
At the start of the sixth inning, however, everything fell apart.
Hanson allowed the first three Mets hitters to reach base, and David Wright ended his outing with an RBI single. If it was not for a great relief appearance by Kris Medlen, Hanson's stat line would have looked a lot worse.
As a Braves fan, I would focus on the fact that Hanson looked healthy and strong for five innings and realize he just needs to regain his endurance, and that will come with time.
Grade: B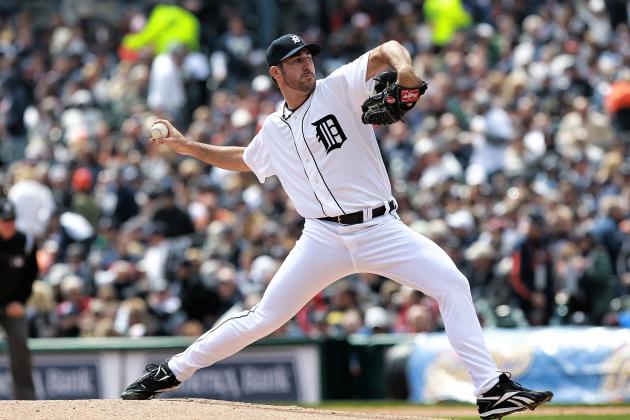 Leon Halip/Getty Images
Justin Verlander
From the looks of things, it appears the Cy Young and MVP in the same season were not enough for Justin Verlander.
With a national TV audience watching, the Tigers ace turned a loaded Red Sox lineup into an overmatched minor league team, giving up two hits and one walk in eight shutout innings. The only reason he did not finish the game is because he had already thrown 105 pitches.
Even though today was a tremendous day for pitchers throughout baseball, Verlander was easily the best pitcher of them all.
Verlander: A+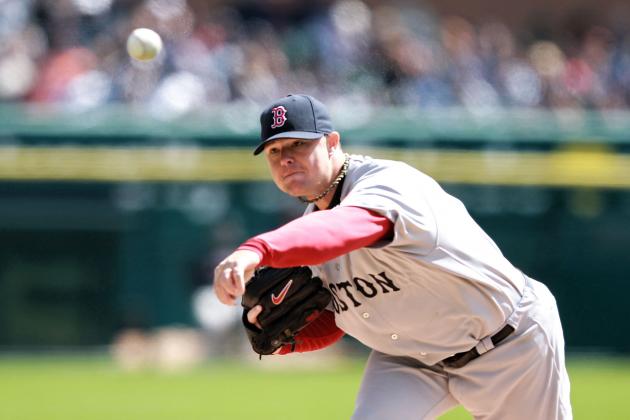 Leon Halip/Getty Images
Jon Lester
Jon Lester had the unfortunate task of playing against Verlander and the loaded Tigers lineup, but he was certainly up for the challenge.
Lester only allowed one run in seven innings, keeping his team in the game long enough to stage a ninth-inning rally. While the comeback did not last very long, Lester generally starts slow in April, so the fact he looked so good against such a great lineup is a positive sign for the Sox moving forward.
Grade: B+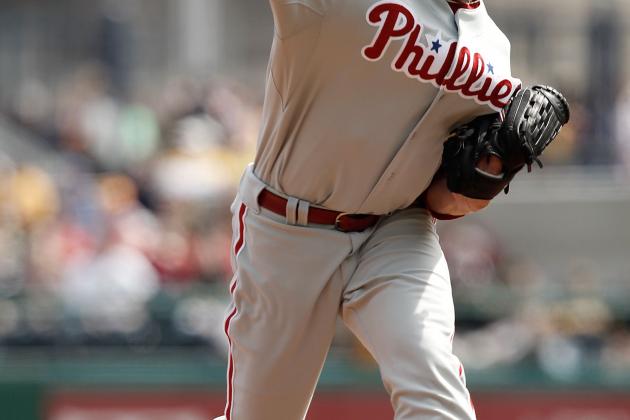 Jared Wickerham/Getty Images
Roy Halladay
Well, so much for Halladay's reported spring training decline.
Although it was against the lowly Pirates, Halladay's dominance today is yet another reason why you cannot take spring training statistics seriously. In eight innings, Doc only gave up two hits, did not walk a single batter and struck out five hitters, throwing only 92 pitches.
A week from now, Halladay would have stayed in the game for the complete-game shutout, but with a shiny new toy in Charlie Manuel's bullpen, Jonathan Papelbon came in for the save.
Grade: A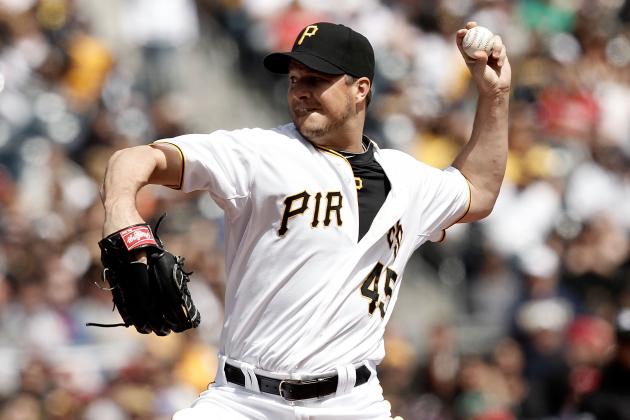 Jared Wickerham/Getty Images
Erik Bedard
Wow.
If Erik Bedard can pitch like this all season long, the Pirates will be competitive in the NL Central for most of the year, if not the entire season.
While the Phillies are nowhere near their full capacity with the injuries to Ryan Howard and Chase Utley, they can still hit, and Bedard shut them down. He needed only 81 pitches to get through seven innings, only allowing one run on six hits and a walk to go along with four strikeouts.
Grade: B+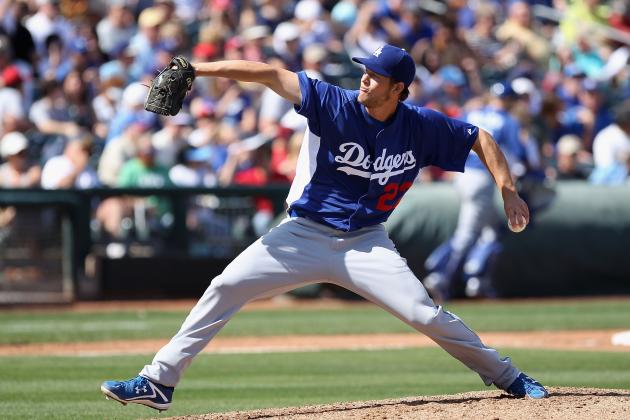 Christian Petersen/Getty Images
Clayton Kershaw
Kershaw was pitching like the 2011 Cy Young winner, but he was removed from the game after three innings because of the "flu."
With three strikeouts in those three innings, only giving up two hits and a walk, it does not look like he was injured. However, until we see how Kershaw feels tomorrow and/or find out the timetable for his next start, his grade is incomplete.
Grade: INC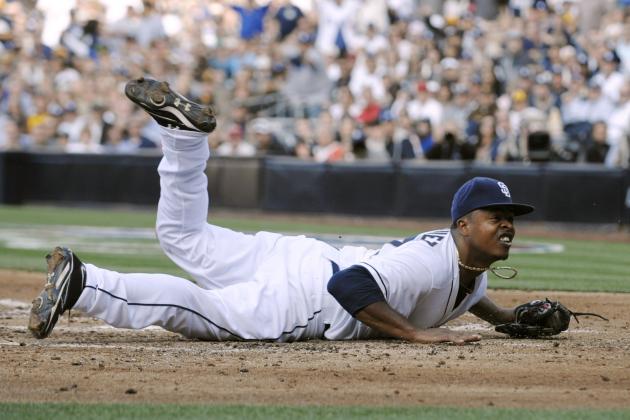 Denis Poroy/Getty Images
Edinson Volquez
Edinson Volquez got the Opening Day nod for the Padres with the hope that he could become something close to the pitcher he was in 2008, when he went 17-6 for the Reds.
Unfortunately for the Padres, the 9-10 Volquez from 2010 and 2011 with control problems showed up.
In just five innings, Volquez threw 97 pitches, giving up three runs on three hits and four walks. For the Padres to come close to competing in the NL West this season, they will need him to pitch a lot better than he did on Thursday.
Grade: C- (he did strike out seven batters)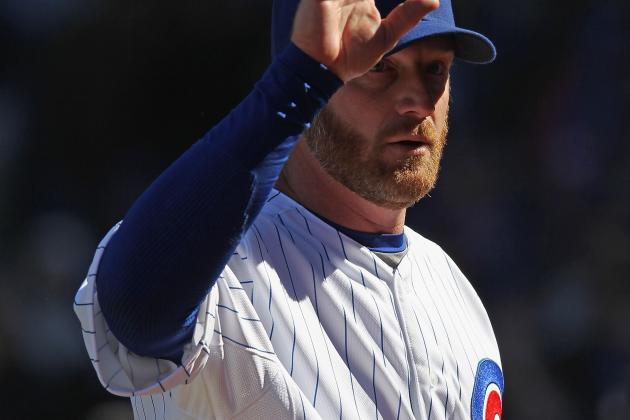 Jonathan Daniel/Getty Images
Ryan Dempster
In spite of pitching against Stephen Strasburg, Ryan Dempster was stellar in his 2012 debut.
Dempster went 7.2 innings, giving up one earned run (thanks to Kerry Wood) on two hits and three walks while striking out 10. He left the game in the eighth after striking out two batters around a single because of his pitch count, but Wood walked the next three Nationals hitters to push across a run.
From 2008 to 2010, Dempster was an outstanding starting pitcher, so it looks like he has righted his ship, which would be a great sign for the Cubbies.
Grade: A-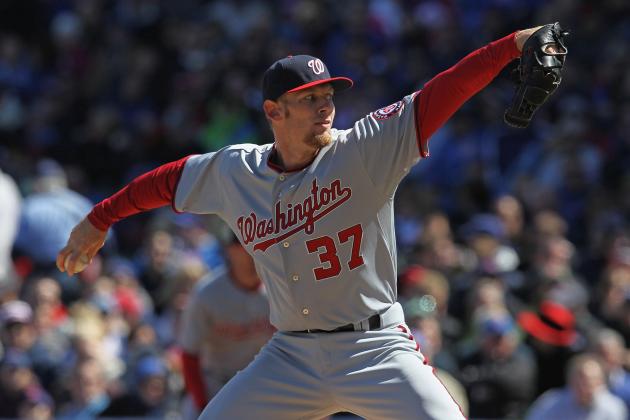 Jonathan Daniel/Getty Images
Stephen Strasburg
I sincerely believe the Nationals are the second-best team in the NL East and will end up making the playoffs. Today's performance from Stephen Strasburg only reinforces that belief.
While the Cubs lineup is going to be one of the weaker ones in baseball this season, Strasburg would would have dominated just about any lineup put in front of him.
In seven innings, he only allowed one run on five hits and one walk while striking out five. Strasburg did not get the win today, so technically he was not perfect, but he has certainly established himself as one of the game's best when healthy.
I expect more strikeouts from him in the near future.
Grade: B+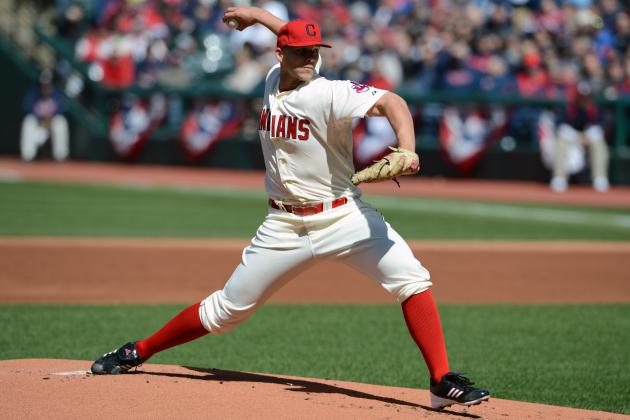 Jason Miller/Getty Images
Justin Masterson
Justin Masterson had a mini-breakout last season, and based on today's effort, he will take another step forward in 2012.
Masterson went eight innings in an economical 99 pitches, only giving up one run on two hits and a walk while striking out 10 hitters against a good Blue Jays lineup. Chris Perez blew the save in the ninth inning, which cost Masterson the win, but Justin did everything in his power to get the Indians a victory in their home opener.
Grade: A+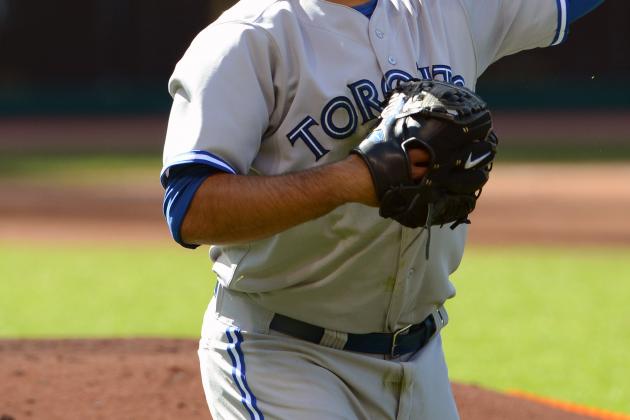 Jason Miller/Getty Images
Ricky Romero
Ricky Romero has gotten drastically better in each of his three big league seasons, and many believe he will approach the 20-win mark this season.
That breakout did not start on Thursday.
Romero needed 96 pitches to get through only five innings against a weak Indians lineup, giving up four runs on three hits and three walks while striking out four. At the end of the day, he can thank Chris Perez for saving him his first loss of the season, but Romero is a much better pitcher than this.
Grade: C-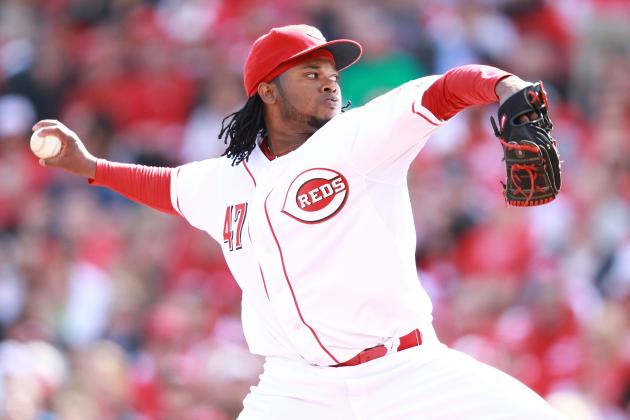 Andy Lyons/Getty Images
Johnny Cueto
Coming off a season where he had a 2.31 ERA in over 150 innings, Johnny Cueto has not been getting the respect he deserves.
If he can continue to pitch the way he did on Opening Day, that is going to change very quickly.
With seven shutout innings—only giving up three hits and two walks, to go along with four strikeouts—Cueto dominated a stacked Marlins lineup and had them off balance all game.
Grade: A-