Dallas Cowboys Mock Draft: Reaches Jerry Jones Could Make in All 7 Rounds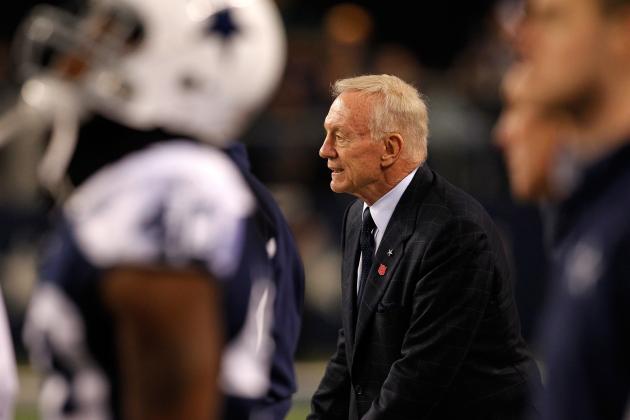 Tom Pennington/Getty Images

Dallas Cowboys owner and general manager Jerry Jones is prone to making reaches in the NFL draft. For those who don't know what a reach is as pertaining to the draft, it's a pick that's made at least a round before it should be made.
Reaches may be made because a player's talent is misjudged or an executive feels forced after missing the preferred choice.
Jones has made quite a few reaches while drafting for the Cowboys. The most famous example is the pick of quarterback Quincy Carter in the second round when no one else had considered him a first-round prospect.
The Cowboys can't afford for Jones to make reaches in the upcoming draft, two weekends from now. Too many rebuilding picks must be made. Renovation picks must be made for the offensive line and secondary. Starters must come out of these picks, not questionable talents.
Jones can't afford to pick players above their talent level this year.
Follow along for some possible reaches by Jones that Cowboys fans may fear in this year's draft.
Begin Slideshow

»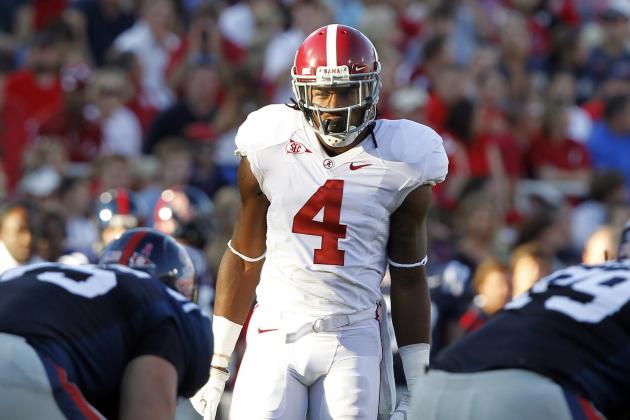 Butch Dill/Getty Images

That Mark Barron has salvaged his draft stock somewhat after missing much of the pre-draft period due to recovery from his hernia is impressive.
He had missed postseason games and the NFL combine due to recovery. Questions loomed about whether he would be able to showcase his talent before the draft.
Barron was able to hit the field in time to show his stuff at the Alabama pro day. Barron didn't wow people, but he put on a nice showing, especially considering that he's coming off a long layoff. He ran a 4.6 40-yard dash and showed a nice bit of agility in other drills.
Even with that showing, the Cowboys wouldn't want to entertain the notion of drafting Barron. He's still a risk since he'd missed so much time due to injury.
It'd be safer to go with someone who's generally been healthy throughout the pre-draft process than someone who suffered such a serious injury and put off the recovery period until this winter when he absolutely had to sit out.
Besides, his talent doesn't figure quite as highly as other players in the first round. Also, Jerry Jones would do all right drafting a safety like Harrison Smith or Duke Ihenacho later.
Amini Silatolu was a dynamic blocker at Midwestern State. He pancaked defenders left and right. The guy wasn't afraid to make his presence felt.
As nasty as he is, Silatolu is still a Division II blocker. Rarely is a lineman from a Division II program taken in the first two rounds. When he was projected into the third round, it made sense, but his recent rise might just be stuff.
Silatolu has too many question marks to be taken in the first two rounds. Teams can't tell if he can block real competition. He mainly faced smaller defenders in college. Also, scouts question his football IQ.
The Cowboys could go for an offensive lineman in the first two rounds, but it shouldn't be Silatolu. David DeCastro and Kevin Zeitler are far better than Silatolu.
Zeitler is a true second-round talent, not Silatolu.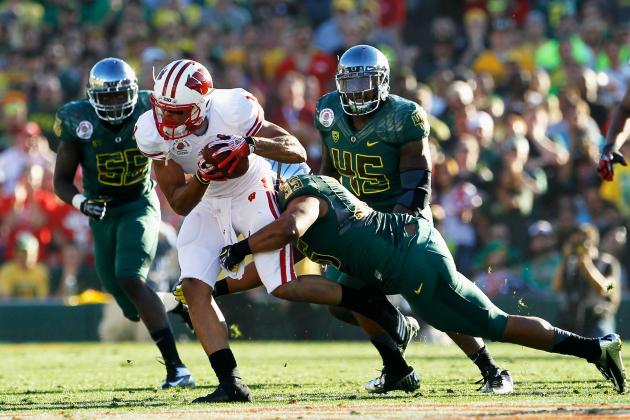 Jeff Gross/Getty Images

Nick Toon was an impressive receiver while at Wisconsin. He had two 800-yard seasons and caught nine touchdown passes in his final year. Not bad for the son of former New York Jets receiver Al Toon.
However, people shouldn't be too excited about him. He's a physical receiver who runs good routes. Despite having strong hands and the ability to make tough catches, Toon sometimes drops passes.
He can block all right, but he doesn't have good technique, which may leave him vulnerable in the NFL.
Toon may turn out to be a good receiver in the NFL, but he's not worth a third-round pick. If the Cowboys have thoughts on Toon, they should wait until the fourth round at the earliest.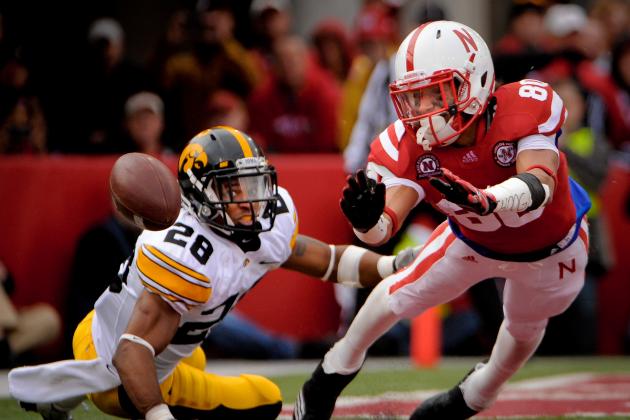 Eric Francis/Getty Images

Everything about Shaun Prater seems to come with a stipulation. He plays receivers well, but can't hang with big receivers. Prater can knock away passes, but doesn't swat balls that are low or outside.
It's like he can't stretch to make those big plays.
Prater's size is a concern. Some small cornerbacks are strong enough to keep receivers from pushing them around, but not Prater. Receivers can throw him off with an arm-bar.
He's unimpressive in both man and press coverage.
There are some things that Iowa is known for, like offensive linemen. Cornerbacks aren't one of those positions that Iowa pumps out.
The Cowboys shouldn't get a big-school cornerback just because he's there in the later rounds.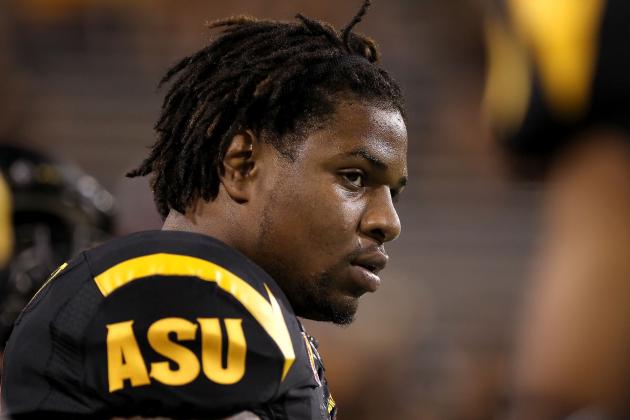 Christian Petersen/Getty Images

Vontaze Burfict is a reach in any round that a team might consider drafting him. He's a first-round talent, but he gives such poor effort that he might as well be a seventh-round pick.
Burfict never turned into what he was supposed to be in college. He was one of the top linebacker prospects in the country heading into Arizona State.
After that, he became stagnant. He never developed his game. His tackles and big plays came on pure power.
In his senior season, he led Arizona State in tackles but didn't gain any offseason conference awards.
When taking questions about his work ethic and attitude in college, Burfict didn't answer them head-on. That didn't show good character.
Burfict has dropped like a rock down draft boards, going from being a first-round stud to a late-round dud.
Cowboys fans will be praying that Jerry Jones doesn't bite on this false talent.
Andy Lyons/Getty Images

Some fans might wonder what the value is in a running back who wasn't among the tops in his conference. That's a question worth considering when looking at Brandon Bolden of Mississippi.
Bolden had a nice junior season at Ole Miss with 976 yards and 14 touchdowns, but he fell off in his senior season. He missed time due to a hairline fracture in his ankle and a violation of team rules. In his final season, he had 472 yards and four touchdowns.
His talent is hit-or-miss.
He might break a few tackles, but don't count on him doing it often throughout games. His speed is inconsistent, and he doesn't bring his speed burst all the time. Bolden likes to break to the outside, but he doesn't have great speed on the edge.
If the Cowboys are to draft a running back in the later rounds—or at all—it would have to be a player who can excel in the return game or can do some special things running the ball.
Bolden isn't special enough in any particular area to warrant Jerry Jones' attention.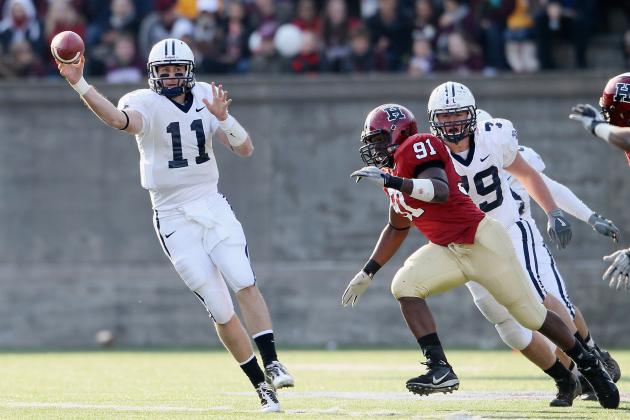 Elsa/Getty Images

For a time, Patrick Witt of Harvard seemed like a reasonable player to entertain with a pick in the last round.
He's shown accuracy, completing 62 percent of his passes. Also, he shows a good amount of composure in the pocket and can hit the deep ball.
However, he isn't that accurate on deep passes and tends to throw interceptions.
Cowboys fans already are dealing with the advanced stages of Tony Romo's maturation. They don't need Jerry Jones to give them an Ivy League version of him.
Also, Cowboys fans don't want Jones to bring Witt's off-field problems to Dallas. The New York Times reported in the fall that Witt had been accused of sexual assault. Later, The New York Times dropped the story, since it didn't have enough sources.
It would be nice to see Witt overcome his past to make it in the NFL. However, Jones doesn't need to make Jason Garrett take on that project.