If Byron Leftwich Heads for the Colts, Could the Pittsburgh Steelers Draft a QB?
April 4, 2012

Jared Wickerham/Getty Images
Since reworking the entire team's focus, the Indianapolis Colts have been amassing players from all around the league (most notably the Baltimore Ravens, since last year's defensive coordinator, Chuck Pagano, is now head coach).
They also added Bruce Arians, most recently the Pittsburgh Steelers' offensive coordinator, after a very brief retirement. Arians is looking to build quarterback depth behind their soon-to-be starter Andrew Luck. He first brought in Drew Stanton, who was traded by the New York Jets after they added Tim Tebow.
Next, they may be looking to snag free agent Byron Leftwich to serve as Luck's backup and mentor, according to Mark Kaboly of the Pittsburgh Tribune-Review. Leftwich spent 2008 and 2010-2011 on the Steelers' roster as one of Ben Roethlisberger's backups and was a well-liked and respected locker room presence, despite suffering a string of injuries.
The Steelers would like to re-sign Leftwich for the 2012 season, according to Tribune-Review's Scott Brown, but cap constraints have kept them from doing so and they may not be able to until after the draft. This could potentially be too late if the report about the Colts' interest is true.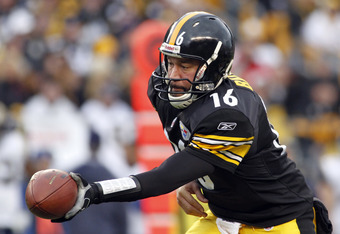 Justin K. Aller/Getty Images
If they lose Leftwich, the Steelers are likely to re-sign 37-year-old Charlie Batch to be Roethlisberger's primary backup, a role he's held since 2003. However, as he gets older (and suffers more and more injuries), Batch is quickly becoming a less and less viable option at starter if Roethlisberger misses significant time.
The Steelers signed two quarterbacks—Troy Smith and Jerrod Johnson—to future contracts earlier in the offseason, but will be letting free agent Dennis Dixon go elsewhere. Of the two other backups, Smith may have a shot at being No. 2 on the depth chart, but the Steelers still may look to the draft to provide adequate depth or at least camp competition for Johnson.
Johnson most recently spent two weeks in the Philadelphia Eagles' training camp before being cut; Smith won the Heisman Trophy in 2006 but has otherwise been relegated to obscurity and the arena game.
Neither inspire all that much confidence, and for a starter like Roethlisberger, who is admittedly injury-prone, it makes sense the Steelers might look for a more reliable backup in three weeks.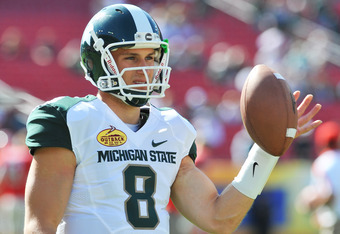 Al Messerschmidt/Getty Images
The Steelers have said they will be exploring the option of drafting a quarterback this year, though not to eventually develop him into a starter. Tomlin dined with Michigan State quarterback Kirk Cousins prior to his pro day last month, which may indicate more than just a passing interest in him.
If the Steelers do use a draft pick on another quarterback this year, don't expect it before the fifth round—sixth or seventh seems more likely. In that case, Cousins will likely be off the board, and the Steelers' best options would be LSU's Jordan Jefferson, Houston's Case Keenum, Northern Illinois' Chandler Harnish or Boise State's Kellen Moore.
Again, these players would hold a spot similar to Dixon's. As such, they would never take the field as the team's No. 1 quarterback.
The Steelers may be happy with where they're at when it comes to quarterback, but if Leftwich ceases to be an option for them, it does increase the odds that they'll look harder at the position in later rounds of this year's draft.