Why Money, Not Fans, Drives the NFL
April 4, 2012

At the Nike NFL apparel event, commissioner Roger Goodell pulled out his NFL-branded Visa credit card to buy some gear for himself. As he swiped it, he contributed a few bucks towards the NFL's revenue total.
If he did it 999,999,999 more times, the NFL might hit their $25 billion revenue goal 15 years early.
That's right. Per Daniel Kaplan at Sports Business Journal, the NFL plans to rake in $25 billion dollars by the year 2027, a 275 percent increase over their 2010 revenue.
How could the NFL, the undisputed top dog of American sports, possibly generate almost three times as much money as they're making now? The switch to new NIKE jerseys, along with new gloves, shoes, t-shirts, sweatshirts and all other apparel, is expected to boost sales. However, a shot in the arm for merchandise sales can't triple overall revenue.
In order to meet their goals, the league will have to make fundamental changes to the structure of the league. The league and owners will have to wring every cent they can out of fan worship, and they'll have to do real harm to the on-field competition to do it.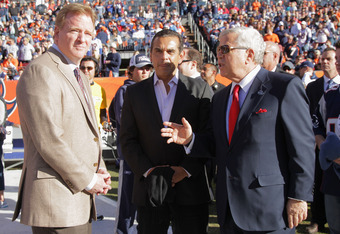 Doug Pensinger/Getty Images
Though the NFL continues to bang the drum for player safety, commissioner Goodell reiterated the league's insistence on moving to an 18-game regular season within two years. It's a paradox: The league can't possibly be concerned about making the game as safe as possible, while adding two regular-season games during which players can be injured.
There's another aspect fans don't consider: starting lineups. In world football, better known to NFL fans as soccer, they play too many games for the best eleven players to go every single week all season long. In response, starters are rested, lineups are tweaked to fit the opponents' strengths and speculation about what players will hit the pitch precedes every match.
With a regular season that stretches from September to February and playoffs after that, it's a real possibility this will happen in the NFL. Are football fans ready to see their marquee quarterback hold a clipboard in the middle of the season because their coach didn't think much of the competition? Are NFL fans ready to see an opposing team come to town and trot out the backups?
Another must for the NFL's sky-high revenue goals is a team in Europe. As commissioner Goodell told the AP, the NFL plans to get a team in Europe "as fast as is practical."
Practical? An NFL team in Europe will never be practical.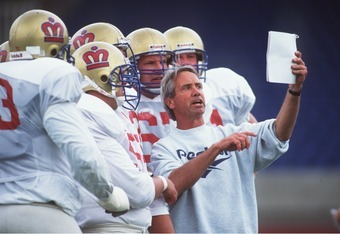 John Gichigi/Getty Images
Two teams going to London every season is already a logistical nightmare. It takes a toll on players, coaches—and the "home" team's pocket books. Losing an entire home gate isn't worth international exposure, at least not yet. Further, that's a home game the franchise's fans don't get the chance to attend.
Goodell said the next step is "multiple games" in Europe. How can he convince four, six, eight or ten teams—and fanbases—a year to give up a home game? Goodell has a solution ready at hand: switching to an 18-game schedule, so all teams will gain a home game they could then afford to lose.
The league has already maximized its contract with DirecTV for Sunday Ticket rights. The NFL Network already reaches 60 million homes. Per the Wall Street Journal, the NFL sold mobile-device broadcasting rights to Verizon Wireless for $720 million. Verizon even broadcast Super Bowl XLIV live over its mobile network, an experience I was invited to review.
How can the NFL build upon this? Continuing to charge higher rates for satellite and mobile packages won't help triple existing revenue.
The league could reserve more games for itself on NFL Network. It currently broadcasts eight Thursday Night Football games a year, though the practice excludes many homes for whom NFLN is either trapped on a premium tier or entirely unavailable.
But the NFL could also take it a step further: They could mimic PremPlus. PremPlus was a pay-per-view channel for which Sky Sports reserved select English Premier League games. If the NFL is willing to restrict games to a premium cable channel, what's to stop them from restricting games to pay-per-view?
Per AdWeek.com, NBC is currently paying $1.05 billion dollars per year for 16 Sunday Night Football games, which draw an average of 20.2 million viewers. The all-time PPV record for boxing had just a tenth as many buys at 2.15 million, but pulled in $120 million in revenue. With the interest the NFL routinely pulls, making a single marquee matchup every week be accessible only by PPV could be a gold mine.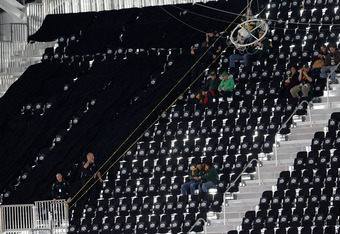 Tom Pennington/Getty Images
Finally, the NFL will continue to use the threat of moving teams to get more stadiums built. The Super Bowl held in "Jerryworld," the Cowboy's $1.2 billion stadium, resulted in a PR disaster when fans paid thousands for tickets that corresponded to temporary seats that didn't pass inspection.
Sally Jenkins of the Washington Post wrote a brilliant article decrying the 'billionization' of the NFL, pointing to that brain-dead money grab as the 'tipping point' where the NFL finally pushed too hard for money at the fans' expense.
Jenkins hasn't seen anything yet. As Arash Markazi of ESPN.com reports, the NFL's G3 Stadium Fund, which helped fund Cowboys Stadium, could help build a new Jerryworld in LA. The new CBA should keep this fund flush to build new stadiums every year.
Where would those stadiums go? Cities like Charlotte. Per ProFootballTalk, Bank of America Stadium, built in 1996, is already out-of-date enough to make the owners of the Carolina Panthers think about replacement. Panthers Team President Danny Morrison told the Charlotte Observer the "normal NFL stadium cycle" should be about 30 years. Can taxpayers help foot billion-dollar stadium bills every thirty years?
Moving to 18 games, placing one or more teams in Europe, making games much more expensive to watch on TV and building bloated cash-cow stadiums are all bad for fans. Doubtlessly, the NFL is coming up with even more "innovations" like them that will more effectively trade their product for our money.
Fans won't be happy to see these changes coming, but the NFL doesn't exist to make fans happy. It exists to make money.