Minnesota Vikings Mock Draft: Picking Every Round for Need Only
April 5, 2012

Hannah Foslien/Getty Images
Welcome to Day Three of our look at all seven rounds for each and every NFC North team. We've done the Bears and Packers, so now it's time to move on to a team with a number of rebuilding needs: the Minnesota Vikings.
The Vikings have needs (much like the rest of the NFC North) along the offensive line and the secondary. Their issues are compounded by an aging defensive front and a complete lack of playmakers beyond Percy Harvin and Adrian Peterson, both of whom are coming back from injury.
With second-year quarterback Christian Ponder still developing, the aging offensive line is a primary issue. Right behind it is the secondary. After all, you face Matt Stafford, Aaron Rodgers and Jay Cutler twice every year.
There's really not too many positions the Vikings can't due with improving. Here's where Best Pick Available meets Need Filling Pick almost across the board.
Here are the picks the Vikings have for this coming draft, 10 in all including the untradeable compensatory picks.
Round 1, Pick 3 (overall)
Round 2, Pick 35
Round 3, Pick 66
Round 4, Pick 98
Round 4, Pick 128 compensatory
Round 4, Pick 134 compensatory
Round 5, Pick 138
Round 6, Pick 175 from Cleveland Browns
Round 7, Pick 210
Round 7, Pick 223 from New England Patriots via Philadelphia Eagles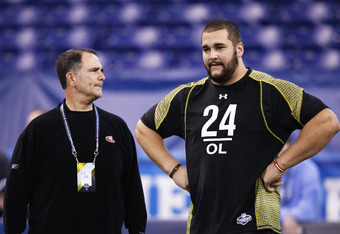 Joe Robbins/Getty Images
Round 1, Pick 3 - Matt Kalil, OT, USC
There is a good argument that this pick could be LSU's Morris Claiborne, the top cornerback in the draft. However, in the end, Kalil should be the pick. The fact is that, with a young quarterback and an aging line, there is very little choice. Kalil will be the foundation of this line for years to come.


Round 2, Pick 35 - Janoris Jenkins, CB, Northern Alabama
Jenkins has some off-the-field issues which might make the Vikings hesitate, but by the time the second round rolls around, the other top corners will be a memory. Jenkins, issues aside, is a very talented player, and if the team can keep him focused, he will be an outstanding addition to this secondary.

Round 3, Pick 66 - Brian Quick, WR, Appalachian State
A big, fast wide receiver, Brian Quick is far more agile than his frame would indicate. While he is still a little raw, he was dominating at the FCS level. While some might worry that a lower level of opponent might have inflated his numbers, Quick has more than once proven his ability. He would be an excellent addition across from Percy Harvin in an offense desperate for help. 
Round 4, Pick 98 - Keenan Robinson, OLB, Texas
Robinson is tough against the run both between the tackles and downhill when he finds an open lane to the ball-carrier.  He stays with a play from whistle to whistle, pursuing the ball at all times. He'd have to get used to rushing the passer, as the Longhorns didn't ask it of him, but he would be a heavy contributor both on run downs and special teams while he learned.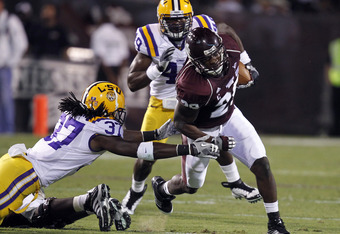 Butch Dill/Getty Images
Round 4, Pick 128 compensatory - Vick Ballard, RB, Mississippi State
Toby Gerhart struggled when handed the full load last year and while I believe he can get back on track, the Vikings should make sure they have depth behind him and Adrian Peterson. Ballard is a thick, powerful runner who is hard to bring down. He's really a one-cut-and-go guy, without the ability to make big plays on his own. However, he's a perfect backup who can run for hard yards as well as catch the ball out of the backfield.

Round 4, Pick 134 compensatory - Markelle Martin, FS, Oklahoma State
Martin didn't work out at the combine due to a pinched nerve and fluid in his knee, and that might drop him a bit. Good for the Vikings, though, as Martin is a guy who shines best when the lights are brightest. He reads routes perfectly and will anticipate throws. He loves to hit big and hit hard, and he can make plays on the ball. Injuries are his big question mark.

Round 5, Pick 138 - Trevor Guyton, DE, California
Guyton is an intriguing mix of pure strength and all out will, with a high motor that doesn't quit. He can play the 3-4 5-technique or tackle in a 4-3. He occasionally gets blocked out too easily and needs to improve his read and react skills. A nice developmental project in the fifth round who could turn into a very good player.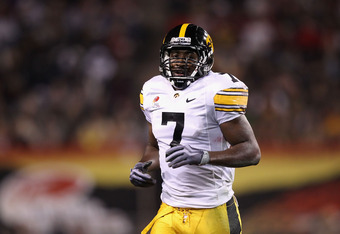 Christian Petersen/Getty Images
Round 6, Pick 175 from Cleveland Browns  - Marvin McNutt, WR, Iowa
This is a Best Pick Available situation. McNutt struggled at the Senior Bowl in February and his stock never really recovered. He's proven himself to be a very good route runner who can use his length to beat defenders for high-point balls. I watched him body catch a bit too much in Mobile, but he does have the ability to make some circus catches. He has a few injury concerns and disappeared on occasion against top-shelf corners.
With a little patience, though, he could turn into an outstanding addition to the wide receiver group.
Round 7, Pick 210 - Ryan Miller, OG, Colorado
Some might think that the Vikings should have picked up more offensive linemen during this mock, and I wouldn't argue. However, once the best tackles and guards are off the board—as they should be by the start of the third, if not sooner—there are other positions which line up better for value.
Miller can play either guard or tackle, though, he's a slightly better fit at guard. He has experience at right tackle as well which is handy. Miller is agile for his size and is a very good run-blocker as well as a solid pass-blocker, if a little inconsistent at times.
Round 7, Pick 223 from New England Patriots via Philadelphia Eagles - Darius Fleming, OLB, Notre Dame 
Fleming is a solid athlete but lacks explosion and burst. He has shown very good field awareness but tends to play too upright. Fleming seems raw to me, and with some coaching I believe he could be a solid depth linebacker. He strikes me as a guy who special assistant to the head coach and linebackers coach Mike Singletary could really help.