5 Detroit Tigers Prospects Who Will Make Big Leagues in 2012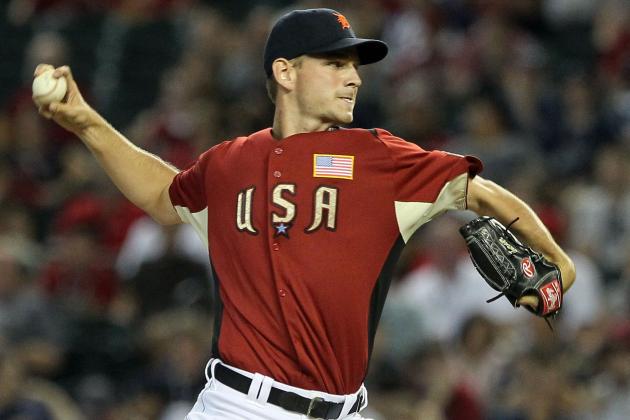 Jeff Gross/Getty Images

The Detroit Tigers roster is set and only one rookie appears. But, by the end of 2012, there will be five prospects you will have seen play in a Tigers uniform.
The Tigers minor league system has been questioned over the years. Despite high draft picks in the 1990s and early 2000s, there were a lot of prospects who didn't equate to major league talent (Kyle Sleeth, Eric Munson, Nate Cornejo, etc.).
Earlier this year, ESPN ranked the Tigers 12th in their "Future Rankings." Part of the ranking was scoring the minor league system—ranking "quality and quantity of prospects in their farm system." The Tigers scored a 9 out of 30—the ninth lowest of all 30 teams.
However, there is still talent in the Tigers minor league system. Here are the five players you will see in the major leagues this season.
Begin Slideshow

»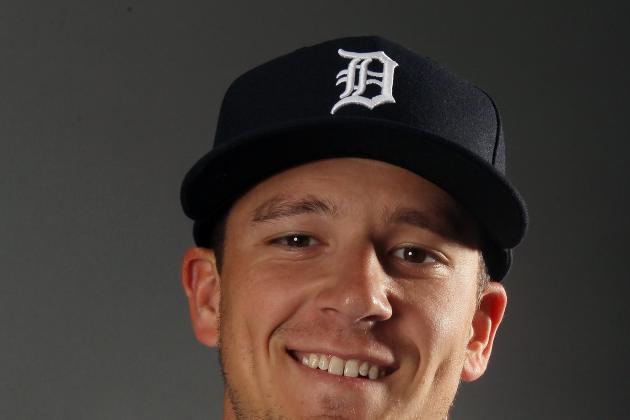 Elsa/Getty Images

Drew Smyly started spring training with an outside chance of making the Tigers roster. But, after a stellar spring, Smyly will start the season as the Tigers fifth starter.
This spring, Smyly pitched 18 innings and allowed eight earned runs—four of which came in the last inning he pitched this spring. He also posted a .180 batting average against, and a 1.00 WHIP.
The Tigers drafted Smyly as a redshirt sophomore in the second round of the 2010 draft.
Last year, Smyly started 14 games at Single-A Lakeland, and had a 2.58 ERA in 80.1 innings pitched.
He was then called up to Double-A Erie and improved on his numbers—although the wins and losses did not reflect this. In 45.2 innings pitched at Erie, Smyly only gave up six earned runs.
Smyly's strikeouts per nine innings rate also jumped to 10.4.
According to Jonathan Mayo at MLB.com, Smyly is tenth among left-handed pitching prospects. Mayo also wrote that Smyly has four pitches—fastball, cutter, curve, and changeup—that are all Major League average, at least.
The key to staying in the rotation, for Smyly, will be throwing strikes. He has shown good command in the minor leagues and will need to continue to do so. If he does, the Tigers will look smart for not throwing big money at a free agent for the final starter spot in the rotation.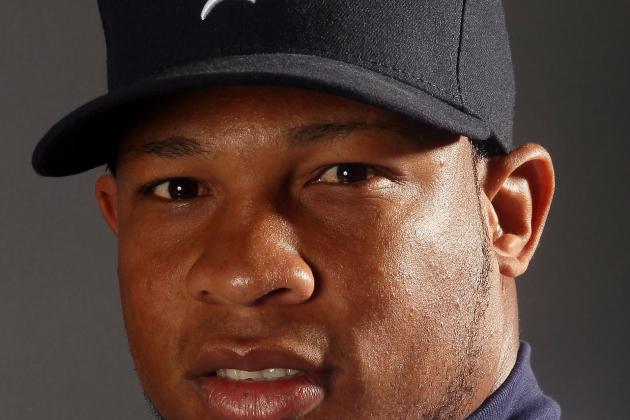 Elsa/Getty Images

Two days ago, Luis Marte learned that he was going to be on the Tigers Opening Day roster.
The excitement didn't last long.
Marte left today's spring training game with a leg injury. And, according to Jason Beck, the Tigers immediately placed him on the 15-day DL with a left hamstring strain.
It is unknown whether Marte will immediately join the Tigers following his DL stint. But, between his play last September and this year's spring training performance, the Tigers have to be excited about Marte's future.
Last September, Marte appeared in four games for the Tigers and only gave up one run in 3.2 innings pitched. Despite giving up six hits, Marte showed great command of the strike zone and also struck out three hitters.
This spring, Marte showed even more improvement—especially in his ability to strike batters out. In over 13 innings this spring, Marte struck out 16 batters and only allowed eight men to reach base (0.62 WHIP).
Shoulder injuries in the past have brought Marte's velocity down. But, the loss in velocity has helped make Marte a more complete pitcher with command of the strike zone. Plus, according to Scout.com, Marte's curveball may now be his best pitch.
The hamstring injury is definitely a setback for Marte and the Tigers. But, there is no reason not to expect to see Marte in a Tigers uniform in 2012.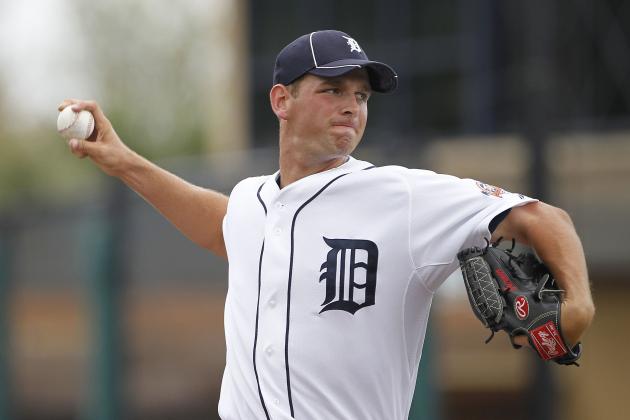 Leon Halip/Getty Images

Jacob Turner may be the easiest player to name when trying to figure out which prospects will make an appearance in Detroit this season.
Turner started three games for the Tigers last season. He quickly learned the difficulties in transitioning from the minors to the big leagues.
After so much success in the minor leagues (3.44 ERA in 131 innings pitched), Turner was knocked around in his time with the Tigers.
After a good major league debut, Turner gave up 14 hits and 10 earned runs in just 7.1 innings over his final two starts—against Kansas City and Baltimore.
This spring, Turner faced more adversity when his velocity was down and his struggles on the mound resurfaced. The Tigers classified the issues as Turner having a "dead-arm period."
The Tigers shut Turner down for one week and when he resumed throwing, Turner said he was ready to go.
But, the Tigers should be very patient with Turner. The 20-year-old is only in his third full season of professional baseball and has only thrown 246.1 innings in the minor leagues. Turner is believed to be a top of the rotation arm for the Tigers in the future, and there's no reason to risk that with further injury.
Whether Turner debuts in 2012 because of struggles at the fifth starter spot, or as a September call-up, there is one thing that's certain—Turner will be a Tiger at some point this year.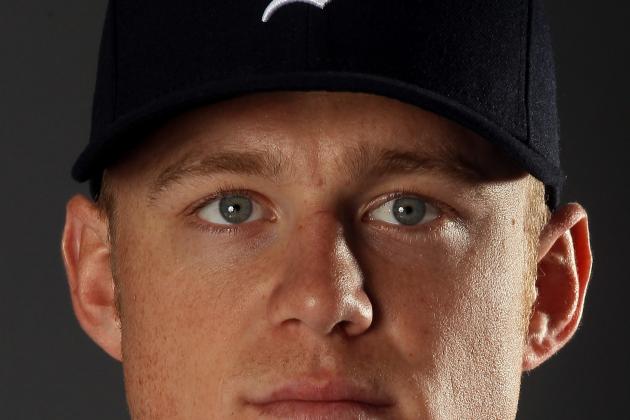 Elsa/Getty Images

Casey Crosby has been the victim of bad luck in his short professional baseball career.
Crosby underwent Tommy John surgery in 2007—his first year in professional baseball—and also missed time in 2008 and 2010 because of injuries.
There was no way the Tigers, or Crosby, could have foreseen these injuries when they drafted him out of high school in 2007.
But, even with the injuries, Crosby continues to work towards his goal of pitching in the major leagues. There is no doubt the Tigers are also looking forward to that day. Manager Jim Leyland said Crosby has a "real high ceiling," after he was sent to the minors this spring.
The key for Crosby will be limiting walks. In 253.1 innings of minor league baseball, Crosby has issued 132 walks (rate of nearly five walks every nine innings). Those control issues re-emerged this spring when Crosby walked six in just 5.2 innings.
But, Crosby is still young, 23 years old, and appears to be healthy this season. If he can improve his control issues, he has the ability to pitch at the major league level. Don't be surprised to see the Tigers take a look at him in September.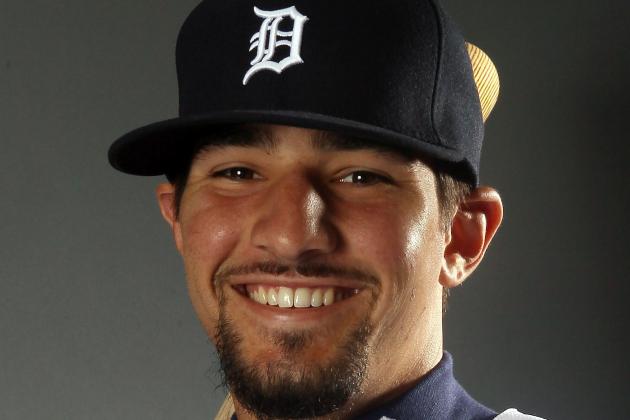 Elsa/Getty Images

Nick Castellanos is the biggest long shot of the players listed to see time in Detroit this season. But, if he continues to hit minor league pitching, there is a chance the Tigers make him a September call-up.
There was a lot of discussion this off-season of Castellanos becoming trade bait, or changing positions after the Tigers moved Miguel Cabrera to third base. However, the Tigers denied both of these claims and have said that Castellanos still projects as a third baseman for the organization.
Castellanos' power is a big reason he ranks as one of the top prospects in the Tigers organization. Last year at Single-A West Michigan, Castellanos hit 36 doubles and seven home runs in 507 at-bats.
But, with the power, also comes a high strikeout rate for Castellanos. Part of that, though, may be due to him being a raw talent that was signed out of high school.
Castellanos is not currently on the Tigers 40-man roster. But, another strong minor league season—he was last year's Minor League Player of the Year in the Tigers organization—and Castellanos could see major league at-bats in 2012.