2012 NFL Draft Predictions: 10 Top College Players Who Will Go Undrafted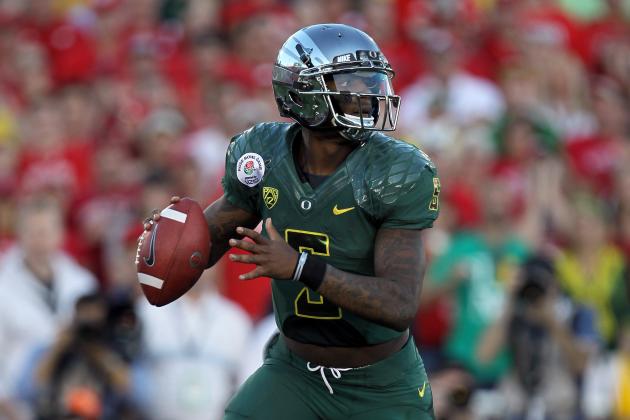 Stephen Dunn/Getty Images

Can you smell it in the air?
The NFL Draft is quickly approaching, and in less than four weeks, more then 200 former college football standouts will hear their names announced when they are selected by NFL organizations across the board.
But what about those standout college players who won't hear their names being called?
Of course, nowadays, many college athletes declare early for the NFL Draft and while it works out for some of them, it certainly doesn't work out for all. Just because you are a great player at the college level does not mean that NFL scouts are confident your skills will transition to the NFL.
With that said, let's break down 10 top-notch college players who will not hear their names called in this April's NFL Draft.
Begin Slideshow

»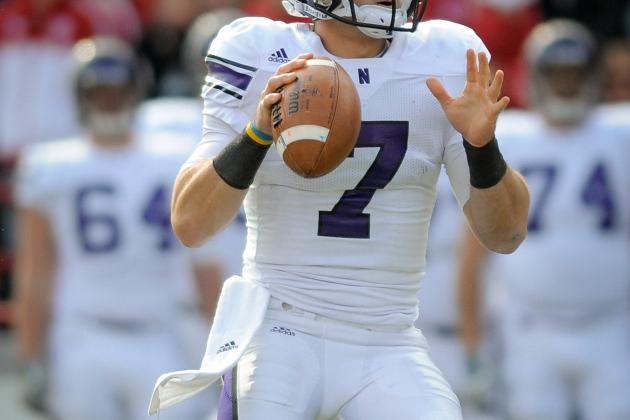 Eric Francis/Getty Images

Dan Persa was a stud for Northwestern over the past two seasons.
The former Wildcat quarterback completed 73 percent of his passes last season for 2,408 yards and 17 touchdowns. He was a threat with his legs as well as his arm, which made him an absolute menace to opposing Big Ten defenses.
But while Persa's style of play worked in college, NFL scouts are not so sure it will work as successfully at the NFL level.
Persa is undersized for his rugged style of play, standing at just 5'11'', 212 pounds. He did not perform well at the East-West Shrine Game and was not even invited to the NFL combine, which speaks to the fact that scouts are not 100 percent sold on this guy.
It may be challenging to find a quarterback as good as this in college who probably won't be suiting up in the NFL this fall.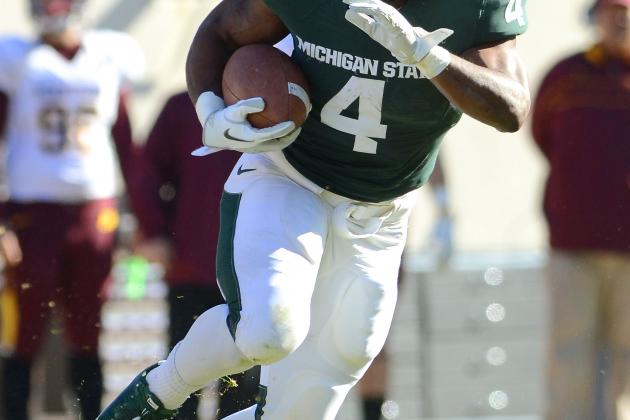 Mark A. Cunningham/Getty Images

Former Michigan State running back Edwin Baker is a perfect example of a guy who should have never declared for the NFL Draft early.
Baker had a standout sophomore season for the Spartans, rushing for more then 1,200 yards and 13 touchdowns. Many believed that he would be a first-round draft pick the following year if he was able to duplicate those numbers, but Baker had a down year in 2011 and his carries went down.
Still, with MSU transitioning to a new quarterback in 2012, if Baker would have stayed, chances are he would have received more carries and perhaps matched his production from his sophomore season.
Because of his unexpected jump to the NFL and his lack of production last season, Baker probably won't be selected in this year's draft.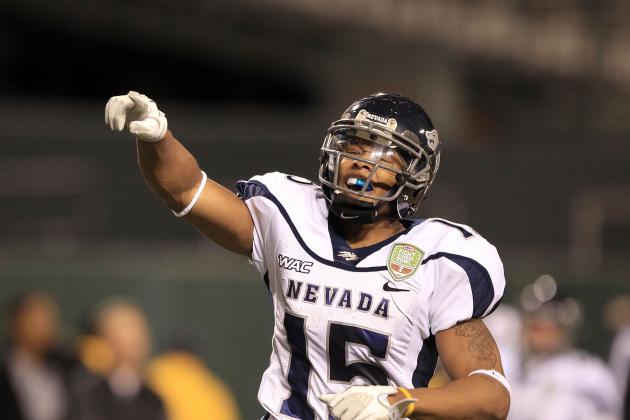 Ezra Shaw/Getty Images

Rishard Matthews put up huge numbers for the Wolf Pack this past season, but this is a classic example of why putting up impressive numbers does not necessarily guarantee you a landing spot in the NFL Draft.
Matthews hauled in 91 catches for 1,364 yards and eight touchdowns for Nevada this past season. If he put up those type of numbers at a school like Alabama or USC, he would be a guaranteed first-round selection, right?
Well, for starters, Nevada isn't Alabama or USC, and the competition they play against on a weekly basis isn't even close to that of the SEC or Pac-12.
But the other knock on Matthews is that he didn't run well at the combine. A 4.62 40-yard dash time is not very impressive for someone trying to sell themselves as a return specialist at the NFL level.
As good as those numbers are, chances are Matthews could have to make it as a free agent at the next level.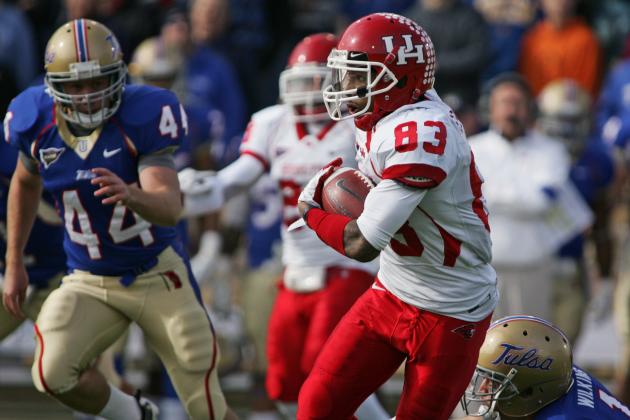 Brett Deering/Getty Images

Remember how good Houston's offense was last season?
Of course, the name we all came to know was quarterback Case Keenum, but the guy who was catching all of those passes was wide receiver Patrick Edwards.
As a senior, Edwards hauled in 89 passes for 1,752 yards and an eye-popping 20 touchdowns. He had three straight seasons where he recorded more than 1,000 receiving yards, which is nearly unheard of nowadays at the college level.
But again, because of his lack of competition and his undersized 5'9", 172-pound frame, Edwards may go undrafted this April.
He's too good not to get a tryout somewhere, but it will likely come as a free-agent pickup.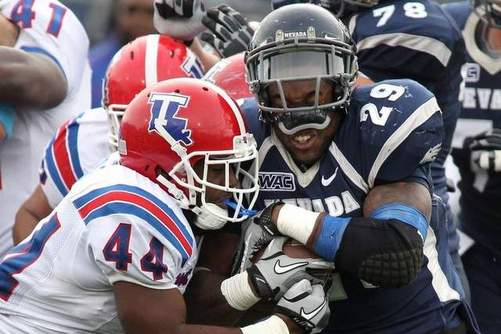 Louisiana Tech linebacker Adrien Cole was one of the top college linebackers in the country last season that no one knew of.
To prove just how good this guy was, take a close look at his impressive stat line.
Cole recorded 128 tackles (13 of which were for a loss), two sacks, an interception and a forced fumble this past season. In honor of his outstanding play on the football field, he was named the WAC Defensive Player of the Year.
But for some reason, perhaps because of his lack of competition and exposure, Cole was not invited to the NFL combine.
Because of that, his chances of being drafted are pretty slim.
Eric Francis/Getty Images

Bobby Rainey has been posting huge numbers from the running back position throughout his college career, but still, it remains a question as to whether or not he will be selected in this April's NFL Draft.
This past season, the standout Western Kentucky running back ran for 1,695 yards and 13 touchdowns, averaging 4.6 yards per carry. The previous year, he rushed for over 1,600 yards as well and 15 touchdowns.
Standing at only 5'8'', Rainey is certainly undersized, but at 205 pounds, he has power similar to that of Darren Sproles.
But the difference there is that Sproles played at a Big 12 school against top-notch competition, while Rainey did not. He was bottled up when he played against LSU this year, which was the closest thing he saw to an NFL defense.
He has the skills to make an NFL roster, but he might have to wait until after draft day to get that call from the big leagues.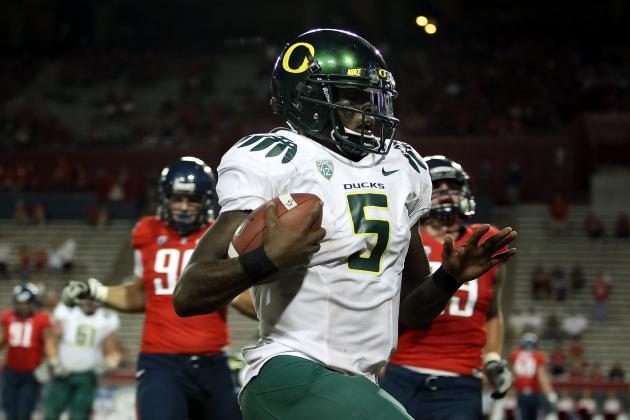 Christian Petersen/Getty Images

Darron Thomas was one of the most explosive playmakers in all of college football last season.
He was also one of the dumbest in deciding to skip his senior season and apply for the NFL Draft.
Thomas is a very skilled quarterback who put up great numbers last season, completing 62 percent of his passes for more than 2,500 yards and 33 touchdowns. He also ran for more than 300 yards and punched in three rushing scores.
But as many know, Oregon runs a spread option offense, which does not cater to the needs of many NFL teams. This talented kid still had plenty of room to grow, and if he had stayed another year in college, he could have improved his passing skills and shown NFL scouts that he is more than just an option quarterback.
It's a shame to see a great college career come to an end because of a horrible decision to turn pro too early.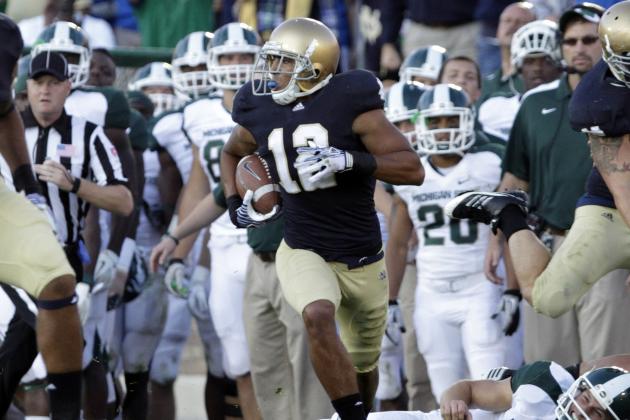 John Gress/Getty Images

Robert Blanton was a starter on one of the most nationally exposed programs in all of college football, so scouts certainly have plenty of film on him in order to evaluate his skills.
He was a darn good defensive back in college, recording 70 tackles and two interceptions in the 2011 college football season.
But Blanton tested out poorly at the combine, running a measly 4.66 40-yard dash time, which is extremely slow for a defensive back in the NFL.
Good college player, but not going to cut it in the NFL.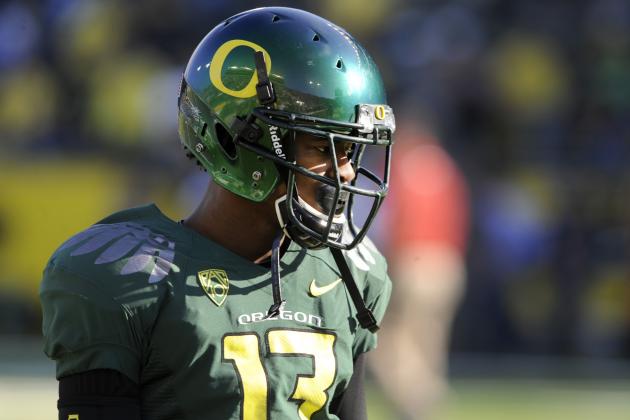 Steve Dykes/Getty Images

Cliff Harris is one guy who I really hesitated putting on this list because his god-given talent makes him not only worthy of a draft pick, but a high draft pick at that.
But in the end, Harris' poor showing at the combine, combined with his off-the-field issues, sold me on the fact that he could very well go undrafted, despite his immense amount of talent.
Just before the start of this past season, Harris was suspended for the season opener for driving with a suspended license. He was suspended again midway throughout the season for another driving incident and the final straw came when he was cited for marijuana possession.
Then, was dismissed from the team.
All those charges land an immediate reg flag with this guy, but he had a chance to wow the scouts at his combine and make up for his mishaps. Instead, he ran a 4.6 40-yard dash, which was well below what many expected from this talented, but troubled athlete.
If you add all that up, I don't think it leads to Harris being selected in the upcoming NFL Draft this month.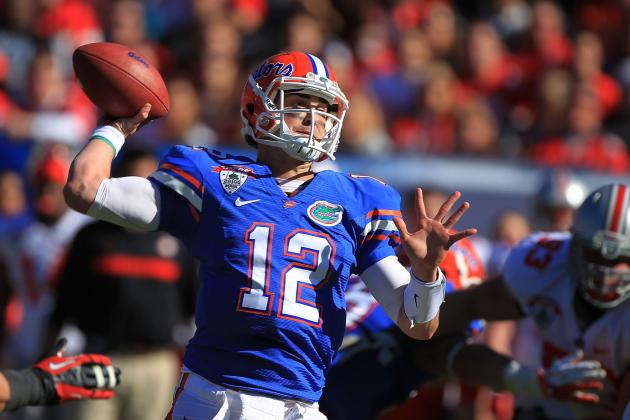 Scott Halleran/Getty Images

The same guy who beat out Cam Newton in a quarterback competition at Florida is now going to go undrafted after being a two-year starter at an SEC powerhouse program?
Yeah, I know it sounds unthinkable, but it's 100 percent true.
John Brantley was a huge recruit coming out of high school and he had plenty of bright spots in a Florida uniform, throwing for more than 2,000 yards and 11 touchdowns last season. But after an unfortunate injury against Alabama, he began to falter later on in the season.
Brantley followed that up with a poor showing at the East-West Shrine Game and because of that, he wasn't even invited to participate in the NFL combine.
The talent is there with this kid, but being an NFL Draft pick this April looks like a real long shot for Mr. Brantley.