NFL Pop-Up Shop: Location, Events Schedule, New Nike Uniform Previews and More
April 2, 2012

Beginning Monday, April 2, the NFL will have a pop-up store for the first time ever. Fans will have to trek to New York to see it, but it's worth the trip if they want to be among the first to have the newest NFL gear for 2012. 
The store is in a 10,000-square-foot space, and it will be open all month long. 
They're calling it the "NFL Shop at Draft" because the opening of the store leads right up into the draft. Most people that go to the store will probably buy stuff around draft day. 
It's a brilliant idea by the NFL. Luckily for you, we've compiled everything you need to know about this event.
When
The NFL Shop at Draft store is open seven days a week from 11 a.m. to 8 p.m. from Monday, April 2 to Monday, April 30.
Where
Located at 1095 Avenue of the Americas at 41st and 42nd Streets in New York, NY
Jerseys 
We had to wait until Tuesday for the jerseys, but it was all worth it. To check out the new uniforms Nike has created, check out their Facebook page for details, as well as their website.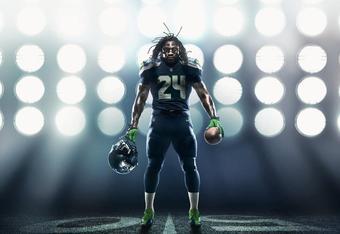 What to expect  
On Monday, April 2, NFL commissioner Roger Goodell, as well as current and former players, will all participate in a ribbon-cutting ceremony at 10:45 a.m. to officially open the store. 
After that, Goodell will shop with fans for an hour. According to NFL.com, "The first 500 fans in line to enter the store will receive a commemorative 2012 NFL Draft coin." 
Throughout the month, the items in the store will constantly be changing, and there will be other special events as well. 
In addition to the ribbon-cutting, the Vince Lombardi Trophy will be on display April 4-14, and fans can also get a look at the rings from Super Bowls I – XLV, which will on display April 8-14. 
On Thursday, April 19, fans will be able to purchase Wilson game footballs, which they can choose to have customized if they wish. These will be the first ever team-specific footballs.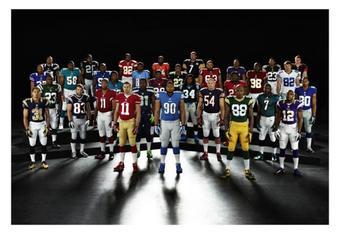 Follow @officialnflshop on Twitter for the latest NFL apparel news. 
Items for sale 
Fans will be able to purchase new hats, jerseys and apparel from NFL licensees, which includes Nike, New Era, Under Armour, GIII, VF and Wilson, according to NFL.com.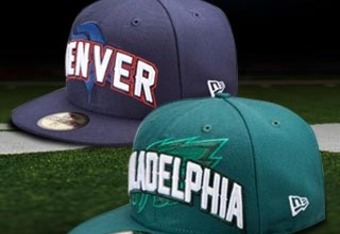 The official shop Twitter page for the NFL has released some photos of the new-look designs. Take a look at a hat and some new clothes.
One would imagine the new jerseys would be the hot item for sale, but those won't be available until Tuesday, April 3, so check back here tomorrow for photos of the new-look jerseys. 
Also, for a limited time, fans have the option of buying unique products, such as Draft Day Gnomes and specialized NFL and NFL draft t-shirts. 
Lead photo credit: Official NFL Shop Twitter Page