7 Most Exciting Detroit Lions Position Battles to Keep an Eye on This Summer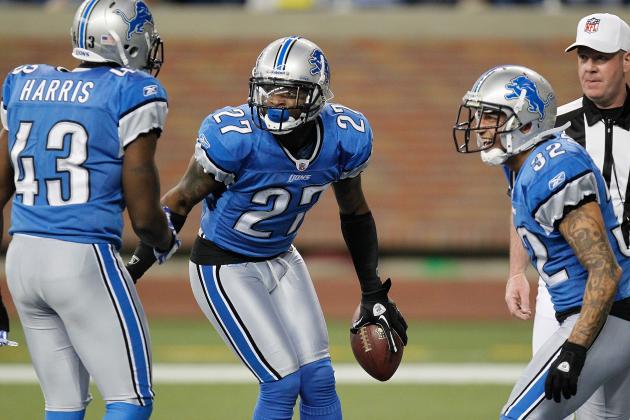 Gregory Shamus/Getty Images

Three years ago, Jim Schwartz took his new Detroit Lions into training camp with no depth chart and one simple message.
Nobody is safe. Everybody has to work hard. Every position is up for grabs.
Since then, the Lions have developed a franchise quarterback, a team identity and key players on each side of the ball. They've broken their streak of consecutive losing seasons, made the playoffs and set some franchise records in the process.
The mantra of working hard and earning your spot hasn't been lost on the team, but there is definitely a depth chart in 2012, and with it, some roster battles.
There are a bunch of positions that aren't up for discussion, and most of the starters are already set for 2012. But as you go down the depth chart, several positions are up for grabs—especially the backup roles.
The Lions have some battles already brewing on the roster. Others will pop up as the Lions progress through the offseason and continue adding players.
But whether the battle is already set or likely to begin after the draft (or free agency), here are the roster spots most likely to be contested in training camp this year.
Begin Slideshow

»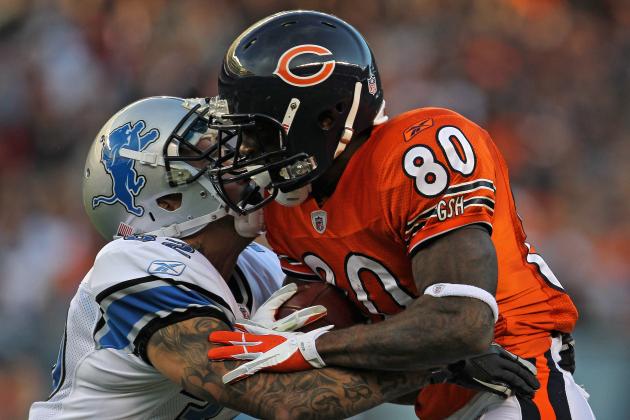 Jonathan Daniel/Getty Images

Like it or not, this is almost certainly to be the battle for the second cornerback position.
Even if the Lions spend a first-round pick on a cornerback, whoever that player might be is unlikely to even be in the running for a starting position in 2012. He might play some reserve nickel, but the starting job will come down to the guys that have experience.
Aaron Berry is still young and has improved by leaps and bounds in his first two years (especially considering he spent almost his entire rookie year on IR). Entering his third year, he will get consideration as a potential starter, which is impressive considering he joined the team as an undrafted free agent.
Jacob Lacey will fight Berry for that spot, and while he doesn't have the big name, he's a bit like this year's Eric Wright. He's young, he played decent corner for a terrible defensive team (Colts), and we could see a huge boost in his production as he develops in a more stable defensive system.
Should the Lions spend a high draft pick on a cornerback, this battle might become moot after that pick develops for a year. Alternatively, that pick could grow into the heir apparent for Chris Houston, who is a free agent after this season.
But that's a different battle for a different day.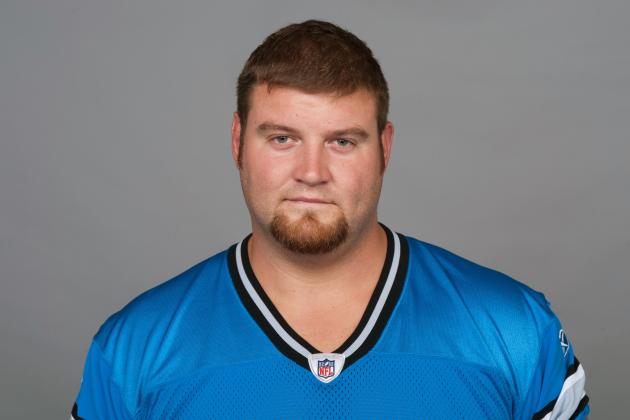 Handout/Getty Images

There comes a point where the Lions' front office has to admit the offensive line just isn't getting it done.
The two sections of the line that have been most maligned in the past two seasons are the right side and the interior.
Guess the only player who fits into both categories?
If the Lions spend a high pick on a lineman (and they should), and said lineman has the physical capability to play guard (and he should), Peterman, as a mediocre veteran with an injury history, no upside, and no notable leadership roles, would be the first starter on the chopping block.
And this battle would be high-stakes for Peterman. As the Lions continue to struggle with cap space, Peterman's $2.73 million salary would be a nice one to cut if the Lions can find a replacement for him as a starter.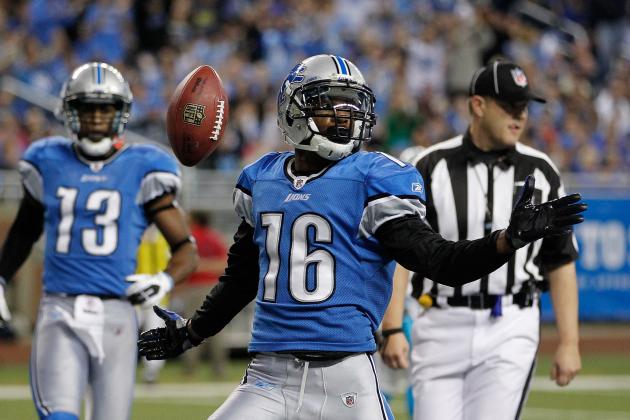 Gregory Shamus/Getty Images

Neither of these guys is in any danger of losing their jobs in 2012, but one of them is going to be statistically more significant than the other.
Last year, it was a near-tie, though Nate Burleson earned significantly more receptions and targets from Matthew Stafford.
But Titus Young improved throughout the year, and he figures to benefit mightily from his first full offseason program with the team. But can he become Stafford's new second-favorite target?
Probably not, but that's because Brandon Pettigrew isn't going anywhere. Young just needs to focus on being an effective deep target to take the pressure off Calvin Johnson and open the middle for Burleson.
This is a battle, but it's not so much a battle for positions as it for targets. And presumably, the success of one receiver will contribute to more opportunities for the other, so this will hopefully be a battle both players can win.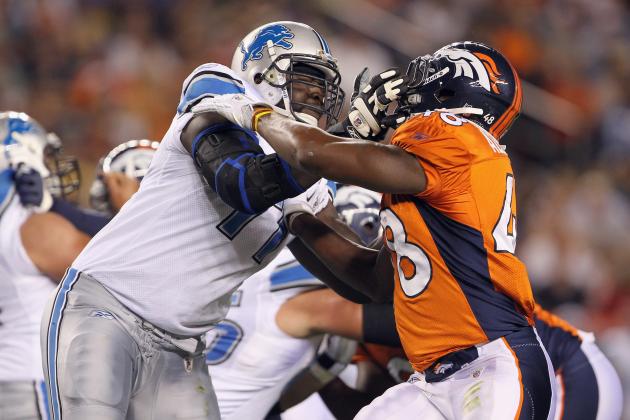 Doug Pensinger/Getty Images

Gosder Cherilus is at the end of his contract, and almost certainly the end of his leash.
I wouldn't go so far as to say that Cherilus has been a bad player, but he has been frustratingly inconsistent in his four professional seasons, and it's time to decide whether he sinks or swims.
Cherilus was benched early last season for taking a silly personal foul penalty against the Bucs that very nearly gave away the first game of the year.
The 2012 draft is littered with prospects that project well to both guard and right tackle. So if the Lions draft a Cordy Glenn or Kelechi Osemele, both Cherilus and Stephen Peterman should be put on notice, and feel fortunate the new kid can only replace one of them.
With any luck, the threat of competition will push Cherilus to improve and become more consistent so he doesn't need replacement.
But even if that happens, the Lions still need to think about re-signing him next season. And that's the other edge of the sword: If Cherilus improves, his contract demands will reflect it, and there's no guarantee he'll remain consistent after signing a new deal.
At any rate, competition for Cherilus' spot can only have positive effects long-term, even if the guy who pushes him ends up playing guard.
Gregory Shamus/Getty Images

This is a thing that I didn't think would be a thing.
That is to say, I didn't think Ben Graham would still be on the roster, but the Lions did indeed extend a one-year deal to the former Aussie Rules punter, so now we have ourselves a little roster tussle.
Graham did a great job last year as an emergency replacement for rookie Ryan Donahue, and his style as a lefty end-over-end punter seemed to give returners fits. Graham's kicks were frequently mishandled by the return man resulting in turnovers or no returns.
Graham doesn't have the biggest leg among punters, but he can boot the ball over 50 yards with regularity, and is accurate on shorter kicks. Graham had more kicks downed inside the 20-yard line (12) than he had returned (11) last season.
Despite all that, I have a feeling Graham's role with the team is simply to act as insurance for Donahue. Graham is 38 years old and not exactly a long-term solution. Donahue was the intended long-term solution last offseason, when the Lions signed him as an undrafted rookie to replace veteran Nick Harris.
There wasn't anything wrong with the work Donahue was doing, but he got injured midway through the season, which opened the door for Graham.
I'm pretty sure that as long as Donahue returns to training camp fully healthy, the job is his to lose. But Graham played well enough late last season to warrant a new contract, so maybe the Lions are serious enough to keep him on board for a while longer. He's 38 years old, but that's like 32 in punter years.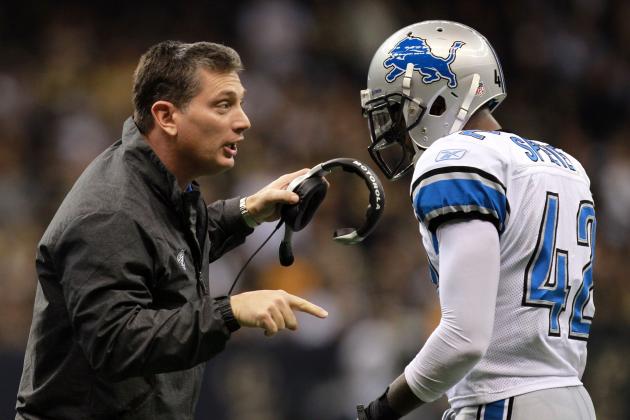 Ronald Martinez/Getty Images

This is the same battle as last year, and Amari Spievey won it.
But then Erik Coleman got hurt, eliminating any chance of competition over the season, and Spievey got hurt, limiting (or perhaps eliminating) his effectiveness late in the season.
So were Spievey's struggles a result of his injuries, or is he actually regressing? Will he learn anything from this year's offseason program, and if so, will that allow him to keep pace with Coleman?
Realistically, this battle could come down to more than just these two players. The Lions have been in discussions with O.J. Atogwe, and there's a very real possibility they could go for a safety in the draft later this month.
But right now with circumstances as they are, the battle comes down to these guys, for better or worse. Just be thankful Chris Harris isn't involved.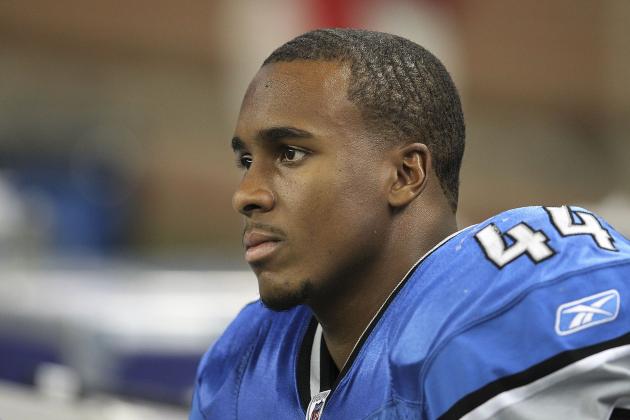 Leon Halip/Getty Images

These guys don't have to battle one another. Under the best circumstances, they will all have a notable, stable role in the Lions' 2011 offense.
So it's not one another that these guys are worried about. They just have to keep themselves on the field, in one piece.
None of these guys have shown the ability to stay healthy for a full professional season, and if that wasn't enough, Mikel Leshoure is now getting in trouble off the field. Ironically, that trouble is likely to keep him off the field for a little while longer next season.
Regardless of why, these guys are their own worst enemies. Either their bodies betray them, or their better judgement does. Both, in Leshoure's case.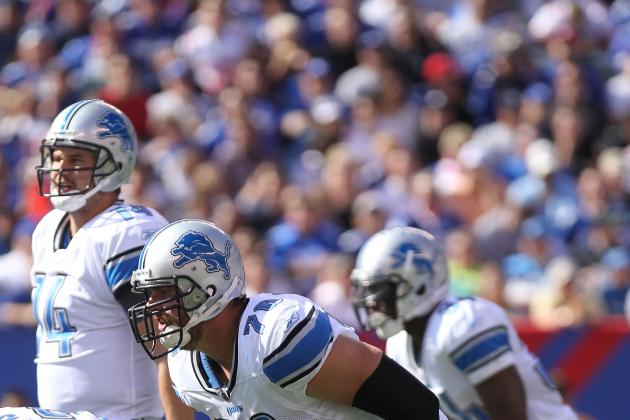 Nick Laham/Getty Images

This season, it is entirely possible that the Lions draft players that can compete with Shaun Hill, Jeff Backus, Dominic Raiola, Kyle Vanden Bosch, and any cornerback on the team.
But none of those players are likely to get pushed hard enough this year to justify putting them on the "camp battle" list.
Backus and Raiola now have two years each remaining on their contracts, and they are too ingrained with the franchise at this point to simply be swapped out with a country-strong rookie.
There are elements like leadership, chemistry and football IQ to consider, and only an elite-tier player (which the Lions are unlikely to get at 23rd overall) is going to be enough of a physical upgrade to make up for the mental falloff. But give them a year of training and learning (and couple in a year of age-related decline for Backus and Raiola), and the battle will be on.
Same with Shaun Hill, and he might even be in less long-term danger. Hill has been good to the Lions anytime his number has been called, and even though the Lions ought to bring in a developmental player to fill the third spot on the depth chart, it isn't likely to be someone who can seriously challenge Hill for the second spot.
Vanden Bosch (and every defensive lineman) is part of a rotation. The distinction between starters and bench players is miniscule in terms of playing time. So even if somebody pushes Vanden Bosch or Corey Williams for starting spots, they're still going to see a whole lot of the field.
The opposite is true of the cornerback position. The Lions might draft a cornerback in the first or second round, and they might not. As far as 2012 is concerned, that's basically irrelevant. Even if the Lions end up drafting their future No. 1 star cornerback, he's not likely to be anything more than the opening day nickel corner under Gunther Cunningham.
So these are all battles that could crop up in 2013, but it's not likely that any of them make waves in the 2012 training camp.