2012 NFL Mock Draft: FC Community Draft Results for the New Orleans Saints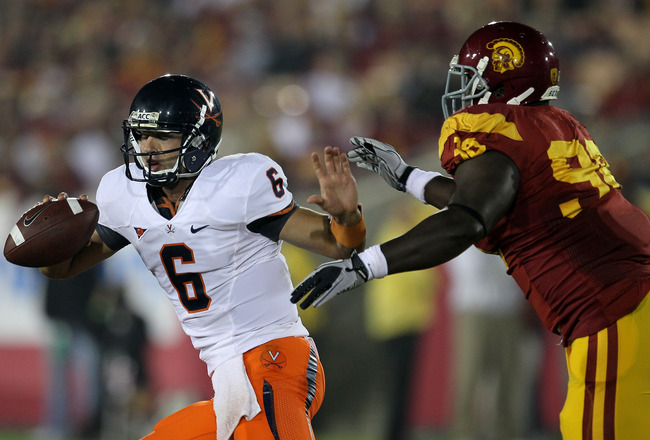 Stephen Dunn/Getty Images
The past few weeks Bleacher Report NFL Featured Columnists have taken part in a Community Mock Draft, one meant to closely resemble the NFL Draft.
As with any mock draft format, it can never be authentic to that which it is intending to replicate. But it has been similar enough that the Bleacher Report Featured Columnists undoubtedly feel confident enough to walk in to their respective team's headquarters and speak as if they could take over that team's GM job should an unusual event take place.
Put it this way: that was my goal for this draft process. I want to be No. 1 on Tom Benson's speed dial, should he decide that Mickey Loomis is no longer the guy to call the shots for this Saints franchise.
Handcuffed by a lack of picks (for which one could actually put all the blame on Loomis if they so choose) I think I, along with fellow Saints' Featured Columnists Jonathan Peralta and Jake Martin, did quite well to represent the New Orleans Saints and acquire the kind of talent this team needs to stay on top of the NFC South and in contention for Super Bowl titles.
It is important to note that unlike most mock drafts we did not have the luxury of selecting our dream player, but were put in the limitations of what other GMs did with their picks. Thus targeted players such as Chandler Jones, Brandon Boykin and Markelle Martin were all selected before the Saints had a pick. And though trades were allowed, the Saints were not in a position to make such a move to jump ahead to grab one of those players.
Without further ado, let's take a look at the picks of the New Orleans Saints.
Third Round, Pick No. 91: Cam Johnson, DE, Virginia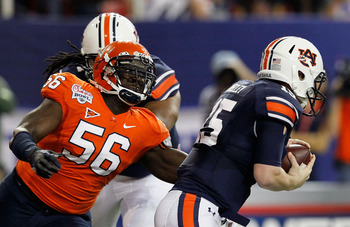 Kevin C. Cox/Getty Images
As you may have guessed, the Commisioner's Office screwed the Saints once again, forcing our team to take this player, who was not in even on the team's board in the top-100 (many players still available at that point were much higher than that).
The commissioner forced our organization to make this pick, and we in the Saints' War Room were not the least bit happy about this.
Efforts were made to trade this player to any organization who would bite, hoping to either get another pick or a particular player to trade one-for-one. No such deal has been struck and it appears we have again been hamstrung by the league office.
If the NFL had allowed us to make our own pick here, we would have taken West Virginia defensive end Bruce Irvin. We don't care if that results in a tampering case against us, we're already in big trouble with the league office as it is, if you didn't know that.
Fourth Round Pick, No. 123: Aaron Henry, S, Wisconsin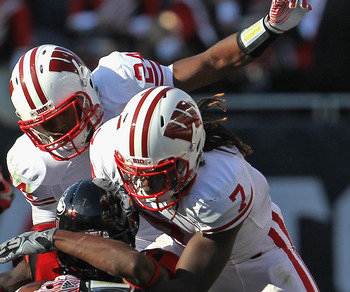 Jonathan Daniel/Getty Images
To give you an appreciation for how highly we thought of Aaron Henry, he's a player we considered selecting back at pick No. 91 (before we were not allowed to make our own pick). As I said before we would have gone with Bruce Irvin, but Henry was our No. 2 choice.
To get him here in the fourth round at No. 123, we are very excited. He is a player who will come in and contribute on special teams right away. He figures to play safety in many of the team's sub-packages.
He allows Steve Spagnuolo the freedom to bring Roman Harper on the blitz and play Malcolm Jenkins in one-on-one coverage more often. His mere presence makes the defense better.
Fifth Round Pick, No. 155: DaJohn Harris, DT, Southern California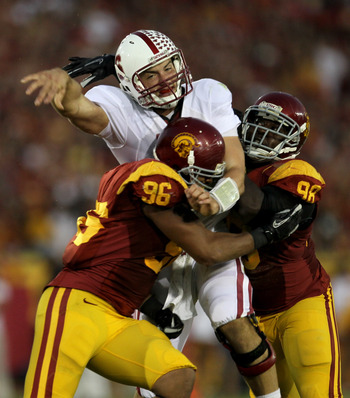 Stephen Dunn/Getty Images
There are many great things to say about DaJohn Harris. He gives the Saints a rotation defensive tackle who has excelled both as a run defender and at getting pressure on the quarterback.
He will battle Tom Johnson for the third defensive tackle spot on our roster this fall. It is really up to him if he makes our roster and plays. He has all the talent in the world, and we think makes this team a much more complete team along the defensive line.
We now like our depth at that spot and feel we have some elite talent at that position. With Sedrick Ellis, Broderick Bunkley and Johnson, Harris doesn't have to come in and save the day but play 15-20 snaps a game and learn the game.
If he performs his responsibility well he will see more snaps and gives us great athleticism and physicality at the position. We were stunned he was available here and thrilled to add him to our football team.
Sixth Round, Pick No. 169: Brian Linthicum, TE, Michigan State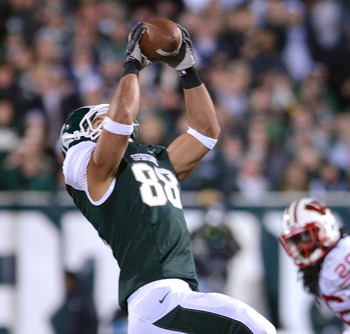 Mark Cunningham/Getty Images
It seems like I'm a CD on repeat but again we're thrilled to select Brian Linthicum where we did. We had him as a fourth-round player on our board. To get him in the sixth round was unfathomable to us, and we are still kind of in shock he was available there.
We feel that immediately he will come in and fill our third tight end spot behind Graham and David Thomas. In the future he has a chance to work up and maybe fill that H-Back spot that Thomas has succeeded in for our team.
We love Brian's ability to catch the ball. He runs sharp routes, he's quarterback-friendly, he's tough. He works hard, he is very intelligent. He brings a physicality to our offense that we really like. He probably won't ever catch more than 50 balls or go for 1,000 yards but as a second tight end in our offense he's a perfect fit. We absolutely love him.
Seventh Round, Pick No. 219: Trevin Wade, CB, Arizona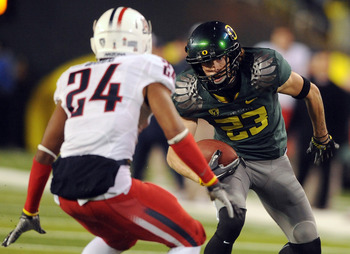 Steve Dykes/Getty Images
Losing Tracy Porter, we felt we had to get another young corner in here to continue our strategy of depth at the position. But we also really like Trevin Wade a lot.
He was extremely productive at Arizona in what became a tough situation out there in Tucson. He isn't off-the-charts athletic but is more of a technician. He understands coverages and route concepts.
He fits Coach Spagnuolo's defense very well because he is equally proficient in man coverage and zone concepts. Because of that proficiency, Wade will step in with an ability to play right away. We feel comfortable with him as a sub-package defender and believe he has the opportunity to compete for more snaps over time.
For a seventh-round selection he is another steal for us.
Undrafted Free Agents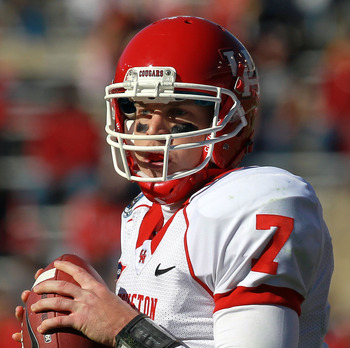 Ronald Martinez/Getty Images
Simply because of the nature of this project we cannot make any guarantee about undrafted free agents and who would get them. The project really wasn't meant to include that final part of the draft process. But based on how the draft ended and our draft board, here are players we would contact in an effort to bring them into camp:
Case Keenum, QB, Houston
My philosophy has always been to bring in great football players if for nothing else than competition's sake. And I also am a firm believer in bringing in a young QB every year. For that reason, to see a player of Keenum's credentials and potential still available we want him badly. He is everything we want in a quarterback and more.
Cory Harkey, TE, UCLA
Harkey is the finest blocking tight end in the entire draft and would be a viable option should the tight end position continue its injury-riddled nature in 2012.
Brad Smelley, H-Back, Alabama
Smelley is another player the Saints had a high grade on due to the nature of his potential role in our offense. He could play the H-Back spot the way David Thomas has for years now. Another player with great potential.
Nick Provo, TE, Syracuse
Another player we had rated very highly, all of these are players who would compete and make this a better roster in 2012. They are all players we believe fit our offense, and Provo brings the added benefit of having played in a system that resembles ours in verbiage and style with Doug Marrone at Syracuse. That would be invaluable.
Jacquies Smith, DE, Missouri
For Smith to not be drafted is hugely surprising. We love his potential and think his best football is ahead of him. We think he'll contend for a roster spot once he gets in here.
WR Patrick Edwards, WR, Houston
Despite his diminutive size Edwards is a tough player who knows how to get open. But this team needs him for his ability to help the return game. We want to get Darren Sproles off the kick return game but need someone as dynamic to take his spot. Edwards is that guy.
CB Cliff Harris, CB, Oregon
Harris has some character questions but his talent and ability to play football is unreal. If he can overcome those off-the-field issues he figures to become a good NFL player.
Chaz Powell, CB, Penn State
Powell ran a cover three defense meaning he is very comfortable with some of the zone coverages Coach Spagnuolo will run. Powell is an underrated corner we like a lot.
Blake Gideon, S, Texas
Coming from Texas you know Gideon is well-schooled, intelligent and a quality football player. He can't hurt the Saints' team.
Tony Dye, S, UCLA
Dye has been injured throughout the draft process but is very talented with good size. For a "strong safety" he has good coverage and ball skills.
Delano Howell, S, Stanford
The Saints are desperate for depth at the safety spot. Whether it's filling in for a potential injury or a regular third safety for sub-packages, depth is necessary at the position. Between Howell, Dye and Gideon you're getting intelligent players with good backgrounds. Any of them could be good NFL safeties.
Johnnie Troutman, OG, Penn State
Troutman is a huge man. Coming from Penn State you know he is talented and well-coached. He is a nice developmental prospect.
Charles Burton, OT, Montana
Burton is one of the few small school prospects the Saints are taking a chance on this draft season. We like his size and effort. He can come in to learn and compete.
Mike Harris, OT, UCLA
Harris is a very underrated offensive tackle prospect. Though a bit undersized he has a lot of potential.
All of these selections are contingent upon other teams' selections at the end of the draft (still going on as of this article being written).
Keep Reading

New Orleans Saints: Like this team?