Pittsburgh Steelers: Ranking the Offensive Draft Needs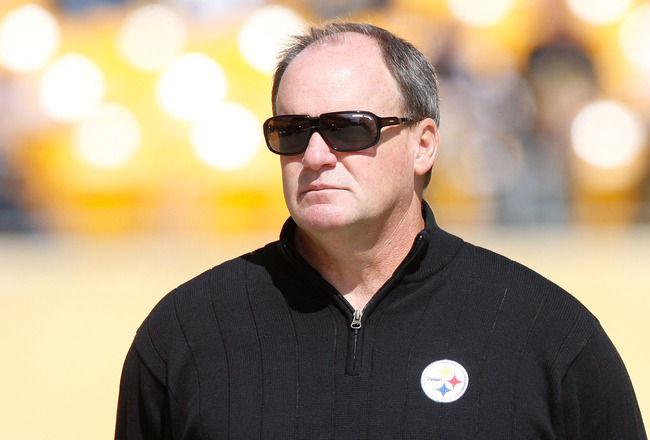 Jared Wickerham/Getty Images
The Pittsburgh Steelers have yet to make a move in free agency and will be looking to the draft to improve their roster.
So far this offseason, they have released Hines Ward and Chris Kemoeatu, both backups, leaving their entire starting offensive lineup in tact, though Mike Wallace could still be lost.
The other concern on offense is their backfield with Rashard Mendenhall's ACL injury which will leave them without a game-breaker.
Beyond this, Pittsburgh's offense appears to be set and they could add some potential starters or valuable depth through the draft.
Here is a look at how the offensive priorities stand heading into the draft.
8. Fullback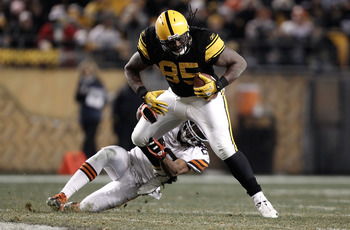 Jared Wickerham/Getty Images
The fullback was non-existant in Bruce Arians' offense, but with Todd Haley running the show now, the Steelers may want more emphasis on a blocking back.
While a true fullback would certainly help the team regain some stability in the power running attack, it is not a high priority for the draft.
The Steelers have David Johnson already on the roster, though he is an H-back, and he has done an adequate job over his career.
Pittsburgh recently signed Will Johnson, but he is also in the H-back mold even though the team lists him as a fullback on its official roster.
Despite the benefit of a fullback, the Steelers have had success without one and it is not a position that will make or break the offense.
If the team wants to add a true fullback, they will have a number of options in the seventh round or find one after the draft.
7. Quarterback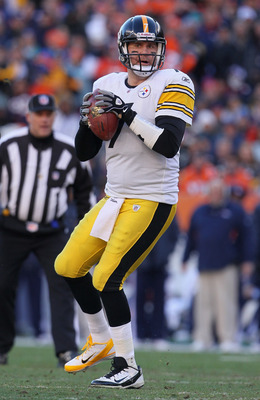 Jeff Gross/Getty Images
Pittsburgh could use a young quarterback to develop behind Ben Roethlisberger, but that remains a low priority right now.
Chances are that Byron Leftwich or Charlie Batch (or even both) could be re-signed leaving the Steelers with plenty of depth at the position.
They have already made a couple of moves by signing Troy Smith and Jerrod Johnson to give the team enough depth for this year, assuming they re-sign at least one of their veterans.
Smith and Johnson will compete for third on the depth chart.
Pittsburgh may add a developmental prospect in the mid-late rounds of the draft, but it is not necessary this offseason.
6. Center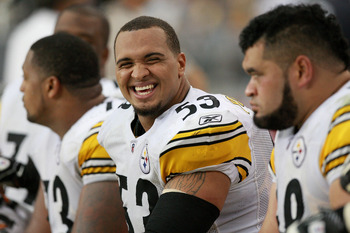 Karl Walter/Getty Images
Pittsburgh has one of the best centers in the game with Maurkice Pouncey. The problem now is that he needs to stay on the field.
Health aside, with Pouncey at center and potentially having Doug Legurksy to back him up, the Steelers are set at center.
The problem is if Legurksy is depended upon to start at left guard again, Pittsburgh will need a backup behind Pouncey so they do not need to shuffle their line due to injury, though history shows that is what the team will do.
If needed the Steelers could re-sign Trai Essex who can back up all five positions on the offensive line.
5. Running Back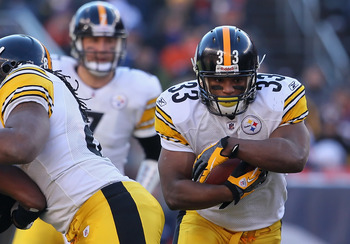 Jeff Gross/Getty Images
The Steelers are in an interesting spot with their running backs heading into the 2012 season. They have a solid starter with Isaac Redman and a lot of potential behind him, but not much versatility.
Jonathan Dwyer has a lot of talent but has been out of shape which has limited his playing time. He has the skills to be a viable starter in the league, but he has to be more consistent.
John Clay is a powerful, but very limited power option. He is a straight-line runner and could spell Redman as the short-yardage back if the team feels that is necessary.
Baron Batch is a wild card because he has a versatile skill set that the other backs don't. He has good speed and is an excellent receiver out of the backfield and is a viable blocker, though he could still improve in that area.
If Redman can hold down the starting job with Dwyer backing him up and Batch carrying the load as the third-down back, the Steelers will have an adequate backfield until Mendenhall is ready to contribute.
While the need is not there, you will not call running back a position of strength either. If there is a good value in the second round, Pittsburgh could take a running back that early in the draft to set them up not only for this season, but the long-term future with the impending departure of Mendenhall.
4. Tight End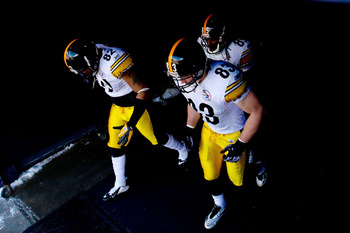 Justin Edmonds/Getty Images
Pittsburgh is comfortable with Heath Miller as the starting tight end, but behind him they are severely lacking.
Weslye Saunders has the talent to be a good second option, but he has been suspended for the first four games of the season leaving the Steelers with a gaping hole behind Miller.
David Johnson is the H-back and does not profile as a true backup. He will also have to compete with Will Johnson for his job.
This year's tight end prospects in the draft is very weak and the Steelers may have to reach in the first three rounds if they want to upgrade the position behind Miller. Pittsburgh has a few options.
They could find a balanced tight end or pure receiving tight end earlier in the draft to meet the needs of the passing game. The New England Patriots showed how deadly an offense can be with two good receiving tight ends.
Considering Pittsburgh's talent at receiver, a more logical option may be to find a blocking tight end which would free up Miller to be more involved in the passing game.
3. Offensive Tackle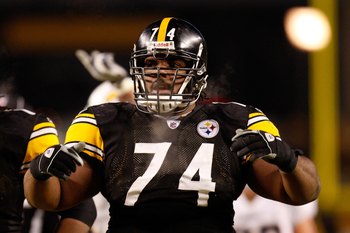 Gregory Shamus/Getty Images
The Steelers have above-average talent at tackle with Marcus Gilbert on the left side and Willie Colon on the left side, but they only have Jonathan Scott behind them, which is a concern.
There is also concern with the two starters.
Gilbert has to prove that he can man the left side of the line, particularly against some of the more athletic pass-rushers in the league. It seemed as though the Steelers had planned for him to be the long-term answer at left tackle and we will find out this season.
Colon had an outstanding training camp last season. However, he was injured in the team's opening game against the Baltimore Ravens. He has only played in one game over the past two years and the injuries are becoming a problem.
Even if Gilbert and Colon play well and can start every game, Pittsburgh still needs to upgrade their depth and should place a high priority on adding young talent at tackle in the draft.
2. Wide Receiver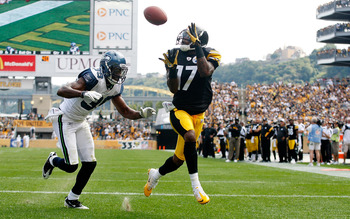 Jared Wickerham/Getty Images
The Steelers have three proven receivers on the roster and none of them will be under contract after this season.
Mike Wallace's status has been well-documented and until a long-term deal is reached, you have to consider that he may only have one or two more years with the team (if they franchise him next season).
Antonio Brown and Emmanuel Sanders are both restricted free agents after the season as well, but the team would at least have the ability to match any offers that they may receive.
Beyond the contract status of each player, Sanders has failed to stay healthy and if he goes down again, Pittsburgh would have no options to step in.
To avoid any potential problems with free agency or injury, they need to draft a receiver at some point. The good news is that there is a lot of talent at the position and they can find a talented player in the mid-late rounds who can contribute this season, whether it is with the offense or on special teams.
1. Offensive Guard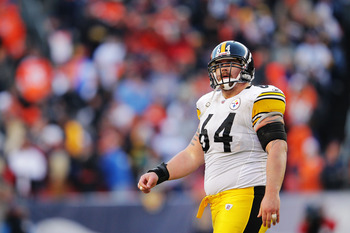 Doug Pensinger/Getty Images
The overall talent on offense is pretty good, at least for this season, but the one area that needs an immediate upgrade is guard.
Ramon Foster has been fair at right guard and has improved in his first couple of seasons. The bigger issue is with Doug Legursky at left guard.
Legursky is overpowered by the larger defensive tackles in the league and he is the weak link of the offensive line.
Any first- or second-round choice, possibly even third, would have a legitimate chance of overtaking Legursky.
The Steelers need to upgrade their pass and run blocking and it all needs to start on the interior of the line.
Upgrading at guard is easily the top need on offense and one of the areas that they must address in the draft.
Follow me on Twitter @ChrisG_FC
Keep Reading

Pittsburgh Steelers: Like this team?