Fantasy Baseball Sleepers 2012: Unknown Sluggers Who'll Put Up Monster Numbers
April 1, 2012
Rich Pilling/Getty Images
Research is key when it comes to putting together a championship-caliber fantasy baseball squad.
Knowing which under-the-radar prospects are and are not worth taking a risk on is an invaluable advantage come draft time, so choose wisely.
So, which unknown sluggers capable of producing monster numbers should you keep an eye on this spring?
Join Bleacher Report as we take a closer look at some underrated bats worthy of your lineup.
Austin Jackson, Detroit Tigers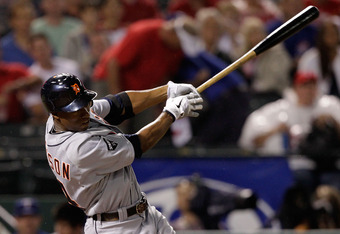 Bob Levey/Getty Images
A young center fielder with plenty of experience despite just playing two seasons with the Detroit Tigers, Austin Jackson has 304 games under his belt already, and has amassed 14 home runs over his two MLB seasons. His career slugging percentage is .387 and his 1,209 at-bats in two seasons suggest that he'll get to the plate aplenty in 2012, providing him with a plethora of opportunities to swing. 
ESPN fantasy baseball projections for home runs in 2012: 8
Drew Stubbs, Cincinnati Reds
The fourth-year center fielder hit 15 homers in 2011, just one season after going yard 22 times with the Reds in 2010. Stubbs played in 158 games last season for Cincinnati and boasted a quiet .364 slugging percentage. However, it was the first season in Stubbs' career in which his slugging percentage was less than .439. With less than 1,300 career at-bats under his belt, expect big things from Stubbs in 2012.
ESPN fantasy baseball projections for home runs in 2012: 15
John Buck, Miami Marlins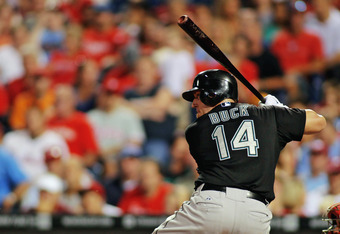 Len Redkoles/Getty Images
John Buck was bouncing around the league before landing with the Marlins in 2011. Before that he was in Toronto with the Blue Jays, and before that a six-season stint with the Kansas City Royals. Buck hit 16 homers in 2011, but posted his lowest slugging percentage (.367) since 2008 with KC. Buck hit 20 home runs in only 409 at-bats in 2010, so at age 31 he can still get the ball out of whatever park he's in.
ESPN fantasy baseball projections for home runs in 2012: 17
Follow Patrick Clarke on Twitter for more fantasy baseball talk.