Nike NFL Uniforms: Nike Can't Quell Tebowmania with Lawsuit Against Reebok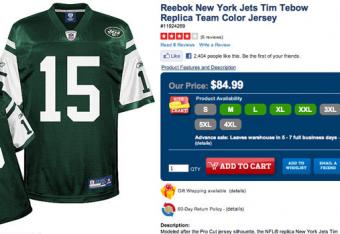 Nike is really excited to start being the sole benefactor of Tebowmania, but it probably didn't mean to be this obvious about it.
The clothing giant is set to become the official NFL uniform provider on April 1 and until then it will not stand for any other apparel provider—namely, Reebok—producing replica jerseys featuring the new Jets quarterback's name and number.
As a result, Nike filed a lawsuit against Reebok for producing Jets apparel featuring Tebow's name and number. The sports apparel giant told CNBC's Darren Rovell in a statement:
We have filed a complaint relating to unauthorized use of Tim Tebow's name on New York Jets related apparel. Nike is authorized and licensed to use Tim Tebow's name on products. We have no further comment at this stage.
ESPN sports business reporter Kristi Dosh told CBSSports.com that while Reebok is licensed to use NFL logos until April 1, its NFLPA license expired on March 1, which prohibits the company from being able to use Tebow's—or anyone else's—name on jerseys.
It is understandable that Nike is eager to halt Reebok from producing Tebow jerseys. After all, his Broncos jersey was among the most popular sellers last season, so Nike stands to make a hefty profit from it. It wants to exercise its right to sole custody of the quarterback and every other player in the NFL.
But we live in the age of now, where Jets fans heard about the Tebow trade and the following day, they were already sporting Jets versions of Tebow jerseys. The fans don't want to wait until April 1 when Nike is legally licensed to be the official provider of NFL apparel. They want it now.
Tebowmania was, for better or worse, one of the biggest stories of the 2011 NFL season and Nike's attempt to quell that excitement as it extends into 2012—at the expense of the fans—is a bit despicable. There are times when the NFL isn't all about the money, or the legal regulations, or the NFLPA licenses, and this is one of them.
Yes, professional sports are a business and Nike has paid good money for a license that it stands to gain a rather large chunk of change from. However, could it be any more obvious that they view Tebow as a commodity? A cash cow? This is a person, not a machine-made money generator.
Going to court over which company has the right to capitalize off this kid just illustrates everything that's wrong with the NFL. And we wonder why there have been so many lockouts recently.
This article is
What is the duplicate article?
Why is this article offensive?
Where is this article plagiarized from?
Why is this article poorly edited?