MLB Opening Day: All 30 Teams' Biggest Strength on Day 1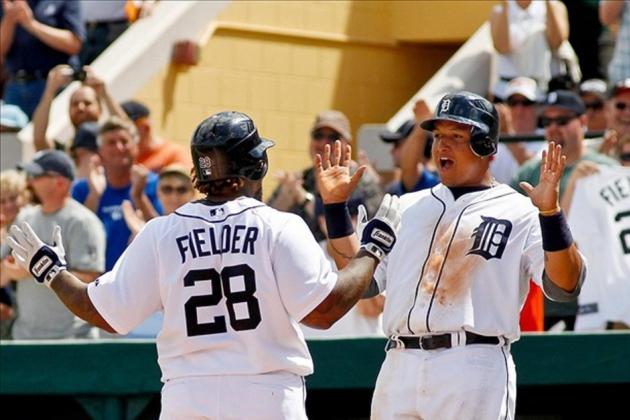 I'm looking at Opening Day through optimistic eyes. So should everybody else.
All 30 MLB teams are beginning the regular season with a distinct advantage—a unique strength—that will help them contend in 2012.
Although no franchise is perfect, none are completely hapless, either.
Even the clubs that placed poorly in my recent power rankings have something to hang their hats on.
Begin Slideshow

»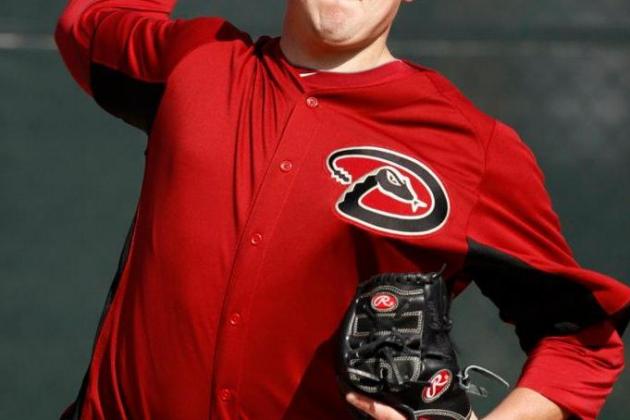 Starting pitcher Trevor Cahill and outfielder Jason Kubel joined the talented Arizona Diamondbacks this offseason via trade and free agency, respectively.
Neither are "superstars," yet they are still valuable additions.
These American League imports have thrived against the NL during their first several MLB seasons.
Cahill is 7-3 with a 2.85 ERA and 1.06 WHIP in 12 career interleague outings. Kubel has maintained a .328 AVG and .972 OPS in 74 games against the Senior Circuit while racking up 14 HR and 44 RBI.
Both should dominate in 2012 as the competition struggles to identify their weaknesses.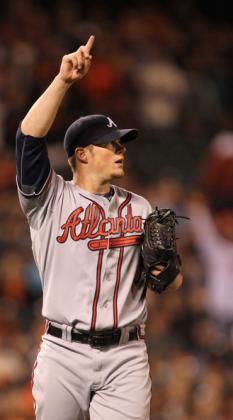 Atlanta Braves manager Fredi Gonzalez got plenty of use out of Craig Kimbrel (79 games), Eric O'Flaherty (78) and Jonny Venters (85) in 2011.
Those three late-inning relievers were superb, except during September as the team abruptly collapsed. But they were hardly the only ones to blame for the slump.
Overall, they were untouchable, combining for 67 holds and 51 saves.
Atlanta's starting rotation will be a bit sketchy until Tim Hudson recovers from back issues. Jason Heyward and Martin Prado are coming off disappointing offensive years, and Dan Uggla was inconsistent. Don't forget that the organization is breaking in a rookie shortstop.
Amid all that uncertainty, you can trust the bullpen to preserve leads this season.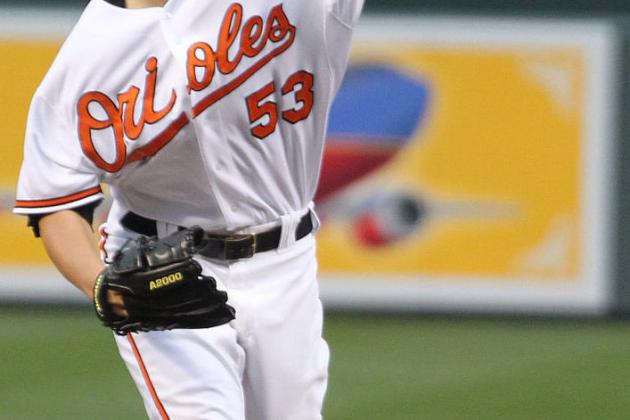 Let's be honest—the Baltimore Orioles won't contend in the American League East in 2012.
At least they tried to improve this winter by investing in the free-agent market.
The front office added two starting pitchers from the Far East, Wei-Yin Chen and Tsuyoshi Wada.
If Wada wasn't beginning the regular season on the 15-day disabled list (per MLB.com), I don't know how skipper Buck Showalter would have trimmed down his MLB rotation to five. Realize that Jake Arrieta, Brad Bergesen, Zach Britton, Tommy Hunter, Brian Matusz and Chris Tillman were all viable candidates earlier this spring.
Between the dugout, trainer's room and Triple-A Norfolk, Showalter has a lot of options.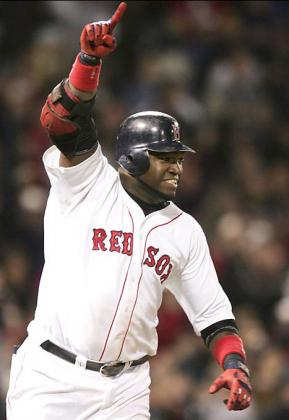 Most fans and experts are unimpressed with the Boston Red Sox, who are coming off another postseason-less campaign.
I'll admit that their pitching appears suspect, especially with the news of Andrew Bailey's surgery (per ESPN).
Still, this lineup can be near impossible to navigate.
Jacoby Ellsbury, Adrian Gonzalez, David Ortiz and Dustin Pedroia are each supremely talented with the stick compared to others at their positions.
Jason Varitek's retirement was addition by subtraction. The veteran backstop was unproductive in 250 plate appearances in 2011.
A healthy Carl Crawford contributes terrific speed, and Kevin Youkilis—"The Greek God of Walks"—preaches patience at the plate.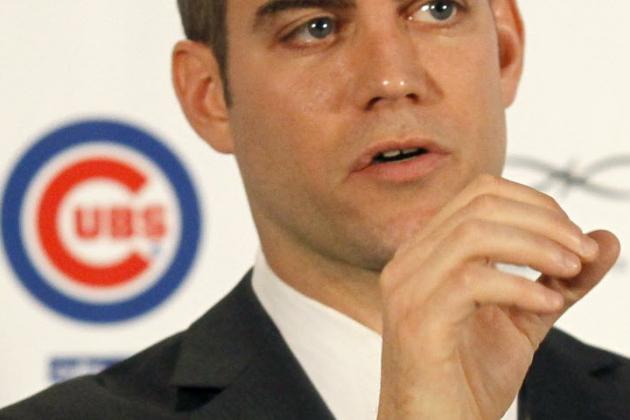 The Chicago Cubs will be hard pressed to break their 104-year-old curse by continuing to sign inflated paychecks to the orders of Carlos Marmol and Alfonso Soriano.
Luckily, they have hired a first-class team president in Theo Epstein.
He was recently the general manager of two World Series champions in Boston. Epstein didn't make many wrong moves during his tenure.
This rebuilding franchise is seeking "impact talent," according to Epstein (via ESPN).
Epstein will be integral in the quest to move overpaid veterans and acquire necessary youngsters to win in the future.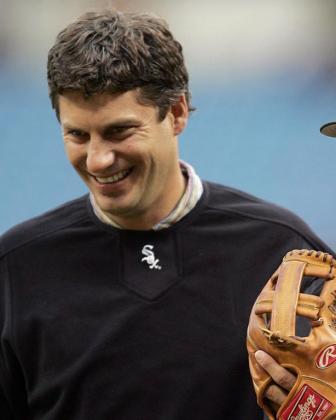 There wasn't much talk about the Chicago White Sox over the course of spring training. What a difference from the days of Ozzie Guillen.
The ChiSox aren't loaded in any particular area, but they have sufficient talent to surprise in the AL Central, the only division in baseball that is widely considered one-team deep.
Commotion rooted in Adam Dunn's and Alex Rios' ineptitude turned into a severe distraction in 2011.
First-year manager Robin Ventura won't let things get out of control like his predecessor did. His calmness is a source of strength for the South Siders.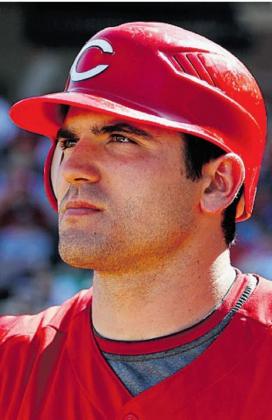 The Cincinnati Reds open 2012 with the best duo of left-handed power hitters in the league: Jay Bruce and the recently extended Joey Votto.
Otherwise, the Reds are entirely dependent on righties. Among them, Brandon Phillips, Scott Rolen and Drew Stubbs are difficult to defeat.
No opposing starting pitcher can match up well against such a batting order.
With Bruce and Votto comprising the heart of this lineup, Cincy will score runs in droves.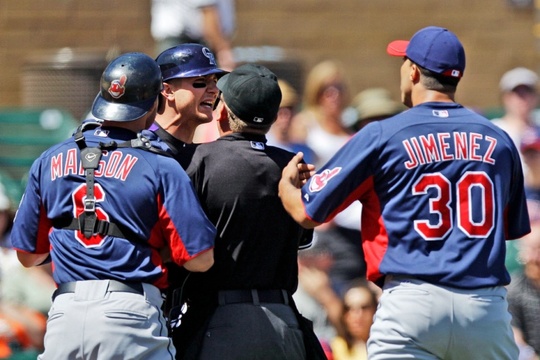 Don't mess with the Cleveland Indians.
Hot-headed Ubaldo Jimenez—who plunked Troy Tulowitzki in an exhibition game—only takes the mound once every five days.
However, nothing less than a complete game from an Indians starter can keep the "Bullpen Mafia" away.
"We have that little swagger about us," setup Vinnie Pestano explained in March (per MLB.com).
That's not surprising. Closer Chris Perez played collegiately for the University of Miami, the institution that invented it.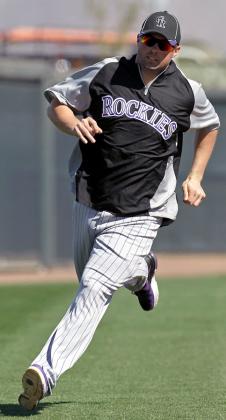 When Michael Cuddyer inked a three-year deal with the Colorado Rockies, he brought his multitude of gloves along, too.
Primarily a right fielder, he also has ample MLB experience around the infield at first, second and third base.
There are other versatile players like Cuddyer on this roster.
Second baseman Marco Scutaro knows the hot corner and shortstop. Third base candidate Jordan Pacheco can be moved to first or even behind the plate. Though he was demoted to the minors, Brandon Wood also spent time at five different positions during camp.
Manager Jim Tracy is probably overwhelmed with the countless ways he can fill out the field.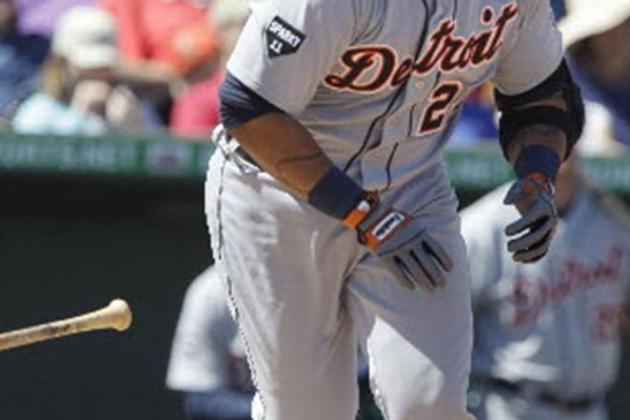 The Detroit Tigers have a lineup void of a clear landing spot.
Carlos Guillen and Brandon Inge could be handled last season, but the former has since concluded his career. Inge, meanwhile, is injured and would have otherwise been without an everyday role on Opening Day.
Miguel Cabrera and Prince Fielder are merciless in the middle.
It's much worse than that, though.
Nos. 1-9 in the batting order are legit hitters.
Tiger fans should come to Comerica Park on game days expecting to leave with a few "souvenirs."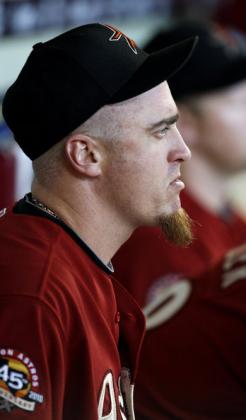 To an extent, all sports teams overlook the weakest opponents of their schedules.
For 19 MLB clubs who face the Houston Astros in 2012, the challenge will be to avoid getting too complacent.
The Astros—in their final season as a part of the National League—will allocate significant playing time to young no-names. Even the lowly Chicago Cubs hardly see them as a threat to escape the NL Central cellar.
Without another apparent strength, I'm counting on this underrated squad to use that skepticism as fuel.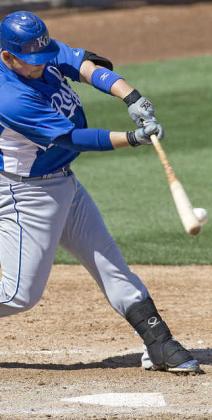 For a team that finished 20 games under .500 last season, the Kansas City Royals showed a lot of potential.
Their offense was great, and what separates them from every other club on Opening Day is the ability to make contact.
KC's youngest players—Alcides Escobar, Eric Hosmer and Salvador Perez, for example—swing the bat often but regularly connect, according to the plate-discipline statistics on FanGraphs.
The Royals are dangerous against any ace on any night because they effortlessly put the ball in play. And crazy things happen between the foul lines.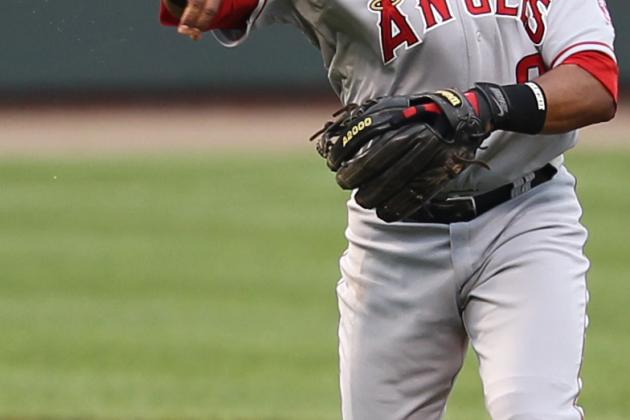 Outfielder/designated hitter Bobby Abreu doesn't figure to see much action for the Los Angeles Angels of Anaheim.
Alberto Callaspo will be riding the pine, too.
He handles the bat well enough to total more walks than strikeouts, and he ranks among baseball's best defensive third basemen.
Let's not forget that top prospect Mike Trout is stuck on the farm.
These three would be staples in many MLB starting lineups. Instead, they are on standby until an Angels star suffers an injury.
That's how we know the Halos are a force to be reckoned with—because they have outstanding bench depth.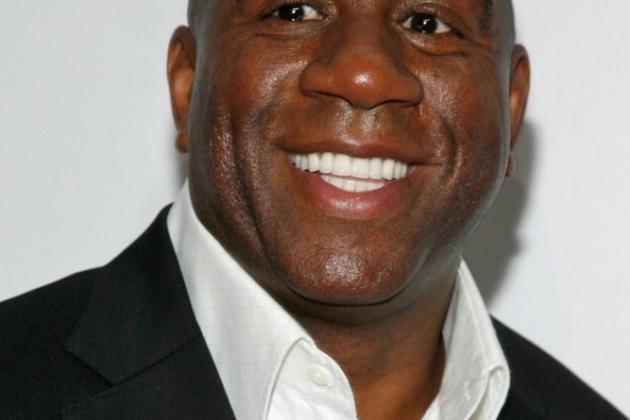 An entire metropolis went bonkers—in a good way—when Magic Johnson's ownership group purchased the Los Angeles Dodgers in March.
The purchase price was more than $2 billion. Rest assured, a sizable chunk of that is going straight to payroll.
The Dodgers are merely a couple pieces away from threatening the Arizona Diamondbacks and San Francisco Giants atop the National League West.
They finally have a leg up over their rivals with this recent influx of spending money.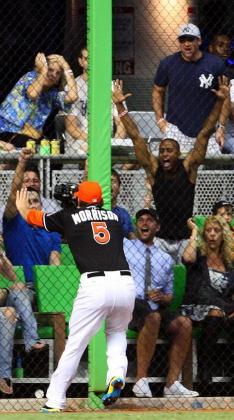 Each MLB park has unique dimensions.
Coincidentally, the new Marlins Ballpark suits the 2012 edition of the team perfectly.
It is tailor-made for speed demons Emilio Bonifacio and Jose Reyes. The spacious outfield will frequently gift them extra-base hits.
Additionally, several of Miami's pitchers couldn't imagine a more friendly environment.
Specifically Heath Bell, Josh Johnson and Carlos Zambrano have made their careers out of preventing home runs. That certainly won't change in this new establishment.
The minimum distance needed for a round-tripper is 335 feet down the right-field line, not to mention the wall never dips below 10 feet.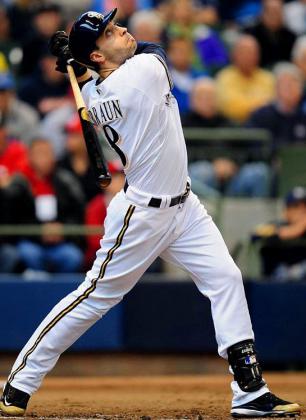 Since Corey Hart made a swift and smooth recovery from preseason knee surgery, the Milwaukee Brewers have five solid outfielders with the big league team.
The starting threesome of reigning NL MVP Ryan Braun, Hart and Nyjer Morgan is already pretty impressive.
To have defensive gurus Norichika Aoki and Carlos Gomez as reserves doesn't seem fair.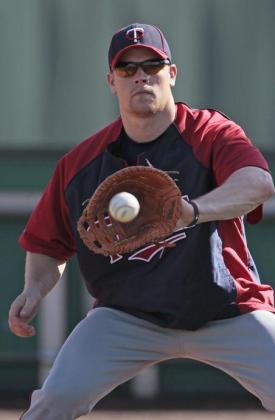 Joe Mauer and Justin Morneau have the potential to be premier players at their respective positions.
However, they are each a while removed from peak performance.
So, the Minnesota Twins were wise to find serviceable replacements for them, considering the possibility—really, the probability—that the M&Ms boys will get hurt.
Ryan Doumit and Chris Parmelee could produce in the absence of Mauer and Morneau and at least ensure that the club improves on its 63 victories from 2011.
Moreover, the Twins could cause a stir in the American League depending upon how often they can start three of these four in concert.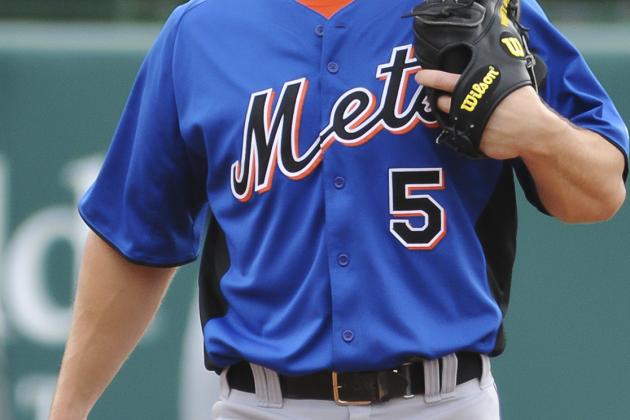 The New York Mets are at full strength this April for what seems like the first time in a generation.
Ike Davis and Daniel Murphy have mended from season-ending health issues. David Wright recovered from his abdominal injury with a week-and-a-half to spare in spring training. Johan Santana—who logged zero MLB innings in 2011—will take the ball in the opener.
If this good fortune persists, the world will see what the Mets' slashed payroll can actually afford.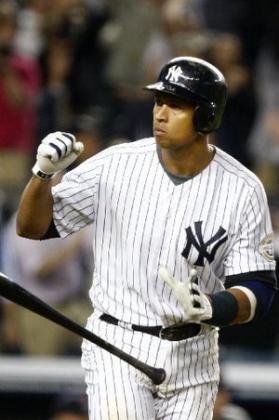 Patience has been preached like a virtue by the New York Yankees organization since the championship years of the 1990s.
Brett Gardner, Alex Rodriguez, Nick Swisher and Mark Teixeira are all current Yanks who pride themselves on working the count. The results—annually challenging for the league lead in on-base percentage and runs scored—encourage them to continue.
At the very least, taking undesirable pitches forces opposing starters to work more. Then, once matched up with middle relievers, the Yankees see their effort reflected on the scoreboard.
A lineup is frustrating to face when the majority of its players subscribe to this philosophy.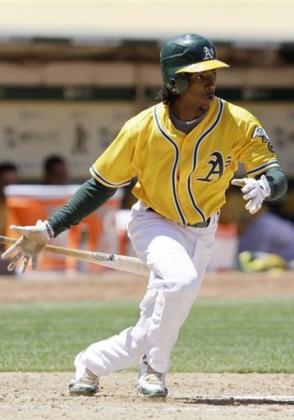 As if the Oakland Athletics weren't young enough last season, general manager Billy Beane gutted his losing team of Andrew Bailey, Trevor Cahill and Gio Gonzalez—all in their mid-20s—for a myriad of prospects.
One advantage of inexperience, I suppose, is that everybody else will be unfamiliar with your players.
What major leaguer knows how to pitch to Yoenis Cespedes, Josh Reddick or Eric Sogard?
Similarly, no batters can claim much history against Ryan Cook, Graham Godfrey or Tom Milone.
See, A's fans, you have reason to be optimistic.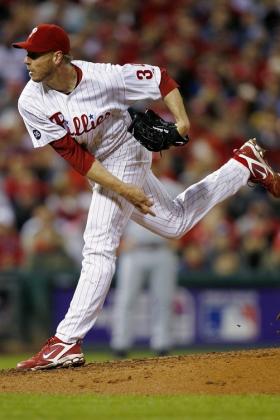 A sensational pitching staff led the Philadelphia Phillies to 102 wins in 2011.
They will be more dependent on Roy Halladay and Company this summer with sluggers Ryan Howard and Chase Utley still sidelined with Achilles and knee injuries, respectively.
I'll give name recognition where it's due.
Aside from Halladay, Cole Hamels and Cliff Lee attacked the league's best batters with pinpoint location. No. 4 starter Vance Worley has strike-throwing skills, too.
Closer Jonathan Papelbon accepted a record-breaking free-agent offer to anchor the 2012 bullpen.
He handed out only 10 walks in 64.1 innings with the Boston Red Sox.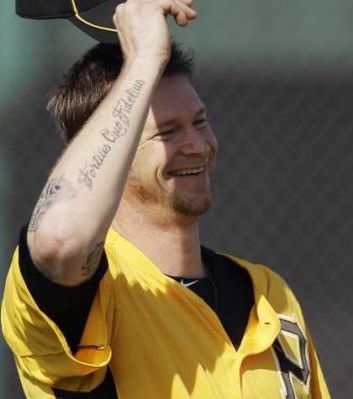 A.J. Burnett is a possession of the Pittsburgh Pirates, but certainly not a valuable asset. Even this perennially disappointing organization has a slew of better starting options.
The erratic right-hander was diagnosed with a orbital fracture after injuring himself during a bunting exercise this spring.
As the regular season opens, manager Clint Hurdle is lucky that Burnett is still weeks away from rejoining the rotation.
His club now has a realistic chance of duplicating 2011's strong first half, and that's a strength in itself.
Beyond contributing to stolen bases, speed pesters opposing defenses to a point where routine putouts become arduous. In the field, fast players generally have more range, allowing them to catch up to balls that would otherwise drop in "no man's land."
The San Diego Padres locked up Cameron Maybin prior to the season, understanding he could single-handedly make an impact with his waist-down tools.
Will Venable is a Padre cast from the same outfielder-with-wheels mold.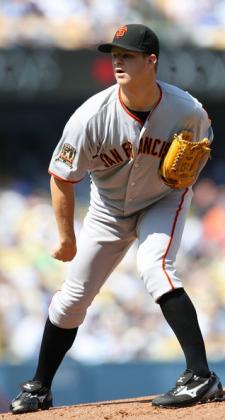 I'm highlighting five remarkable pitchers on the San Francisco Giants: Madison Bumgarner, Matt Cain, Tim Lincecum, Sergio Romo and Brian Wilson.
This quintet could be worth 25 wins above replacement in 2012.
The three starters—"beasts"—are especially intriguing. None of them have succumbed to a significant injury as a professional.
While no players are immune to all physical ailments, Bumgarner, Cain and Lincecum help themselves with repeatable deliveries.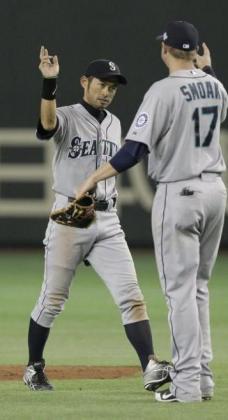 The Seattle Mariners lost an MLB-worst 196 times between the 2010 and 2011 regular seasons. It's important for there to be an achievement for them to build upon.
The M's split a pair of games against the Oakland Athletics in Japan in late March to even their record at 1-1.
In the first of two, Seattle pitchers buckled down with the A's in scoring position. They allowed one hit in 14 at-bats in such circumstances. Felix Hernandez was efficient, and Ichiro Suzuki tallied four hits.
The biggest strength for this club as it aspires to bounce back to relevance is having game experience—and winning experience—while other teams haven't even begun the regular season.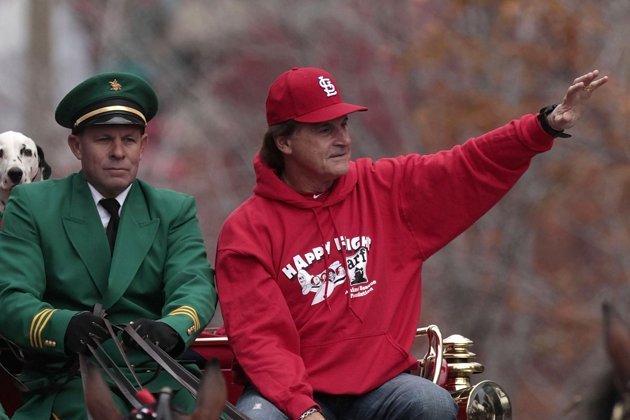 The reigning World Series champions couldn't retain either of their future Hall of Famers this offseason. Stud first baseman Albert Pujols fled for a mega contract with the Los Angeles Angels of Anaheim, and Tony La Russa was content enough to step away from MLB managing.
Yet the St. Louis Cardinals will be greeted by a passionate following of bandwagon fans at every destination.
Don't understate this advantage.
Playing in front of supporters can simulate a home environment.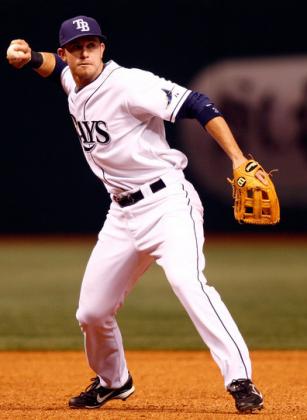 The Tampa Bay Rays made a couple subtle changes over the winter.
Particularly, the additions of Jose Molina and Carlos Pena have bolstered a squad that prides itself on playing strong defense.
Evan Longoria is a prodigy at third base, and starting pitcher James Shields eliminates the running game with a filthy pickoff move.
Ongoing debates in the baseball community about how fielding should be quantified have prevented great defenders from marketing their glove and throwing arm.
As a result, the financially strapped Rays can afford to make improvements.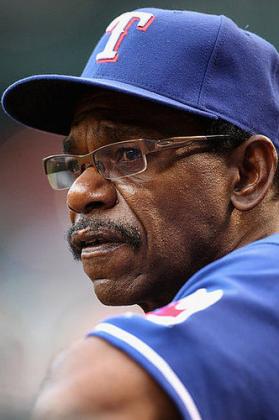 Just a handful on MLB managers have longer tenures with their current teams than Ron Washington has with the Texas Rangers.
The two-time defending AL pennant-winners return most of the puzzle pieces that fit together so seamlessly in 2011.
The lineup hasn't been tampered with at all.
Rotation-leader C.J. Wilson departed via free agency, but the front office filled the void by signing a greater talent (Yu Darvish) while meeting the need for an experienced closer with Joe Nathan.
There is an intangible value to keeping a tight-knit group together.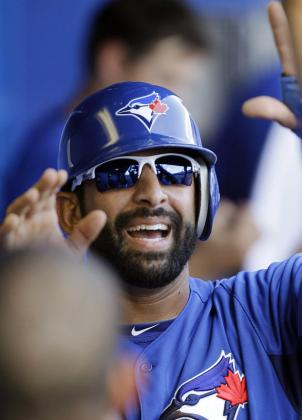 If the results of spring training exhibition games were meaningless, then Major League Baseball wouldn't have started keeping official records of them in 2006.
The Toronto Blue Jays finished with a 24-7 mark this preseason, and that was despite losing three of their final five contests.
Maybe you'll take their unprecedented success with a grain of salt, but there are individual performances that shouldn't be dismissed.
Brett Lawrie (.524 AVG, 9 RBI, 5 SB, 1.344 OPS) and Brandon Morrow (2-0, 0.52 ERA, 0.75 WHIP) were so excellent throughout that I'm already envisioning them as 2012 American League All-Stars.
The Jays are motivated to ride their momentum through the summer and into October. They are banking on the fact that a not-so-faint correlation links the separate seasons.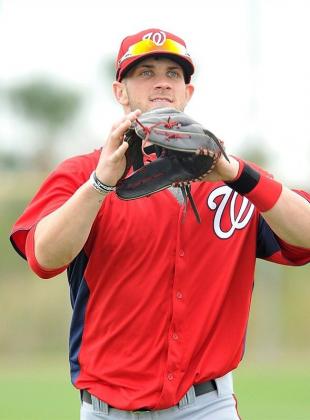 Surely, the Washington Nationals won't make excuses if they struggle out of the gate...but who could blame them if they did?
The team's No. 5 starting pitcher (Chien-Ming Wang), top power hitter (Michael Morse), best defensive player (Rick Ankiel) and star closer (Drew Storen) are currently disabled.
Also recall that 19-year-old Bryce Harper was contending for a Opening Day roster spot before a calf injury slowed him down.
However, the Nats can find solace in the facts that Harper is healthy again and the rest are aiming to return by month's end.
Regardless of how they fare in the first several series of 2012, they'll maintain a quiet confidence. Their strength is in the knowledge that better baseball is ahead of them. Soon, these reinforcements will rejoin their teammates.