Pittsburgh Steelers Mock Draft: Grading Matt Miller's Latest Picks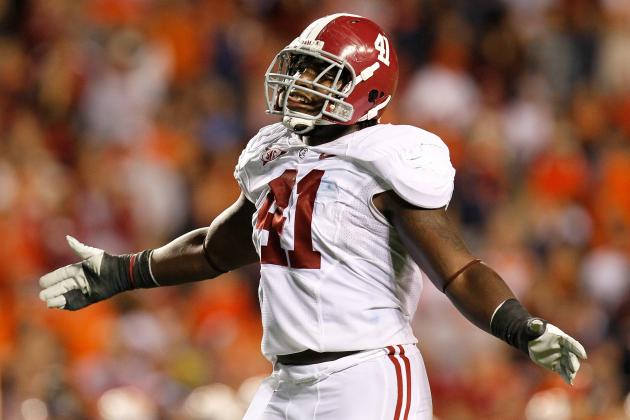 Kevin C. Cox/Getty Images

Bleacher Report's draft guru Matt Miller has come out with another full mock draft as we move into the final days of March and into the month of the draft.
He has the Pittsburgh Steelers making some interesting picks in each of the draft's seven rounds and has even covered the team's three compensatory picks in the seventh round.
How do I view this draft from a grading point of view? Let's take a look at each pick.
Begin Slideshow

»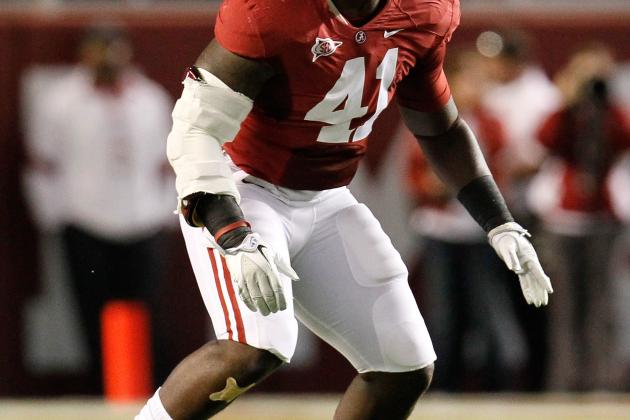 Kevin C. Cox/Getty Images

Courtney Upshaw, OLB, Alabama
I'm not sure Miller got the right Alabama linebacker. The Steelers, who released inside man James Farrior last month, are much more likely to make Dont'a Hightower their first round choice.
Upshaw, while a great talent and possibly a better overall prospect, doesn't fit the Steelers current needs.
Hightower is still my top choice. The Steelers could also go offensive line here. I don't see an outside linebacker being their top choice.
Grade: C-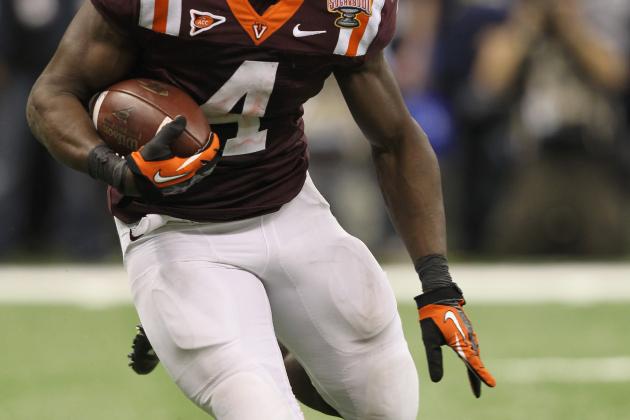 Matthew Stockman/Getty Images

David Wilson, RB, Virginia Tech
While I'd have to agree that Wilson would do well in Pittsburgh's offensive system, I don't see this pick either.
So far, we'd have drafted two players at positions where there is zero immediate need and ignored two others (offensive line and defensive tackle) where the need is much greater.
The Steelers also might be looking at corner after losing William Gay to the Cardinals earlier this week. Two corners go before the end of round two in this mock. One (Alfonzo Dennard) goes the pick after this one. I'd say that is a more likely spot in round two than running back.
Grade: D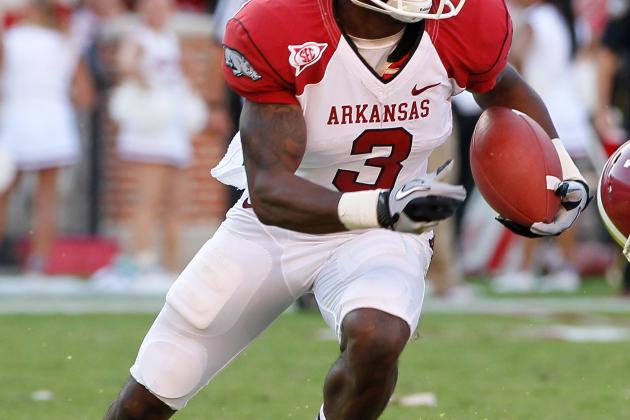 Kevin C. Cox/Getty Images

Joe Adams, WR, Arkansas
No. I don't see it at all. The primary reasoning Miller uses is that Mike Wallace won't be in Pittsburgh after this year if the team cannot extend him.
While I agree that Adams is a good replacement option, drafting a receiver this early when a team has three starting-caliber receivers is pointless.
This would be a great spot to grab that running back. Bernard Pierce is still available in this mock draft and I'd say he'd be a great fit for Pittsburgh. Running back isn't a major need, but it is much, much more important than wide receiver, where the team has a wealth of depth and will likely be bringing back Jerricho Cotchery.
Grade: F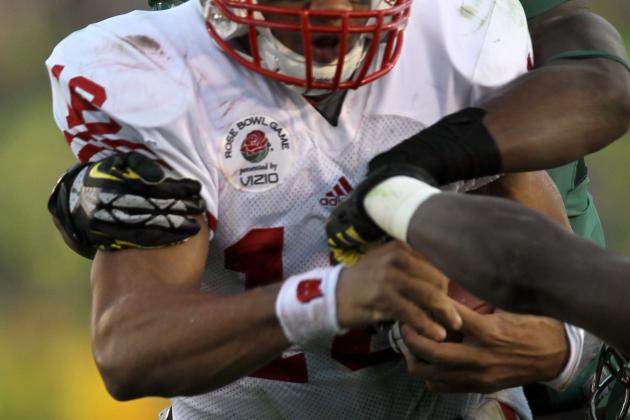 Stephen Dunn/Getty Images

Russell Wilson, QB, Wisconsin
I think this may be a round too early, but I actually do like this pick. The Steelers have no real depth behind Ben Roethlisberger at this point (I'm not buying Troy Smith at all) and resigning both Charlie Batch and Byron Leftwich makes no real sense.
Wilson isn't going to be a competent backup this season, but he can sit and learn from Batch for a year, and then move up to second string in 2013 if he's ready.
The move gives the Steelers a player who is similar to Roethlisberger while not possessing the starting-caliber skills of the team's elite passer.
Grade: A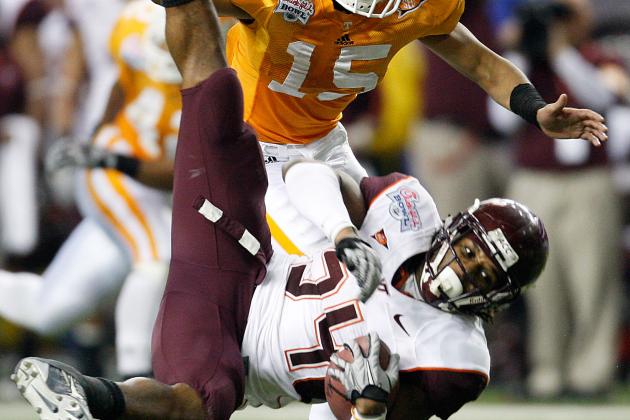 Mike Zarrilli/Getty Images

Janzen Jackson, FS, Tennessee
This is the second time Miller has mocked Jackson for Pittsburgh and I still am not too impressed by the idea.
The Steelers have a need for depth at the free safety position, but it doesn't make a ton of sense to have him here. There are still plenty of other spots that need some help.
Matt Reynolds, an offensive tackle from Brigham Young, is a player who could go in this spot and would be a much wiser pick for the Steelers. They have no depth at all at tackle (not buying into Jonathan Scott) and could really use some more youth there.
Grade: C+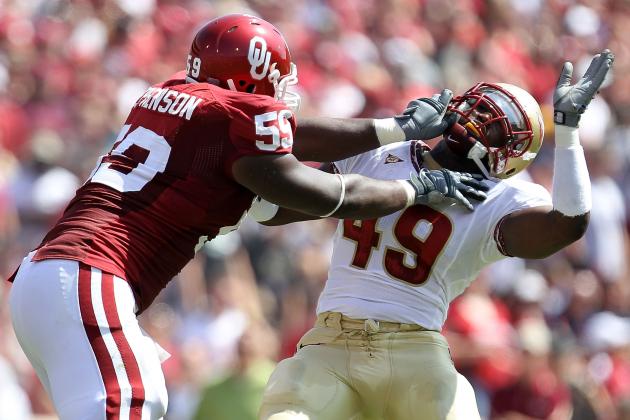 Ronald Martinez/Getty Images

Donald Stephenson, OT, Oklahoma
While I'm hopeful that the Steelers will get an offensive lineman before the sixth round, this is a good value pick here.
Stephenson fits the Pittsburgh blocking scheme well and is a player with some good upside. The sixth round isn't really a place where you can get a bust, so going for the value and potential makes sense.
If the team isn't looking for a tackle, they could also look for a linebacker like Max Gruder from Pitt or a kicker like Blair Walsh from Georgia. Either would also be a good fit in this round and would fill a potential need position.
Grade: A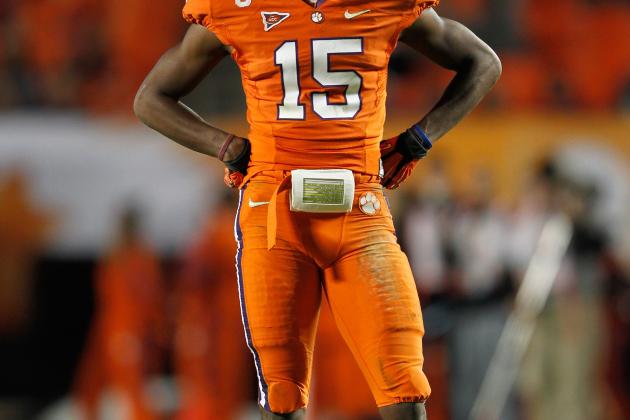 Streeter Lecka/Getty Images

Shawn Loiseau, ILB, Merrimack
Nice pick here. There's a lot of potential and the team needs to add depth even if they get a guy early in the draft at the same position.
Grade: A
Coty Sensabaugh, CB, Clemson
Another nice future pick. There's a lot to like about his playing style and he's played in a conference that demands solid play from the corners.
Grade: A
Joe Looney, OG, Wake Forest
Also no problem here. The Steelers need depth at guard after releasing Chris Kemoeatu. This is a good way to possibly get some.
Grade: A
LaVon Brazil, WR, Ohio
This is where you can afford to pick a player at a position where you need no depth right away. Brazil is a nice project player, but I'm not sure he will translate to the professional level.
Grade: B