NFL Draft 2012: Five Prospects the Philadelphia Eagles Should Fall in Love with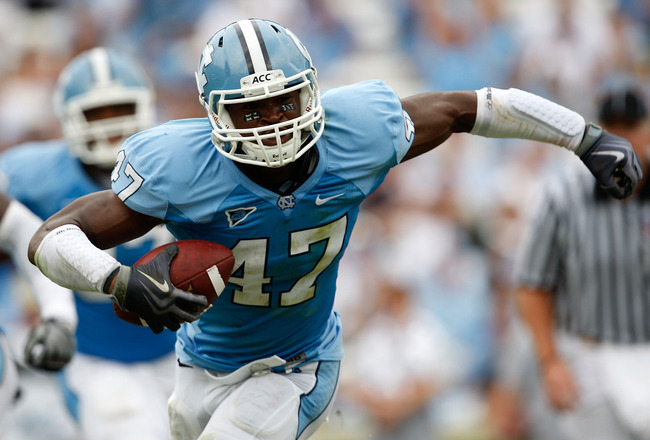 Streeter Lecka/Getty Images
With DeSean Jackson re-signed and the blockbuster trade for DeMeco Ryans from the Houston Texans, it would appear that the Eagles have filled what could have potentially been very large holes on their roster. At this point forward, the team seems to be without as many glaring holes as it was prior to these signings.
But despite most of the biggest holes on the team being dealt with, the Eagles still have many draft picks in 2012 and the right moves can determine not only if this team can compete in 2012, but if it can compete for many years beyond that. Andy Reid, normally regarded as having an excellent mind for the draft, has had a rough couple of drafts.
If Reid selects from among these players, he can once again establish himself as having an excellent reputation for evaluating talent and building a winning franchise.
1. Mark Barron — SS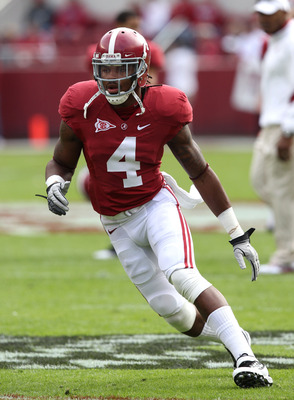 Mike Zarrilli/Getty Images
While some teams may shy away from Barron due to him recovering from a double sports hernia, the Eagles would be wise to select him if they were granted the opportunity.
Barron is a very instinctive player and tackles well. He also is a hard hitter. He is the perfect player to fill in for the Eagles at strong safety.
Barron does not have elite speed, but he makes up for it with a great football IQ and he also has decent hands. While Nate Allen can be expected to bounce back in 2012, Kurt Coleman is far too inconsistent of a player. It would be logical to replace him with a player of far superior talent.
2. Kelechi Osemele — OG
Not only does Reid love drafting linemen in the top three rounds, but Osemele would be a perfect fit with the Eagles.
Osemele is a very athletic player and is versatile enough to play both the tackle and guard positions. If Danny Watkins or Todd Herremans began to struggle again on the right side of the line, Osemele could potentially compete for the starting job or simply add great depth along the line.
Osemele will also likely fall to the second round. If he does, Reid should attempt to acquire him.
3. Zach Brown — OLB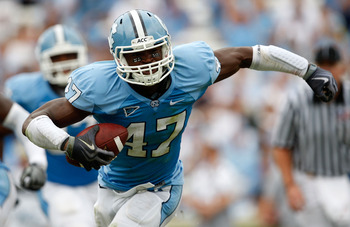 Streeter Lecka/Getty Images
Despite Andy Reid's unwillingness to draft linebackers in the early rounds, he may make an exception this season. He has openly admitted his mistake of undervaluing linebackers to the success of a defense and he may attempt to turn the team's 2011 glaring weakness into a 2012 team strength.
While a healthy DeMeco Ryans would instantly improve the play of the linebackers corps, the outside linebackers are not quite as superb as Ryans is. Jamar Chaney is, for the most part, a reliable player, but the Eagles can certainly do better than Casey Matthews or Brian Rolle at weak-side linebacker.
Here is where Zach Brown would come into play.
Brown is a phenomenal athlete and possesses blinding, rare speed. He has all the physical tools to be a dominant player in the NFL. His primary weaknesses are his inconsistency, a sometimes perceived lack of effort, and concerns about his maturity.
But the right coaching staff and veteran leadership could develop him into a good player. And with the acquisition of Ryans, a former team captain, Brown would have an excellent role model to keep him in line.
4. Brock Osweiler — QB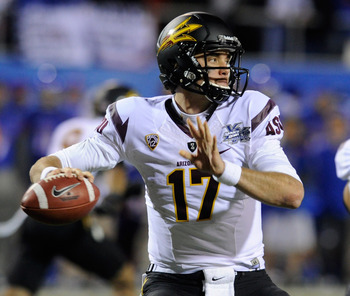 Ethan Miller/Getty Images
For a player that could potentially fall into the third or fourth round, Osweiler would be quite the steal for Philadelphia.
Osweiler has a big arm, decent accuracy for a player of his arm strength, and surprising mobility for a player of his size (6'7"). He would be a perfect fit for the offense that Andy Reid and Marty Mornhinweg run due to his physical ability to make all the throws and to scramble to extend plays.
Furthermore, Osweiler could potentially have an advantage over both Donovan McNabb and Michael Vick due to his impressive height. Batted down passes would likely not be an issue with this giant of a man.
Of course, Osweiler still has much developing to do. But, he has every physical gift to be great. If Andy Reid truly is a genius at developing quarterback, this could be an opportunity to get his very own Ben Roethlisberger or Cam Newton for a relatively low draft pick.
5. Fletcher Cox — DT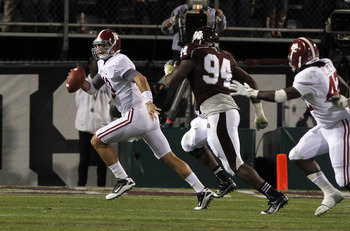 Butch Dill/Getty Images
Of course, no list for players Andy Reid should target would be complete without a defensive linemen. Regardless of the needs at other areas, Reid consistently selects defensive linemen in the top rounds of the draft, as it is an area where he loves to constantly add depth and talent.
Cox would be a nice addition to the Eagles' lineup. Cox does not have the best agility or flexibility, but he has a great deal of size and power. He can immediately make an impact as a rotational man on the Eagles defense.
Juan Castillo and Jim Washburn employ the wide-nine technique, which — in contrast to the late Jim Johnson's blitz-happy approach — favors more generation of pressure from the front four. Depth alone, the d-line would be important for such a scheme and Cox could be a great addition to this Eagles' defense if selected.
Keep Reading

Philadelphia Eagles: Like this team?