NFC East Free Agency: 3 Defensive Tackles the Philadelphia Eagles Should Target
March 28, 2012

Jonathan Daniel/Getty Images
The Eagles could use another defensive tackle for the rotation in their "wide 9 and double 3-technique" scheme. Trevor Laws and Derek Landri have not yet been retained and both were key contributors in 2011.
According to Philly.com, the Eagles could very well look to add a tackle via the draft. Several mocks, including NFL.com, have them picking Mississippi's Fletcher Cox.
However, with outside linebacker and safety still a concern, the Eagles could turn to free agency for a defensive tackle to supplement starters Cullen Jenkins and Mike Patterson. Here are the three best remaining options:
Amobi Okoye, Chicago Bears
Okoye is an intriguing option to consider. The 24-year-old has struggled to live up to his 2007 first-round billing in five pro seasons. Yet Okoye showed flashes of his tremendous potential in 2011 as a member of the Chicago Bears.
He operated as a penetrating 3-technique in the Bears' schemes and notched four sacks and 27 tackles as a rotational player. The 6'2" 292 pounder has excellent takeoff speed and has the quickness to fight through the guard-tackle gap and disrupt the backfield.
Playing in an Eagles' line scheme that demands he quickly gets up the field could see Okoye finally post the numbers to match his talent.
Luis Castillo, San Diego Chargers
Castillo may have spent most of his career in the 3-4, but he has always excelled at attacking the B-gap as an interior pass-rusher. The 6'3" 290 pounder is a great fit for Jim Washburn's line rotation.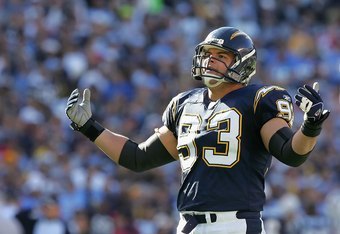 Lisa Blumenfeld/Getty Images
His production has plummeted in recent seasons, but being deployed as a 3-technique in Philadelphia's adventurous schemes would be an ideal situation for Castillo.
Being given more opportunities to rush the passer from the inside could see the 28-year-old return to his best.
Wallace Gilberry, Kansas City Chiefs
Gilberry has played in a 3-4 for the Chiefs, but his role has been as a nickel pass-rusher. He comes in at defensive tackle whenever the Chiefs move to a four-man front in passing situations.
A natural 3-technique, interior rusher, the 27-year-old Gilberry has been very effective in this role, registering 14 sacks and four forced fumbles in the last three seasons. He also has 4-3 experience, having begun his career as a member of the New York Giants practice squad.
At 6'2" and 268 pounds, Gilberry plays with great leverage and deceptive strength. He has developed a niche as an inside pressure threat, and could be surprisingly effective on the Eagles' line.
Conclusion
The Eagles have a need at defensive tackle, especially if they do not bring back Laws and Landri. The trio of Jenkins, Patterson and Antonio Dixon is strong and could make adding a rotation player the best option.
If the team does not want to use the 15th overall pick on a situational player, these three free agents have the skills to be productive in Juan Castillo's defense.