MLB Predictions 2012: 6 Teams with the Biggest Starting Rotation Holes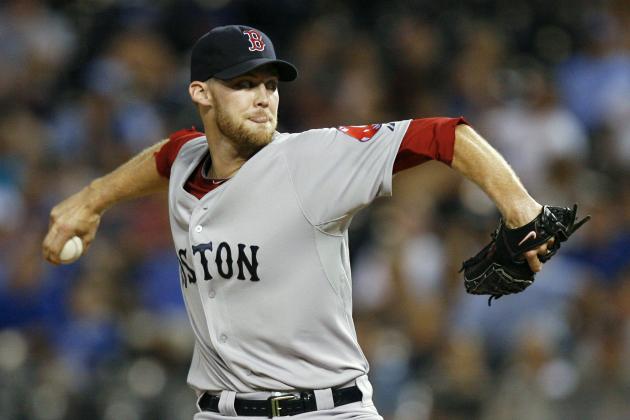 Ed Zurga/Getty Images

Every team in the MLB has a hole somewhere on their roster, and that place is oftentimes the starting rotation.
It is not easy to build a starting rotation that is solid from top to bottom throughout the entire baseball season. It is just the nature of the game that pitchers will get injured or underperform during the sometimes grueling 162-game schedule.
While some teams have better success in building a solid starting rotation than others, even good teams will have one or two starting pitchers who just can't get it done when their turn in the rotation is up.
Here is a quick look at six teams that have several solid starting pitchers slated to take the mound every fifth day, but that also have some question marks in the starting rotation.
Begin Slideshow

»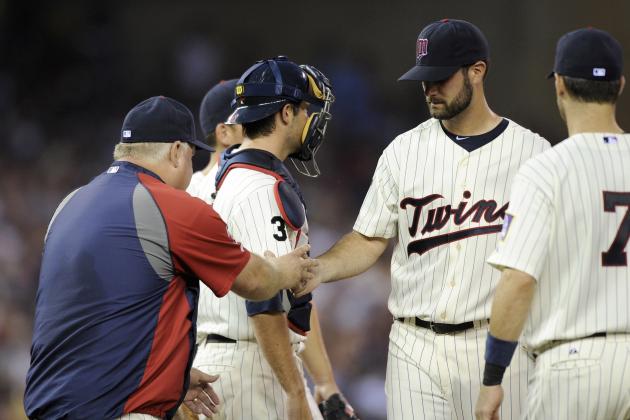 Hannah Foslien/Getty Images
Twins' starter Nick Blackburn
Projected Starting Rotation (2011 Stats):
RHP Carl Pavano (9-13, 4.30 ERA, 102 K)
LHP Francisco Liriano (9-10, 5.09 ERA, 112 K)
RHP Scott Baker (8-6, 3.14 ERA, 123 K)
RHP Nick Blackburn (7-10, 4.49 ERA, 76 K)
RHP Jason Marquis (8-6, 4.43 ERA, 76 K)
The Minnesota Twins have a durable No. 1 starter in Carl Pavano and a high-ceiling No. 2 starter in Francisco Liriano. Pavano has pitched over two hundred innings in each of the last two seasons. Having that durable of a starter in the rotation is something that a lot of teams look for. As for Liriano, he still has a ton of potential and is a good candidate to have a comeback season in 2012.
The real holes in the rotation are the fourth and fifth spots for the Twins. Blackburn and Marquis are both guys that did not have great seasons last year. Both had ERAs over four and failed to strikeout 100 batters. With those two pitchers filling up the back end of Minnesota's rotation, it will be difficult for the Twins to put together extended winning streaks in 2012.
Denis Poroy/Getty Images
Cubs' pitcher Ryan Dempster
Projected Starting Rotation (2011 Stats):
RHP Matt Garza (10-10, 3.32 ERA, 197 K)
RHP Ryan Dempster (10-14, 4.80 ERA, 191 K)
LHP Paul Maholm (6-14, 3.66 ERA, 97 K)
RHP Randy Wells (7-6, 4.99 ERA, 82 K)
RHP Jeff Smardzija (8-4, 2.97 ERA, 87 K)
The Chicago Cubs have three solid starting pitchers in their rotation in Garza, Dempster and Maholm. With decent run support, all three are capable of earning double-digit wins in 2012. Maholm is especially a guy to watch as he was subjected to terrible run support during his time in Pittsburgh. They also have a solid fifth starter in Jeff Smardzjia, who finished last season with a sparkling 2.97 ERA.
The biggest hole in the Cubs' rotation is in Randy Wells. With an ERA approaching five, Wells cannot be relied upon to consistently have solid starts. There is also a question mark near Dempster's name to some fans because of his age. It is hard to predict how he will hold up throughout an entire season.
J. Meric/Getty Images
Rays' starter Jeff Niemann
Projected Starting Rotation (2011 Stats):
RHP James Shields (16-12, 2.82 ERA, 225 K)
LHP David Price (12-13, 3.49 ERA, 218 K)
RHP Jeremy Hellickson (13-10, 2.95 ERA, 117 K)
LHP Matt Moore (1-0, 2.89 ERA, 15 K)
RHP Jeff Niemann (11-7, 4.06 ERA, 105 K)
The Tampa Bay Rays have a stellar one-two punch at the front end of their starting rotation in Shields and Price. They also have a great third starter in Jeremy Hellickson. All three of those players should have similar statistical seasons in 2012 as they had in 2011. Price and Hellickson have the best chance of showing major improvement as they are both still young pitchers with plenty of potential.
However, once you look past those first three spots, the holes begin to show in the Tampa Bay rotation. Matt Moore has a ton of potential, but expectations must also be wavered as he has very little experience at the major league level. It can take pitchers that young a while to be comfortable pitching to major league hitters. Their fifth starter, Jeff Niemann, is also a hole in the Rays' rotation. While he managed a winning record last season, his 4.06 ERA shows that some of his wins came from the Ray's offense.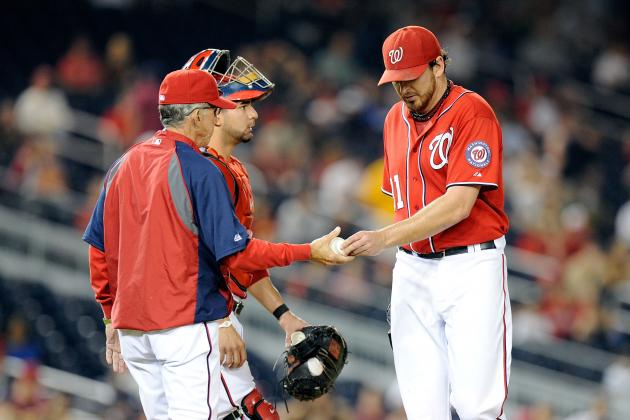 Greg Fiume/Getty Images
Nationals' pitcher John Lannan
Projected Starting Rotation (2011 Stats):
RHP Stephen Strasburg (1-1, 1.50 ERA, 24 K)
LHP Gio Gonzalez (16-12, 3.12 ERA, 197 K)
RHP Jordan Zimmerman (8-11, 3.18 ERA, 124 K)
RHP Edwin Jackson (12-9, 3.70 ERA, 148 K)
LHP John Lannan (10-13, 3.70 ERA, 106 K)
The Washington Nationals have a rotation that has the potential to be their best in recent memory. They have two remarkable young pitchers in the first two spots in Strasburg and Gonzalez. It must be noted that Strasburg is coming off Tommy John Surgery, but his talent level is so high that he is expected to have a great season in 2012. Gonzalez, acquired during the offseason in a trade with Oakland, is another young pitcher with a very high ceiling.
The biggest holes in the Washington rotation can be found in Edwin Jackson and John Lannan. Jackson had a good season in 2011, but there is a reason why he has pitched for five different teams in the last four seasons. The mental part of his game can sometimes be lacking in certain situations. Lannan is another hole in the rotation for Washington as his losing record from 2011 shows.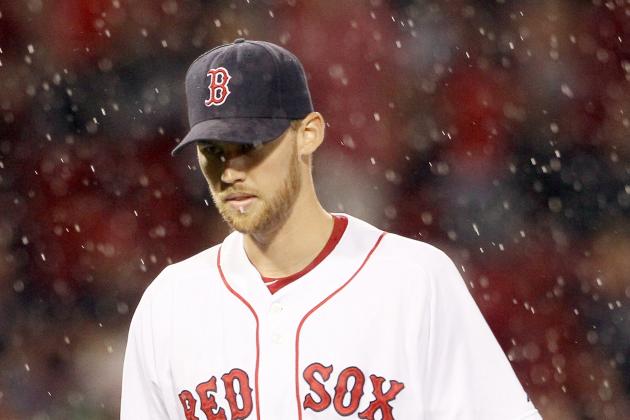 Elsa/Getty Images
Boston pitcher Daniel Bard
Projected Starting Rotation (2011 Stats):
LHP Jon Lester (15-9, 3.47 ERA, 182 K)
RHP Josh Beckett (13-7, 2.89 ERA, 175 K)
RHP Clay Buchholz (6-3, 3.48 ERA, 60 K)
RHP Daniel Bard (2-9, 3.33 ERA, 74 K in bullpen)
RHP Alfredo Aceves (10-2, 2.61 ERA, 80 K)
Without question, the front end of the Boston Red Sox rotation is one of the best in the American League East, if not the entire American League. The combination of Lester, Beckett and Buchholz makes things tough on opposing hitters for three straight games. Having three starters of that caliber is something that every team dreams of, but is the Red Sox reality.
The major hole in the Red Sox rotation would obviously be Daniel Bard. Bard has been a solid member of the Boston bullpen for the past several seasons, but making the change from reliever to starter is difficult for any pitcher. If Bard cannot make the change into a starter with decent success, the Red Sox will have to rely on their pitching depth to fill the hole. They must also fill the hole that Bard's absence in the bullpen will create.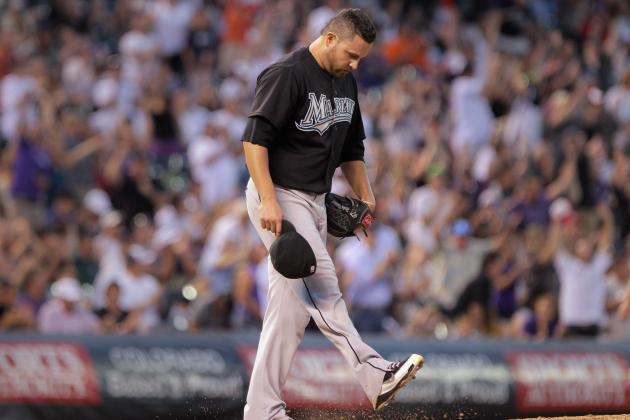 Doug Pensinger/Getty Images
Marlins' starter Ricky Nolasco
Projected Starting Rotation (2011 Stats):
RHP Josh Johnson (3-1, 1.64 ERA, 56 K)
LHP Mark Buehrle (13-9, 3.59 ERA, 109 K)
RHP Anibal Sanchez (8-9, 3.67 ERA, 202 K)
RHP Ricky Nolasco (10-12, 4.67 ERA, 148 K)
RHP Carlos Zambrano (9-7, 4.82 ERA, 101 K)
The Miami Marlins spent a ton of money in the offseason on several big-name free agents. One of those free agents was starting pitcher Mark Buehrle, who will be the No. 2 starter between Josh Johnson and Anibal Sanchez. However, even with the addition of Buehrle, the Marlins' rotation still has several holes in the fourth and fifth spots of their rotation.
Even though he won 10 games, Ricky Nolasco had a very high ERA which has been the norm for him throughout his career. Since 2006, he has only had one season in which he had an ERA under four.
Zambrano can also be considered a hole in the rotation for the Marlins. He is a very hot-headed player who can be unpredictable if things don't go his way. It will be especially interesting to see how he interacts with the also hot-headed Ozzie Guillen as his manager.