2012 NFL Draft: Cleveland's Next QB Should Be Brock Osweiler, Not Ryan Tannehill
March 28, 2012

'Tis the season of uneasy anticipation for NFL fans as free agency has hit a lull and the annual draft is around the corner and nowhere are there fans more eager for bold moves and the addition of big names than in and around Cleveland, Ohio.
After losing out on Robert Griffin III and not making an offer to West Coast wunderkind Matt Flynn, the Browns have reaffirmed their faith in a Colt who likely will never be a stallion and thrilled us by giving $20 million to a Frostee and another $3 million to Juqua Parker to further strengthen the strongest area of the team.
The Browns haven't done anything to strengthen the receiving corps, replace Peyton Hillis, address the hole at right tackle, or make up for the loss of valuable defensive back Mike Adams. They continue to preach, perhaps patronize, to their fans that they prefer to build through the draft.
With so many glaring needs to address it is logical to assume GM Tom Heckert and company will not spend a first-round pick on a quarterback who projects as a project. This would rule out the team selecting Ryan Tannehill regardless of whether it stands pat at No. 4 or trades down as far as No. 8. Running back Trent Richardson, cornerback Morris Claiborne and wide receiver Justin Blackmon all fill holes and have graded out well enough to justify selecting.
With picks at Nos. 22 and 37, the team will have a variety of talented wide receivers such as LSU junior Rueben Randle and Georgia Tech's speedster Stephen Hill, defensive backs like Alabama's tandem of safety Mark Barron and cornerback Dre Kirkpatrick, and monster offensive lineman Jonathan Martin from Stanford to fill immediate needs and improve team talent. A 28-year-old quarterback with a suspect arm is not going to be worth the risk of wasting either pick, so cross Brandon Weeden off the future signal-caller list.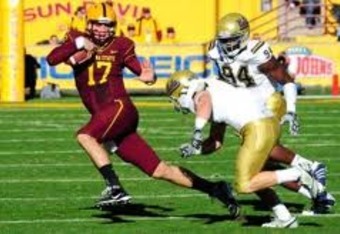 Letting both Tannehill and Weeden go elsewhere may prove beneficial in the long run if the Browns were to pick ASU's athletic monster Brock Osweiler at No. 67 or package one of their two fourth-round picks with compensatory ones to move up if he were still in play at some point.
Osweiler is 6'7", 242 lbs. and originally committed to perennial Final Four threat Gonzaga on a basketball scholarship before coming to ASU when it agreed to let him play both. A legitimate athlete, he also has a cannon for an arm and can make all the NFL throws with ease. He only started 15 games in a spread offense and will need the usual work to make the transition under center in the NFL.
The scouting reports praise Osweiler's throwing accuracy, touch and anticipation. His lack of experience means there will be a reserved seat in the film room for him wherever he lands as he learns to read defenses, but all reports indicate he has a relentless work ethic. He graduated high school a year early and entered the draft as a junior, so at 21 he could be special if handled with care.
Cleveland needs a quarterback of the future for the fans to embrace while the team is assembled for him to lead when he is ready. The ideal quarterback for the city by the lake should have a strong arm capable of driving the ball through the wind and elements, He should also be big and athletic enough to avoid and absorb the annual beatings administered by the Browns' AFC North rivals. Finally, a Cleveland quarterback must be accurate and have touch on his passes to run the team's version of the West Coast offense.
As a diehard Browns fan, all I can do is hope and support!