2012 NFL Mock Draft: The First Round Begins to Come into Focus
March 27, 2012

Justin K. Aller/Getty Images
1. Indianapolis - QB Andrew Luck (Stanford) - Some will try to create a story out of the possibility that the Colts could opt for Robert Griffin III. It ain't happening.
2. Washington (from St. Louis) - QB Robert Griffin III (Baylor) - It's a good thing that the Redskins did their deal before his pro day. The price would have only gone up since then.
3. Minnesota - OT Matt Kalil (USC) - GM Rick Spielman is doing his job, creating an impression that the Vikings are seriously considering multiple prospects to create a better trade up market. In the end, the high bar set by the Redskins-Rams trade and value of the only sure-fire left tackle in the draft means Kalil goes to the Vikings.
4. Cleveland - RB Trent Richardson (Alabama) - This pick will be difficult to predict right up until draft day. A compelling argument can be made for WR Justin Blackmon and CB Morris Claiborne, and a credible argument can be made for QB Ryan Tannehill. Richardson "feels right" because he has the highest floor and best overall grade. He can help QB Colt McCoy by giving the team a legitimate All-Pro talent at running back. Running back positional value is low, but Richardson is the best prospect since Adrian Peterson.
5. Tampa Bay - CB Morris Claiborne (LSU) - The Buccaneers will be happy to take whichever of Claiborne and Richardson is there. Both fill long-term needs and can contribute immediately, and both are great players to establish the new culture under head coach Greg Schiano.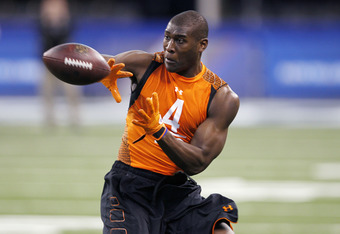 Joe Robbins/Getty Images
6. St. Louis (from Washington) - WR Justin Blackmon (Oklahoma State) - The Rams will be happy to scoop up either Richardson, Claiborne or Blackmon. I made the video case that Blackmon going this high is a reach, but the Rams need a security blanket for Sam Bradford.
7. Jacksonville - DE/OLB Melvin Ingram (South Carolina) - The Jags have to hope that Blackmon falls for them to take him; Richardson falls for a trade down, or someone wants to leapfrog Miami for Ryan Tannehill to get maximum value for this pick. I wouldn't bet on any of the three happening. Ingram is a nice consolation for an underrated defense.
8. Miami - QB Ryan Tannehill (Texas A&M) - Dolphins owner Stephen Ross said that Matt Flynn would be in Miami if head coach Joe Philbin wanted him. He was probably covering for a toxicity that seems to be keeping players away from South Beach, but it also could be an indication that offensive coordinator and Tannehill's college coach Mike Sherman has given him the stamp of approval. Yes, he is worth a pick this high—I'll be making the case on video later this week.
9. Carolina - DE Quinton Coples (North Carolina) - Despite the glaring need for a defensive tackle, Coples is the highest ceiling defensive lineman in the draft. I think Panthers are willing to roll the dice that his senior year was more a product of the UNC culture than Coples innate effort level.
10. Buffalo - WR Michael Floyd (Notre Dame) - After losing out to the Chargers for Robert Meachem, the Bills still get a size/speed receiver to open things up for their pass offense. Offensive tackle is a massive need, but none might be worthy of a top-10 pick.
11. Kansas City - DT Dontari Poe (Memphis) - This pick just feels right with the rest of the Chiefs defense coming together and Pioli coming from the New England school of thought.
12. Seattle  - LB Luke Kuechly (Boston College) - No matter how you project the first round, the Seahawks always have at least three great options that fill needs to choose from here.
13. Arizona - OT Riley Reiff (Iowa) - I am more convinced every day that Reiff doesn't ideally project at left tackle, but the Cardinals are in dire straits at both OT positions, so they aren't going to be picky.
14. Dallas - OG David DeCastro (Stanford) - You can make a good argument for any number of players here, but DeCastro is the best overall prospect still available.
15. Philadelphia - DT Fletcher Cox (Mississippi State) - Cox fits the Andy Reid penchant for trench players in the first round, and he fits the track record of what the Eagles like in defensive tackles.
16. New York Jets - OT Jonathan Martin (Stanford) - Martin might be an adequate-to-good NFL left tackle, but he can be a quality right tackle from day one, which is where the Jets are in trouble with Wayne Hunter holding down the spot right now.
17. Cincinnati (from Oakland) - CB Stephon Gilmore (South Carolina) - Cornerback makes sense based on need and value. Gilmore's aggressiveness is a match for the Bengals' style of defense.
18. San Diego - DE/OLB Whitney Mercilus (Illinois) - The Chargers go back to the well for an OLB who played college ball in the state of Illinois after they struck out with Larry English in 2009.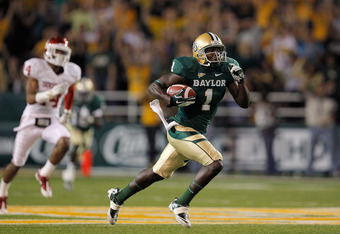 Sarah Glenn/Getty Images
19. Chicago - WR Kendall Wright (Baylor) - The Bears sent head coach Lovie Smith and WR coach Darryl Drake to Baylor's pro day, and they will be meeting with Wright next week. With Johnny Knox's status for 2012 up in the air, Wright would replace his field-stretching speed and open things up for Brandon Marshall underneath.
20. Tennessee - C Peter Konz (Wisconsin) - As long as Konz ankle is sound, he'll be a coveted player in the second half of the first round.
21. Cincinnati - OG/OT Cordy Glenn (Georgia) - The Bengals might be satisfied with their current depth at offensive guard and offensive tackle, but Glenn's size and versatility makes it hard to pass on him here as the best player available.
22. Cleveland - DE/OLB Courtney Upshaw (Alabama) - I like Upshaw better as an end. He's the kind of high floor player that seems to appeal to the Browns too.
23. Detroit - CB Dre Kirkpatrick (Alabama) - The Lions are in terrific position to get one of the two second-tier blue chip corners.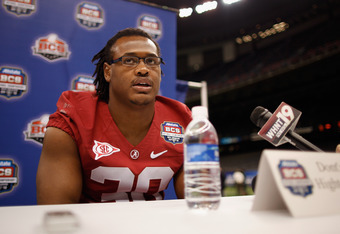 Chris Graythen/Getty Images
24. Pittsburgh - LB Dont'a Hightower (Alabama) - Is Hightower worth a first-round pick? I'm not sure. Does he fit with the Steelers? Absolutely. Do the Steelers care about whether a player is a reach or value? No.
25. Denver - DT Michael Brockers (LSU) - Brockers will be an excellent referendum on physical potential vs. actual production in college (along with Dontari Poe, although his physical package is rarer). I still see a slide to the 20s more likely than a top-15 pick for him.
26. Houston - SS Mark Barron (Alabama) - The Texans should go best player available. In this case, that happens to also fill a major need.
27. New England (from New Orleans) - DT Devon Still (Penn State) - Much like Brockers, Still's physical profile can justify a pick in the top 15, but I see him falling to the second half of the first.
28. Green Bay - DE/OLB Nick Perry (USC) - As usual, the Packers sit back and let the draft come to them.
29. Baltimore - OG Kevin Zeitler (Wisconsin) - Ozzie Newsome rarely shanks first-round picks, and Zeitler is unlikely to bust. If 2011 third-round pick Jah Reid can win the left guard spot over Zeitler, that's a good problem for the Ravens to have. 
30. San Francisco - TE Coby Fleener (Stanford) - After his terrific pro day and the 49ers glaring need for firepower on offense, not to mention his connection to Jim Harbaugh, it's going to be hard to mock anyone else here for the next month.
31. New England - DE/OLB Andre Branch (Clemson) - Branch could end up being the best pass-rusher in this class when the dust settles, and Mark Anderson is in Buffalo now.
32. New York Giants - RB Doug Martin (Boise State) - A high floor pick who probably represents a net gain for the run game over what Brandon Jacobs provided last year.