2012 NFL Draft Predictions: Projecting the Best Returner Prospects
March 27, 2012

Andy Lyons/Getty Images
They can't all be Patrick Peterson.
Peterson was an exceptional, and a rare draft prospect whose high grade and evaluation as a corner matched his prowess as a return man. He came out of LSU having averaged more than 29 yards on 32 kick returns in 2010, as well as more than 16 yards on on 26 punt returns.
At 6'0" and 219 pounds, he ran a 4.32 in the 40-yard dash, with a 38-inch vertical and 10'6" broad jump, to go along with a 6.58-second run in the three-cone drill. The combination of physical prowess and skills made him a top-10 pick.
Is it any wonder that he led, by far, the entire league in punt return yards and touchdowns as a rookie?
However, the typical return specialist that makes waves in the NFL is more along the lines of Marc Mariani, the return specialist of the Tennessee Titans. At 6'1" and 190 pounds, Mariani ran a 4.48 in the 40-yard dash at his Pro Day, and he went undrafted.
He scratched and clawed for everything he got, even at Montana, where he went from walk-on to All-American.
In attempting to project return specialists in the draft, there are a number of key traits for which I'm looking. The first is obvious—you want speed, especially for kick-return specialists. But more than speed, you want to see a guy who shows agility and creativity with the football in his hands, regardless of situation.
You also want to see a guy with ball skills, especially in punt-return specialists. This trait goes far underrated by the masses, who generally do not appreciate how hard it is to stand back a certain distance and track an NFL punt through the air, run under it while making a decision about the oncoming rush and whether you need to call for a fair catch.
You want to see toughness in a player. You want a guy who has experience so that he can be trusted not to turn a simple punt return into a costly turnover.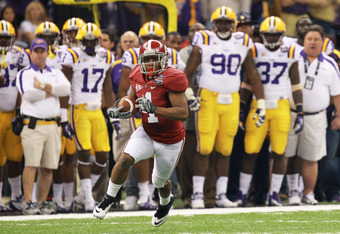 Ronald Martinez/Getty Images
Marquis Maze, Alabama
For me, the top return man in this year's draft is a man that might not impress you as much as you hope in an NFL Combine setting, but he will impress you on the football field far more often than not.
Marquis Maze of Alabama has a "will" factor in his running with the football in his hands that is uncommon. During his Alabama career, he averaged more than 26 yards on his 21 kick returns and more than 12 yards on his 54 punt returns.
He averaged about 28.5 yards per kick return in 2011 to go with over a 13-yard average on his punt returns. At the NFL Combine, he only notched an "official" 4.51 in the 40-yard dash—but if you know me, then you know how I feel about those "official" numbers.
The unofficial times were likely much more accurate and had him in the 4.4s. To be an impact return man, you do not have to have the greatest pure speed.
T.Y. Hilton, FIU
The return man that looks great on paper is T.Y. Hilton of Florida International University. Hilton has an incredible amount of return experience, with more than 100 kick returns and nearly 50 punt returns.
His averages of 27.4 yards in kick returns and 12.5 yards per punt return are fantastic. Even more fantastic is the fact that he averaged more than 30 yards per kick return and more than 23 yards per punt return in 2011.
On tape, Hilton has always looked like a man who can flat-out fly, and he showed that at his Pro Day with a 4.34 time in the 40-yard dash.
All of this should make him a better return man than Maze, but the difference between the two comes out on tape. Maze has more pure will and a better comfort with physicality. Hilton is not necessarily another Ted Ginn Jr., but he does not quite show Maze's toughness.
Josh Robinson, Central Florida
The next return specialist is a player you may not have heard much about, aside from his blowout combine performance. Central Florida's corner Josh Robinson can flat-out fly, and he proved it at the combine, running an "official" 4.33 second 40-yard dash.
However, he did more than that. He also put up better than an 11-foot broad jump and a 38.5-inch vertical, and he had remarkable results in both the shuttle (3.97 seconds) and cone drills (6.55 seconds).
In his career at Central Florida, he has intercepted the ball 10 times and scored two touchdowns. He also returned a fumble 56 yards for another touchdown. To top it off, he averaged more than 13 yards in his career on punt returns, including more than 15 yards per punt return in 2011.
This is a player who flips on a switch whenever he has the football in his hands.
Eric Francis/Getty Images
Devon Wylie, Fresno State
A man who I have talked about before that belongs in this group is Devon Wylie of Fresno State. Wylie averaged more than 15 yards on his 29 punt returns in 2011, to go along with two return touchdowns.
His ability to track the ball in the air and adjust on it is evident in all phases of his game. At the NFL Combine, he busted out an "official" 4.39 in the 40-yard dash, which was one of the fastest times there.
He is quick as a hiccup and can cut on a dime. He comes alive with the ball in his hands as both a receiver and return man. The only thing that could keep him from becoming an impact return man immediately would be health. He had a hard time staying healthy at Fresno State.
Isaiah Pead, Cincinnati
A man that rounds out my top five actually has very little to no experience at returns as a college football player.
Cincinnati Bearcat Isaiah Pead was asked to try his hand at returns during the Senior Bowl practice week, and he took to it like a fish in water. From having watched him on tape as a tailback, it was only natural to wonder how he would look if he tried his hand at return duties.
He cuts on a dime and was, for me, an even better scat back than LaMichael James of Oregon. He returned six punts at Cincinnati for a respectable 12.5-yard average. Pead was very impressive during the Senior Bowl itself, with eight runs for 36 yards and two punt returns for a total of 98 yards. He looked natural as a punt returner.
Many guys did not quite make the cut for the top five, but definitely deserve mention. Some of them may surprise you.
Chris Owusu, Stanford
Despite his concussion history, Stanford's Chris Owusu fits the profile of a man that could have a lot of success on returns at the next level.
He averaged more than 27 yards on 78 kick returns in his Stanford career, including three touchdowns. He killed the NFL Scouting Combine with a scorching 4.36 second "official" 40-time as well as a 40.5-inch vertical and 10'9" broad jump.
On tape, he lights up once he has the football in his hands and moves very decisively.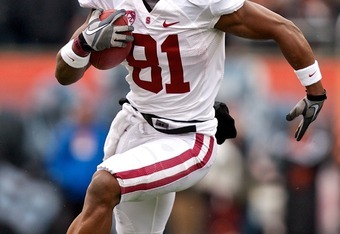 Craig Mitchelldyer/Getty Images
Foswhitt Whittaker, Texas
Foswhitt Whittaker only had 10 career kick returns at Texas. However, he gained 424 yards, including two touchdowns on those 10 returns.
He had a kick return against Oklahoma State that went about 104 yards. His combination of pure speed and unique ability to absorb contact make him interesting at the return positions.
Joe Adams, Arkansas
Arkansas receiver Joe Adams' punt return for a touchdown against the Tennessee Volunteers in 2011 accounts as one of the most unique return plays I have ever seen.
He is a very good receiver prospect, and he showed that at the Senior Bowl. However, I am not sure he has the pure combination of physical prowess and decision-making to be a consistent return man at the next level.
T.J. Graham, NC State
North Carolina State's T.J. Graham has all the experience as a return man that you could want. He has a total of 199 kick and punt returns under his belt, with four touchdowns and nearly 2,000 return yards.
The problem for me is that he just does not look all that interesting or physical with the football in his hands, and I believe his 23 yards per kick return and 9.6 yards per punt return averages reflect that he is a player whose primary weapon as a return man is just speed.
Brandon Boykin, Georgia
Georgia's Brandon Boykin is a very sudden athlete that could be a fine return man at the next level. However, when I watch him, I have to continually question his ability to think in the moment without hesitation or mistake.
He had more than 100 kick returns in his career with Georgia, but the team did not feel it could trust him with a significant load as a punt returner until partway into his final year, and I wonder how much of that had to do with bad decision-making.