2012 NFL Draft: Exploring Every Need the Detroit Lions Could Address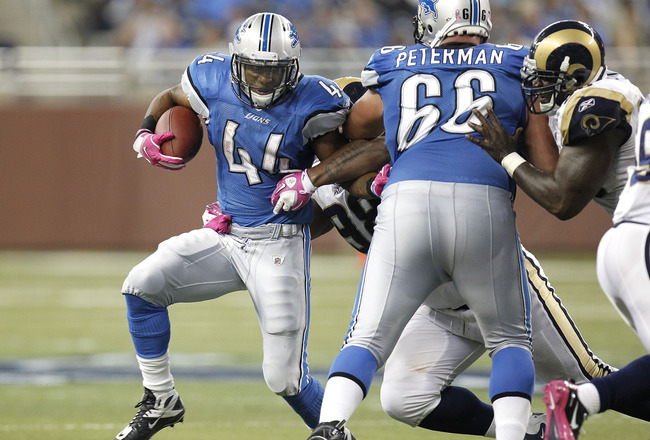 Gregory Shamus/Getty Images
The Detroit Lions are more concerned with drafting talent than need.
Or that's what they say, at least. The reality is that the Lions won't let team needs dictate who they draft, but they won't spend a pick on a player they can't use.
Therefore, by default, they kind of have to draft players they need.
But then, the Lions have more "needs" than most recognize, despite the fact that the team is better constructed now than it has been in decades. Some of those needs are immediate, some are more depth-related, and some are delayed needs that won't materialize in for another year or two.
But still, these are all team needs, and all have the potential to be addressed in next month's draft. Not all of them will, of course, and the ones that do get addressed might be surprising compared with the ones that don't (as usual).
So with no regard for order, or severity of these needs, here are the areas the Lions could reasonably address in the 2012 NFL Draft.
Defensive End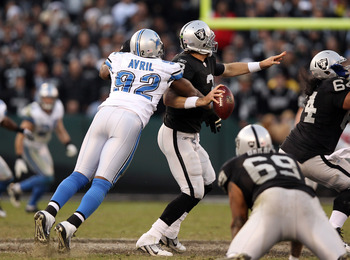 Ezra Shaw/Getty Images
I figured I'd start things off with some cognitive dissonance.
"But wait," you say, "didn't we get Cliff Avril back for 2012?"
Yes, the Lions gave Avril the franchise tag for 2012, but the sides are still miles apart in negotiations on a long-term contract.
So unless something changes, the Lions are going to find themselves in the exact same situation next year, at which point they will need to either franchise Avril again, sign him or let him go.
And if Avril has another big season like he did in 2011, his contract demands aren't going to drop at all. If the Lions aren't planning to pay Avril what he wants, somebody else probably will, so it might be a good idea to think about life after Avril if the money isn't there.
Offensive Line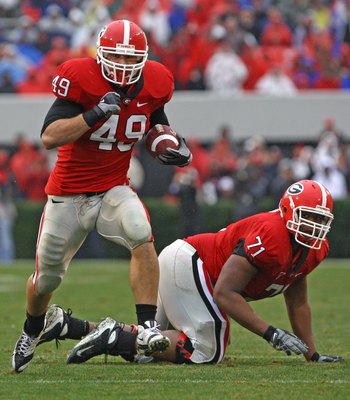 Mike Zarrilli/Getty Images
This is more the kind of thing Lions fans are expecting to see in the draft, and it's no surprise why. There isn't any player on the offensive line who can't (or shouldn't) be replaced.
Of course, contract situations differ across the line, as do levels of need. With Jeff Backus re-signing (and Dominic Raiola around) for two more years, any new left tackle (or center) prospect won't be starting until after a year or two of learning from the bench.
A new right tackle will have to fight Gosder Cherilus for a spot, but Cherilus is inconsistent and could certainly be improved.
But the area on the line that needs perhaps the greatest, most immediate upgrade is the right guard position. Stephen Peterman plays average football on his best play of his best game.
If the Lions want to get a run game going, they need to shore up the interior of the offensive line. Rob Sims has been solid at left guard. Raiola is on his way out, but he's not done yet. Peterman was done years ago, or at least he should have been.
The Lions ultimately will need to address each of these needs, but it isn't feasible to handle all of them this season. Still, any move made to upgrade any of these positions has to be seen as a step in the right direction. I'm not particularly partial to one position over another.
Running Back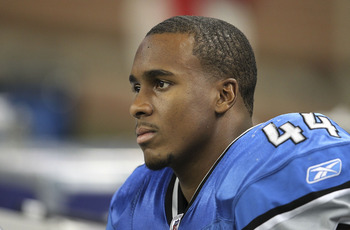 Leon Halip/Getty Images
Right now, the Lions employ three starting-quality running backs.
That sounds great, right? Well, yeah, until you know who they are:
Jahvid Best, who is likely one minor concussion away from the end of his football career and long-term health problems.
Mikel Leshoure, who may not be ready for the start of the season with his Achilles injury, and may not be 100 percent all season anyway.
Kevin Smith, who just re-signed a one-year deal with the Lions, but hasn't gone more than about 10 consecutive snaps without injury since his rookie season.
Each of these players has big-time potential. And each could be seriously injured by Week 6. Now, if the Lions invest another first or second-round pick in a running back, I may question their sanity. But if a quality back can be found around the fifth round, that depth certainly wouldn't harm anything.
Cornerback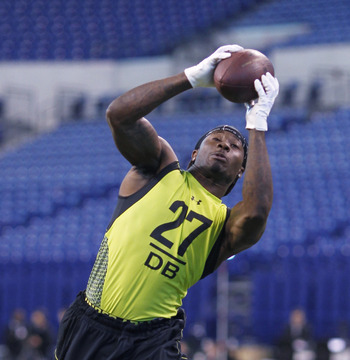 Joe Robbins/Getty Images
This is an overblown need for the Lions, but a need nonetheless.
The Lions are very comfortable with Chris Houston at cornerback, and Aaron Berry will likely battle new hire Jacob Lacey for the second spot. This isn't as bad as people think, and the passing yards that the Lions gave up late last season has much more to do with a declining pass rush and poor safety play than the corners.
But even if that bunch works out just fine, nobody is a true shutdown player. Granted, the number of "shutdown" cornerbacks in today's NFL can probably be counted on one hand, and the Lions' scheme doesn't require guys to be able to cover for seven seconds per play.
Still, the Lions could use to invest some actual resources into the corner position in the long-term, even if they're better off than people realize in the short-term. Houston will be due a lot of money next season, and if Berry continues to develop, he will be pretty soon, too.
But this is today's NFL, where no amount of quality cornerbacks is enough. It's a passing league, and even a team loaded down with Pro Bowl corners (the Eagles, for instance) gets passed on by a quality offense.
The Lions have the right idea by bolstering the pass rush and letting the corners clean up, and the corners in place do mostly what they need to do. But I wouldn't say no to an upgrade in talent, even with the notorious unreliability of draft corners.
Wide Receiver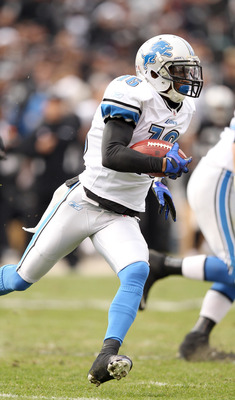 Ezra Shaw/Getty Images
This is another area of need that isn't obvious on the surface.
Every receiver on the Lions' roster is there for at least three more years, so why am I suggesting an upgrade here?
Well, the Lions need at least three healthy receivers to have the kind of fluid passing offense they showed last year. They have them, but what happens if one of them isn't healthy? I'm not enthused by the talent drop-off from Titus Young to Maurice Stovall.
That drop-off also explains why the Lions never bothered running four-receiver sets last year.
Now, I'm not suggesting the Lions invest much in this.position. With the pass-catching talent at running back and tight end, the Lions probably won't run a lot of four-receiver sets even if they have them. The fourth receiver would only be there for depth and long-term development (and perhaps as a kick returner), but he's still worth having, especially if the Lions lose one of their top receivers to injury.
Linebacker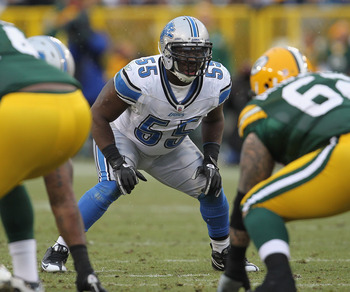 Jonathan Daniel/Getty Images
Stephen Tulloch is back in Detroit for five more years, and that's good.
Problem is, he and Doug Hogue are just about the only linebackers signed for more than one more season. DeAndre Levy is in a restricted free-agent year, and Justin Durant is entering the second year of his two-year contract.
Maybe they both come back in 2013, but should they?
The 2012 draft isn't exactly rife with talent at the 4-3 linebacker position this year, but it wouldn't hurt anybody if the Lions were to bring in a player who can push for a starting job or at least provide some depth. Bobby Carpenter is gone to free agency this year, so if nothing else, the Lions could aim to replace him.
This is another one of those "delayed" needs, which probably won't show up in 2012, but should be prepped for now. The Lions might be in okay shape if Hogue develops into a starting-quality player, but overall, the depth and future prospects of the linebacker position is in perhaps the worst shape of any (non-offensive line) position on the team right now.
Quarterback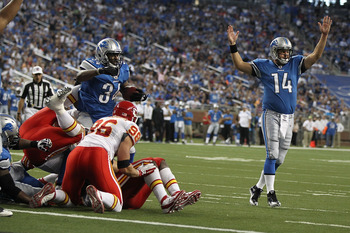 Dave Reginek/Getty Images
Just so we're clear here, you can calm down. Matthew Stafford is awesome, and Shaun Hill is a quality backup.
For the first time since who-even-knows-when, the Lions' top two quarterbacks are both better than some teams' starters (I'm looking at you, Miami).
But Drew Stanton has left the Lions, and in his place is a gaping hole right where the third quarterback should be. Most teams (well-managed ones, anyway) maintain a steady veteran and a young prospect as quarterback depth. The Lions have their starter and their veteran, so now it's time to try finding the next Kevin Kolb/Matt Cassel.
There's no reason for the Lions to try creating a quarterback controversy with this pick, and Hill can handle the backup duties should the worst happen. So what the Lions need is a prospect to show off.
It is overwhelmingly likely that the Lions draft a QB in the fifth or seventh round, he sits on the roster for a couple of years and then leaves, with nothing coming of it.
But in that off chance that they can draft a player who serves as trade bait, why wouldn't they? They need the extra depth, even though they won't use it under ideal circumstances, so why not make it an investment?
Keep Reading

Detroit Lions: Like this team?