New Orleans Saints Reportedly Sign LB Curtis Lofton to 5-year Deal
March 25, 2012

Grant Halverson/Getty Images
In their first move since Roger Goodell lowered the hammer, the New Orleans Saints have signed linebacker Curtis Lofton to a five-year contract, according to ESPN's Adam Schefter.
Saints said they have reached agreement on a 5-year deal with former Falcons LB Curtis Lofton.

— Adam Schefter (@AdamSchefter) March 25, 2012
Lofton isn't a household name, but he was one of the most productive middle linebackers in the league last year. 
He was an animal for Atlanta, racking up a career-high 147 tackles. He also forced one fumble and picked off two passes, one of which he returned for a touchdown.
Lofton has been a beast for the Falcons since they drafted him in the second round of the 2008 draft. He's registered at least 94 tackles in all four of his seasons, and led the Falcons in that department each of the last two years.
Without a doubt, this is a solid acquisition for New Orleans. However, it does raise an interesting question. Was Lofton signed as insurance for Jonathan Vilma?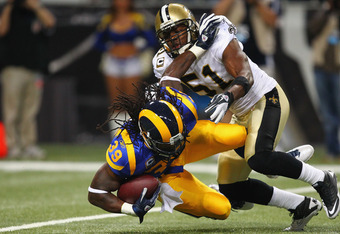 Dilip Vishwanat/Getty Images
Vilma, the most prominently mentioned player in the NFL's report on the Saint's bounty system, has yet to be punished by the league. But given how seriously Commissioner Goodell has taken this matter so far, I'd be surprised if he sees the field anytime soon.
Vilma is one of the best linebackers in the league, but his future could be in jeopardy because of his involvement in the bounty system. According to the NFL's report, Vilma offered 10 grand of his own money to anyone who injured Brett Favre in the 2010 NFC Championship Game.
With that report surfacing, it appears the Saints went out and found their replacement for Wilma.
At this point, the punishment for Vilma is still uncertain, but Vikings punter Chris Kluwe has an idea. He has publicly stated that Vilma should be banned for life.
If the Commish agrees, the Saints will be glad that they signed Lofton when they had the chance.