2012 Draft: Breaking Down Buffalo Bills Prospects for Day 1 and Day 2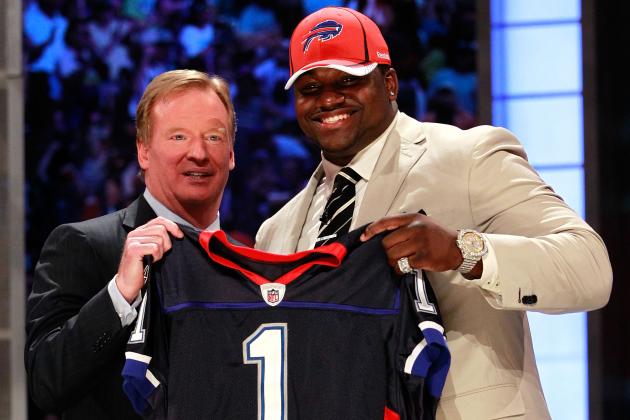 Chris Trotman/Getty Images

The 2012 NFL draft is 30 days away and counting. Plenty of time for prospects to move up or down the draft boards based on the remaining Pro Days and based on results of personal visits they make to NFL teams.
Since the Buffalo Bills have eliminated some of their needs due to the signing of free agents Mario Williams, Mark Anderson, Kirk Morrison, Scott Chandler and Steve Johnson, the Bills now have some room to be flexible at the draft.
Instead of making a reach with the No. 10 overall pick in the first round, Bills general manager Buddy Nix may now decide to trust his draft board and select the best player available. But, if the Bills feel that all of the blue-chip prospects that were in the 2012 draft class are gone already when their turn is up, this is the first year that the Bills might actually consider trading down to accumulate an additional draft pick or two.
There are a number of different positions that Buddy Nix can go in this year, so that is what this article is designed to address. We want to cover the likely options the Bills will have over the first two days of the draft. Specifically, that is Rounds 1-3, which will be held on April 26 - April 27.
We are going to narrow our targets down to the following positions of need: wide receiver, tackle, backup quarterback, tight end, defensive end, linebacker and cornerback. In addition, we will address those top-end players that might be sitting there from the other positions that could lead to another C.J. Spiller-type of surprise selection.
Begin Slideshow

»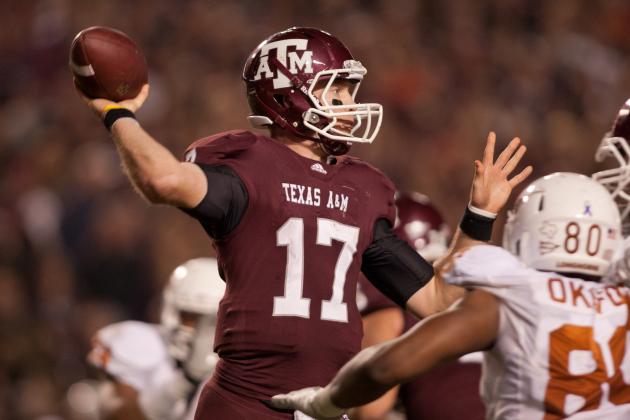 Darren Carroll/Getty Images

DAY ONE: It would indeed be a surprise if the Bills drafted a quarterback in the first round, but if they did, it would have to be quarterback Ryan Tannehill of Texas A&M. This is not something that I expect to happen, but if the Bills' best options for No. 10 are already off the board, and Tannehill is still sitting there, this would be a move that the Bills would view as an upgrade over Tyler Thigpen, as the backup quarterback to Ryan Fitzpatrick.
No other quarterback would make sense in the first round, as everybody clearly knows by now that Andrew Luck and Robert Griffin III will be off the board after the first two draft picks have been made.
DAY TWO: While there is still time for some quarterbacks to rise and fall based on the personal visits, the best bet for a day two quarterback is Brandon Weeden from Oklahoma State. He is clearly older than the rest of his draft class, as he will turn 29 years old during his rookie season. In fact, some experts think that Weeden will be drafted towards the end of the first round.
There is the possibility that Nick Foles from Arizona could go in day two, but it wouldn't surprise me if he fell to day three. While our focus is on day one and day two in this presentation, for those that like to think ahead, day three quarterback options include Brock Osweiler, (Arizona St.), Kirk Cousins (Michigan St.) and Russell Wilson (Wisconsin).
If the Bills think that Tannehill, Weeden or Foles is considered to be a reach when they are on the clock in the first three rounds (picks No. 10, 41 and 71), they could very well just wait for day three and decide to draft a quarterback that they can develop, like Brock Osweiler. Russell Wilson has some potential as well.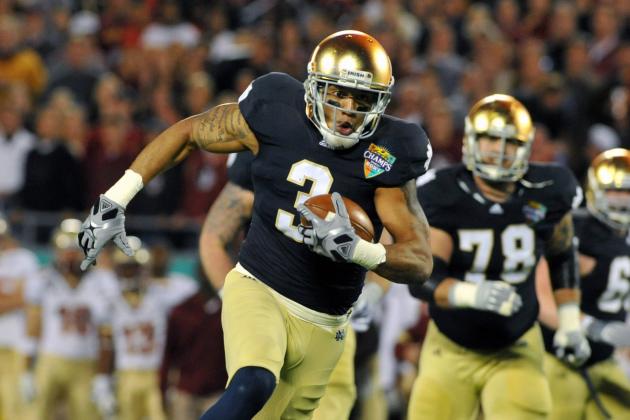 Al Messerschmidt/Getty Images

Recently, I was asked to be a guest on Bill Smith's sports talk radio show in Cleveland, and he wanted to hear my thoughts about the Bills draft needs. When we talked about wide receiver, he expressed concern about the wide receiver from Notre Dame, Michael Floyd, and his DUIs in college. Bill wondered if his past problems would encourage the Bills to pass on him.
My reply was that the Bills have a long history of drafting high-character guys, and that they will be certain to conduct all of the necessary due diligence on Floyd to make sure that they are comfortable with where he is in life now, before they ever decide to consider drafting him. It is worthwhile to note that Floyd had a clean senior year, and that his mistakes seem to be behind him.
DAY ONE: Besides Michael Floyd from Notre Dame, who did turn in a respectable performance at the NFL Scouting Combine, the other wide receiver to note is Justin Blackmon from Oklahoma State. While Blackmon is expected not to last past the No. 6 overall draft position, he is type of impact player that the Bills might be tempted to trade up four spots to see if they can convince the Rams to swap spots.
If for some reason Blackmon fell to the Bills at No. 10, it is my guess that the Bills would have the draft card ready to turn in faster than the time they had left on the clock in 2010 when they drafted C.J. Spiller.
If the Bills trade down into the bottom half of round one, then the wide receivers to consider there would include Kendall Wright from Baylor and the star of the scouting combine Stephen Hill from Georgia Tech. Hill could last into day two, but for teams that hold picks in the 20-32 range, he won't be available then in the second round, so he could be drafted sooner than what his college performance merited.
Streeter Lecka/Getty Images

DAY TWO: One wide receiver that has been linked to the Bills for the past two months is Alshon Jeffery, the star receiver from South Carolina. Jeffery has the size at 6'4" and 229 pounds. He has the ability to jump into crowds and come down with the ball. His speed is nothing to really write home about, but he can be a playmaker.
Other wide receiver options for day two include Mohamed Sanu (Rutgers), Devon Wylie (Fresno St.), Joe Adams and Jarius Wright (Arkansas), Marvin Jones (California), Nick Toon (Wisconsin) and Rueben Randle (LSU).
The 2012 draft class is very deep in wide receivers so the Bills can either go for somebody in day two, or wait until day three. Who knows, maybe the Bills can find another Stevie Johnson in the seventh round.
When the Bills assemble for mini-camp, there will be a ton of wide receivers on the team already, probably more than they need.
Johnson, David Nelson, Donald Jones, Marcus Easley, Brad Smith, Derek Hagan, Naaman Roosevelt, David Clowney, Kamar Aiken and Ruvell Martin. Not only that, but there is still free agent Roscoe Parrish out there, and he hasn't visited any other teams yet that we know of, so maybe he re-surfaces with the Bills again.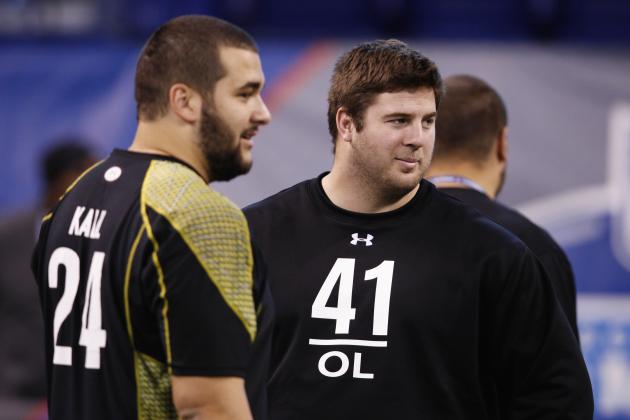 Joe Robbins/Getty Images

This is a picture of Matt Kalil (USC) talking to Riley Reiff (Iowa) at the NFL Scouting Combine. What are the chances that one of them could wind up being the Buffalo Bills first-round draft pick?
DAY ONE: There are a total of four tackles that could very well be drafted in the first round. It is hard to determine how many of them (besides Matt Kalil) are going to be deemed as a reach for the Bills at No. 10, since we aren't privy to knowing what their draft grades are for the other three tackle prospects.
Kalil is expected now to be drafted by the Minnesota Vikings at No. 3 overall, so for him to fall down to the Bills at No. 10 seems rather far fetched.
The other prospects are Riley Reiff (Iowa), Jonathan Martin (Stanford) and Mike Adams (Ohio St.). Since there is a good chance that two of them could still be there in late teens, that is why some Bills fans are advocating that Buddy Nix should look at trading down lower in the first round, take the best left tackle available and use the extra draft pick(s) to address other team needs or add some more depth.
They all have the prerequisite size: Adams is 6'8", 320 pounds, Reiff is 6'6" and 300 pounds and Martin is 6'6" and 304 pounds. Once you get past Kalil, each of the other three tackles has some kind of flaws, which is why they aren't universally loved for a top 10 selection. One thing is certain. Whoever the Bills draft, the rookie can only get better going up in practice every day against the likes of Mario Williams and Mark Anderson.
Thought for Bills fans to ponder: This might be a tad crazy, but if you hear the Bills announce they drafted David DeCastro with the No. 10 pick, my hunch would be that the Bills put Andy Levitre out there at left tackle, where he more than held his own when he was pressed into duty in 2011. DeCastro could then play left guard, or he could back up Chad Rinehart and Kraig Urbik.
For what it is worth, the Bills have yet to sign restricted free agents Kraig Urbik or Chad Rinehart to new contracts yet. If the Bills lose either one to free agency, they gain a third-round draft pick as compensation, and then the need to draft DeCastro would start to make tremendous sense.
Of course, all of the above scenarios are subject to change if the Bills re-sign Demetrius Bell. But the odds of that happening seem remote. Joe Buscaglia of WGR 550 wrote in a story that he believes the Bills only offered Bell the veteran's minimum salary, which sounds like quite an insult to me. No wonder he hasn't responded back to Buffalo and is out talking to other teams.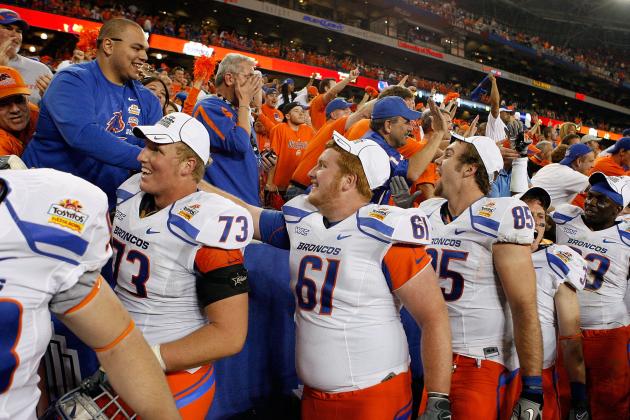 Christian Petersen/Getty Images

DAY TWO: Once we move our way down to the tackles projected for the second round and third round, we notice that the numbers start to swell. Call it quantity over quality.
Day two tackle candidates include: Bobby Massie (Mississippi), Brandon Mosley (Auburn), Mitchell Schwartz (California), Nate Potter (Boise St.) and Matt McCants (Alabama-Birmingham).
The Bills have a fourth-round tackle that they are trying to develop in Chris Hairston. If you draft a tackle on day two, that is basically issuing a challenge between the rookie and Hairston to see who can win the starting job. Not a terrible thing to have.
But, can the Bills afford to not draft a top-tier tackle in the first round year after year, and not suffer as a result of that philosophy?
If you are curious to get a better idea of where the tackles are ranked, or their sizes, here is a link to the college draft profiles over at National Football Post. Wes Bunting does a solid job presenting their work.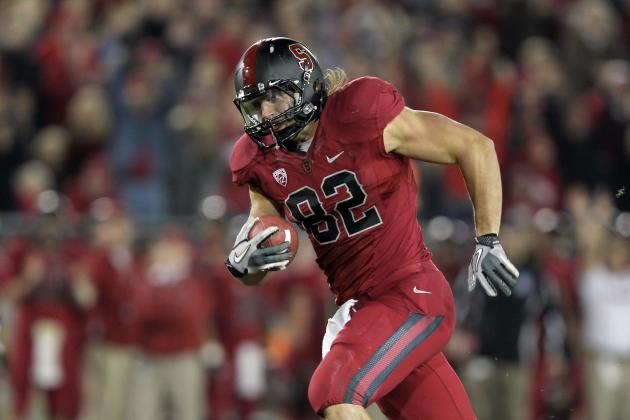 Ezra Shaw/Getty Images

In a recent episode of Path to the Draft on NFL Network, NFL analyst Mike Mayock stated that there isn't a single tight end in the 2012 draft class that is worthy of selection in the first round.
DAY TWO: So, that basically eliminates the process down to a slide to cover day two tight end prospects. We are only looking at three of them total, in what looks to be a very down year for tight ends, from the draft perspective.
The three prospects are Coby Fleener (Stanford), Dwayne Allen (Clemson) and Orson Charles (Georgia).
It would not be a surprise to see Fleener paired up with Andrew Luck, as they connected often at Stanford. If it appears that Fleener is going to be picked by Indianapolis with the first pick of day two, there is the chance that a team towards the end of the first round might take a flyer on him, knowing that he won't be around for them later the following day.
Orson Charles was arrested for a DUI on March 9, so that is usually not the way you want to prepare for the draft. His draft stock will obviously plummet as a result.
If the Bills decided to draft a tight end, my guess it wouldn't happen until day three, if it happens at all. The Bills re-signed Scott Chandler and they are also happy with the blocking skills of Lee Smith.
Joe Robbins/Getty Images

The best defensive end from the 2012 class that is expected to make an impact in the NFL is Quinton Coples from North Carolina.
He has long been projected to go to the Bills with the No. 10 pick, but that was well before the Bills signed Mario Williams and Mark Anderson. Now that the Bills have secured those two veterans to beef up the pass rush, the Bills could easily go in a different direction.
DAY ONE: While Quinton Coples will probably go in the top half of the first round, the likelihood he goes to Buffalo is greatly diminished over the events of the last two weeks.
Other defensive end candidates for day one include Whitney Mercilus (Illinois) and Nick Perry (USC).
There is a debate as to where do you list players like Melvin Ingram and Courtney Upshaw. Are they a defensive end or are they outside linebackers? In the case of Upshaw and Ingram, we are listing both as linebackers for now, since Buddy Nix prefers his defensive ends to have much longer arms.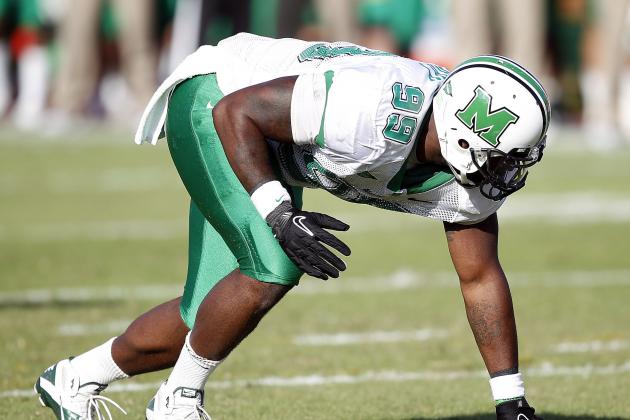 Bob Levey/Getty Images

DAY TWO: Defensive end options start with Vinny Curry (Marshall), Andre Branch (Clemson), Cam Johnson (Virginia), Jared Crick (Nebraska), Tyrone Crawford (Boise St.), Chandler Jones (Syracuse) and Malik Jackson (Tennessee).
There are enough defensive ends in this class that the Bills can wait until round two or three to draft an end to add to the overall depth of the defensive line.
Looking beyond the 2012 season, you have to wonder how much longer Chris Kelsay will still be around. We wonder aloud if Dwan Edwards is gone due to the switch to the 4-3 scheme and there are also the health questions surrounding Shawne Merriman. Drafting a defensive end with some upside makes sense for the 2013 season and beyond.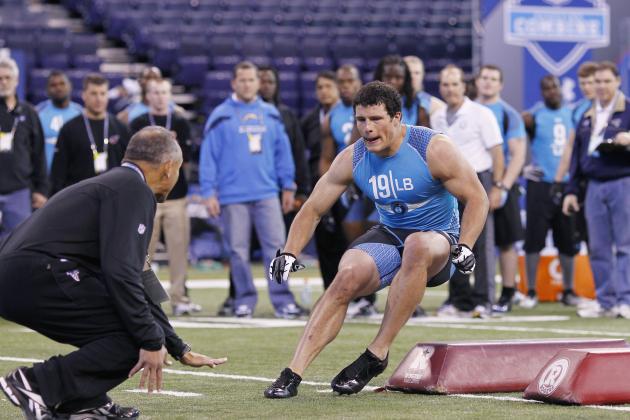 Joe Robbins/Getty Images

There are a number of talented linebackers in the 2012 class, but due to the Bills switch to the 4-3 scheme, the Bills need to employ less linebackers than they did last year. The Bills already have Nick Barnett, Kirk Morrison, Kelvin Sheppard, Danny Batten, Arthur Moats and Chris White. Bryan Scott can also play nickel linebacker, so there is already good depth coming back in 2012.
Day One: The linebackers that should go in the first 32 picks are Luke Kuechly (Boston College), Courtney Upshaw (Alabama) and Melvin Ingram (South Carolina). Another linebacker that could go in the first round is Dont'a Hightower (Alabama) but he could just as easily slide down to day two.
Kuechly was originally thought to be headed to the Philadelphia Eagles with the No. 16 pick, as per this piece from Geoff Mosher of Delaware Online.com, but now that the Eagles traded for DeMeco Ryans from Houston, the Eagles aren't in need of a linebacker.
Is there any possibility that Kuechly winds up being the best player available when the Bills turn is up at No. 10? I suppose there could be worse choices, but Kuechly would be a surprise pick. Prior to the start of free agency, mock drafts targeted the Bills for a pass-rusher, and since the Bills added Mario Williams and Mark Anderson, the mocks now have the Bills usually drafting a tackle.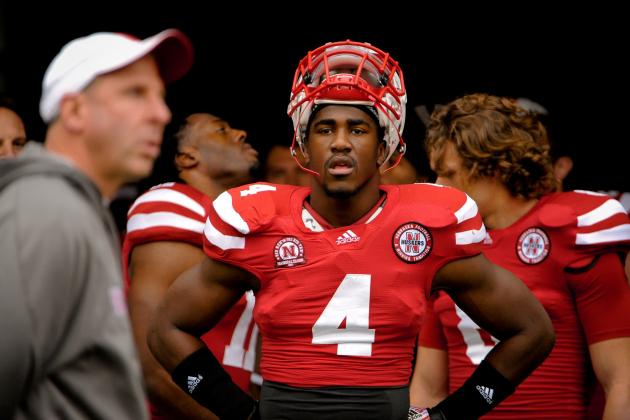 Eric Francis/Getty Images

Day Two linebackers have some reasonable depth in the 2012 class. We have Lavonte David (pictured, Nebraska), Shea McClellin (Boise St.), Bruce Irvin (West Virginia), Ronnell Lewis, Travis Lewis (Oklahoma), Zach Brown (North Carolina), Keenan Robinson (Texas) and Bobby Wagner (Utah St.).
It is possible that the Bills could select a linebacker in round three, especially if he would bring significant competition level to the position, or be deemed as a pass rushing specialist.
For those wondering why Vontaze Burfict (Arizona St.) isn't in the above list, his stock has plummeted so far, that he is now widely viewed as a day three draft pick.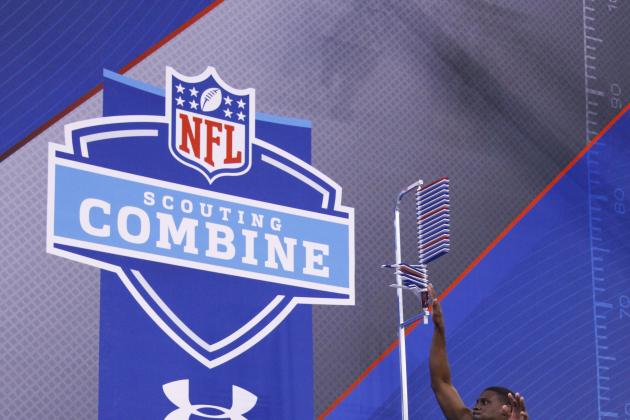 Joe Robbins/Getty Images

Cornerbacks that can jump as high as Morris Claiborne (pictured) and have good ball skills are in high demand. Too bad that Claiborne will probably be long gone by the time the Bills are on the clock.
Day One: Besides Morris Claiborne, there are some other corners that have the skills to be drafted in the first round. They are: Dre Kirkpatrick (Alabama) and Janoris Jenkins (North Alabama). Kirkpatrick has a Pro Day later this week, while Jenkins is busy trying to convince NFL teams that his poor decisions he made off of the field in college won't be following him to the pros, as Don Banks spells out in this article for Sports Illustrated.
Kirkpatrick is talented and depending on how well he does at his pro day, he is the type of player that could be a surprise pick for the Bills at No. 10. At least he has been playing against good level of competition in the SEC, and he is a hard-nosed tackler, which would be nice to have at corner.
It would not surprise me to see a team pluck Jenkins in the first round, but his character issues will probably have him dropping down into the second round for most teams.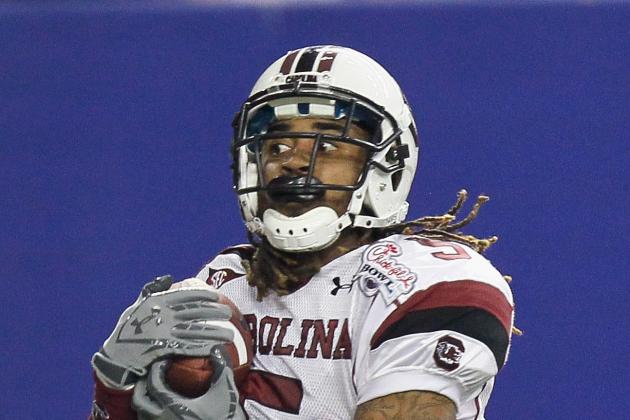 Kevin C. Cox/Getty Images

Day Two: Cornerbacks that should be available to be drafted in either the second or third round include: Stephon Gilmore (South Carolina), Brandon Boykin (Georgia), Josh Robinson (Central Florida), Jamell Fleming (Oklahoma), Chase Minnifield (Virginia), Josh Norman (Coastal Carolina) and Alfonzo Dennard (Nebraska).
This collection of corners have a flaw or two to their game, which is why they are projected to go in day two of the draft, as opposed to day one. But, as we witnessed with rookie Aaron Williams last year, a second-round corner can be a very good player. The Bills might opt to draft a corner in the first two days and have him line up opposite Williams to give the Bills a young, talented set of corners.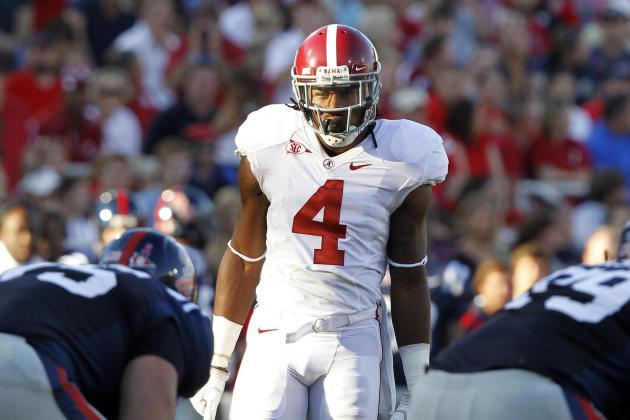 Butch Dill/Getty Images

As far as safeties go, the Bills needs at this position aren't a high priority, especially since the team re-signed free agent Bryan Scott.
Day One: Mark Barron of Alabama is the best safety in the 2012 draft class. Barron will go in the first round and should be off of the draft board around pick No. 20 overall.
Day Two: The best remaining safeties after Barron are Harrison Smith (Notre Dame) and Markelle Martin (Oklahoma St.).
However, it would truly be a surprise if the Bills drafted a safety in either of the first two days, since the team already has established depth on the roster now.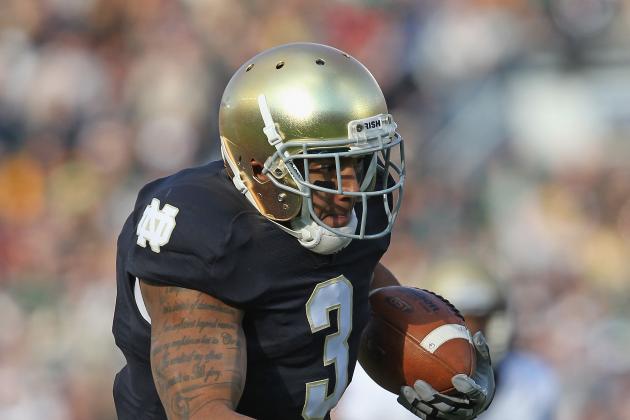 Jonathan Daniel/Getty Images

Obviously things can change between now and the draft due to the next 30 days of free agency movement. But, let's put down some ideas and kick them around in the comment section.
The following picks are my projections for the Bills' first three draft picks. My favorite pick for the round will be highlighted, while the next two can be viewed as a logical alternate selection. Finally, the fourth name is a dark horse, sleeper kind of pick, but one that wouldn't shock me (ala C.J. Spiller).
First Round Projected Picks (No. 10 overall): WR Michael Floyd (Notre Dame), T Riley Reiff (Iowa), LB Luke Kuechly (Boston College) and my wild card choice: G David DeCastro (Stanford).
Second Round Projected Picks (No. 41 overall): DE Vinny Curry, CB Stephon Gilmore (South Carolina), LB Lavonte David (Nebraska) and my wild card choice: WR Alshon Jeffery (South Carolina).
Third Round Projected Picks: (No. 71 overall): T Mitchell Schwartz (California), CB Alfonzo Dennard (Nebraska), DE Andre Branch (Clemson) and my wild card choice: WR Devon Wylie (Fresno St.).
Thanks for checking out the presentation. Feel free to leave a comment about the players you would like to see the Bills focus on for the first three rounds. We will address rounds four through seven later.