Fantasy Baseball 2012: Hosmer or Cespedes? Closer or DH? Rounds 4-7 Dissected!
March 24, 2012

Abelimages/Getty Images
The first article in the series went through the first three rounds.  We pick up at Round 4:
ROUND 4
31
Adrian Beltre, Tex 3B
Team Verlander
32
Matt Holliday, StL OF
Team Doc
33
David Wright, NYM 3B
Team Votto
34
Jered Weaver, LAA SP
Team Tulo
35
Nelson Cruz, Tex OF
Team JB
36
Michael Bourn, Atl OF
Team Cabrera
37
Cole Hamels, Phi SP
Team Braun
38
Dan Haren, LAA SP
Team Pujols
39
Brett Lawrie, Tor 3B  
James Kennedy's Team
40
Mike Napoli, Tex C
Team Kemp
So far, we've identified one team's strategy in Part 1 of the article.  Let's talk about another strategy I'm sure is being used: Mine!
Here is my team through 40 picks:
Can anyone notice a trend?  The obvious thing here is that I have yet to draft a pitcher.  I can tell you though, that this was done on purpose this early.  Let's jump on Stewie's time machine and fast forward to my Round 5-10 picks.
As I look back on my selections, my biggest concern now is that I've put too many eggs in the Tampa starting rotation basket.  My fears are allayed a bit though, as I have little doubts about James Shields and Jeremy Hellickson, and Matt Moore has high upside which I've seen firsthand.  So it's not like I'm hoping Jake McGee and Wade Davis step up this year (as it's getting old: I've been waiting on those two for five years!).
As I mentioned in Part 1 of the article, this draft took place almost a week ago.  Since then, Stephen Strasburg hasn't looked so good, while Madison Bumgarner has started to move up lists and I like where I picked him.  Haranahan should be fine other that he plays for a team that no one is really sure will be good or bad yet.
I can sum up my strategy in this league in a few key points:
Don't pick players that traditionally have only excelled in 1-2 categories, such as power hitters that can hurt your average and stolen bases, while only possibly helping HRs and RBIs depending on the year they have.  Stanton and Bautista are good examples.
Make sure to pick plenty of young guns that can be likely to gain popularity over the year, which will allow me to field trade offers if any of them really excel.  For instance, I had Pineda in all my leagues last year and traded him in half of them as his talent emerged more and more as time went on.  I landed many "Round 3-Round 5" guys for him, a win for me as I used my very last pick to take Pineda in each of those drafts.
Don't use the mock draft "average draft spots" to dissuade me from picking the players I wanted; at the same time, don't pick anyone too far ahead of where they had been going as just about anyone I wanted I got, as long as I picked them one round ahead of where they had averaged being drafted.  It only backfired twice as I thought I could get Yoenis Cespedes and Yu Darvish near where they had been going, and both went far before that.
Make sure not to "ditch" any categories.  My downfall in prior years has been thinking that categories such as steals or saves could be ignored as long as it was just one category.  Bad idea!
That said, Round 5 went as follows:
                                                                      ROUND 5

41

Pablo Sandoval, SF 3B

Team Kemp

42 

Carlos Santana, Cle C   

James Kennedy's Team 

43

Jon Lester, Bos SP

Team Pujols

44

Dan Uggla, Atl 2B

Team Braun

45

Ryan Zimmerman, Wsh 3B

Team Cabrera

46

Jimmy Rollins, Phi SS

Team JB

47

Zack Greinke, Mil SP

Team Tulo

48

Hunter Pence, Phi OF

Team Votto

49

Jay Bruce, Cin OF

Team Doc

50

Erick Aybar, LAA SS

Team Verlander
None of us fantasy geeks (in the most die-hard sense of the word) can say there is a certain formula that scientifically is the perfect way to draft a winning team in any given year.  That said, there are some tried and tested methods I've stuck to after seeing them work year after year.
Rarely are there more than 10 highly productive offensive catchers in a given year, so make sure you don't wait even a round too late in picking a stud backstop.
Make sure your position players are all very capable, and for insurance, take good backups as well.  In contrast, don't fret too much about starting pitching.  Although having a few studs is necessary, almost every year (this will be the 14th for me) I find waiver wire pitchers that excel during spot starts, which lead me to holding on to them in favor of arms I drafted that are falling flat due to the inevitable high injury risk at the position.
In head-to-head leagues, be aware that some categories are related.  Home runs and RBIs.  Runs and steals.  ERA and WHIP.  Knowing this, pick players that can thrive in non-related categories.  The theory here is that a player like Mike Stanton will help your HRs, and thus, your RBIs.  Because of this, these players will "rank" higher than they should because as power is their forte, they get credit for scoring in two categories. Truth is, it is far rarer to have a player excel in unrelated categories, such as someone who steals bases, hits for average and has some pop.  So while 45+ home runs stands out, a later-round guy such as, in last year's case, Matt Kemp, who I snagged in Round 14, or this year, players like Drew Stubbs and Jhonny Peralta are later-round guys that have not just power potential (and subsequently, RBI potential), but speed, decent average and above-average runs.  This statistics concept called "Regression Analysis," will be saved for a later day, but this is the general idea.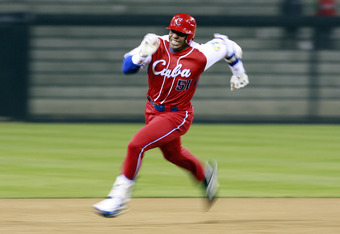 Jeff Bottari/Getty Images
I must say, Round 5 is usually the start of the most unpredictable part of the draft:  picking guys that have more inherent risk than guys in Rounds 1-4, as those early picks are usually reliable to have similar quality years as they have repeatedly put up big numbers in season's past.
Round 5 to me was love/hate.  And again, I'm not claiming any of us can nail down who's a sleeper and who's a Matt Bush in the making, but my feelings in this round were strong.
Pablo Sandoval (at the thinnest 3B position in recent memory) is a great pick.  Similarly, I was psyched to get Carlos Santana here.  Jon Lester and Zack Greinke are both too risky for me, as neither has really lived up to expectations, nor been able to avoid long, winless streaks.  Erick Aybar and Jimmy Rollins in my noggin just aren't worth taking this early.  Uggla, despite playing 2b and having McGwire power, hurts as many categories as he helps (which is just more reason to take Cano that early), and Hunter Pence, to me, is probably the most over-valued player of the whole lot.
On the love side, Jay Bruce could just be the next big thing: last year at age 23, he hit 32 dingers, added 84 runs and 97 RBIs, doubling 27 times and swiping eight bases.  If the only knock on a 23-year-old kid is that his average was too low (.256), I'll take a chance that he continues to evolve faster than pitchers can adjust to his weaknesses (which scouts always describe as 'a whole in his swing'). 
Ryan Zimmerman, like Bruce, we're the only other guys I debated on taking in Round 5 instead of Santana.  His injuries held his overall stats down last year, but it isn't as if he's been nagged by them his whole career. 
ROUND 6

51

Alex Rodriguez, NYY 3B

Team Verlander

52

Ben Zobrist, TB 2B

Team Doc

53

David Price, TB SP

Team Votto

54

Craig Kimbrel, Atl RP

Team Tulo

55

Brandon Phillips, Cin 2B

Team JB

56

Starlin Castro, ChC SS

Team Cabrera

57

Matt Cain, SF SP

Team Braun

58

Alex Gordon, KC OF

Team Pujols

59

James Shields, TB SP  

James Kennedy's Team

60

Yovani Gallardo, Mil SP

Team Kemp
Round 6, in this scribe's humble opinion, was just as strong, if not better overall than Round 5!  Just Ben Zobrist seems to be a reach here, and guys like Starlin Castro and David Price just may be first-rounders in years to come.  Brandon Phillips has never dazzled, but I do respect his ability, and Matt Cain rubs me the wrong way (although I can never put a finger on exactly why). Still, this was all-in-all a good round for everyone.
ROUND 7

61

Michael Morse, Wsh 1B

Team Kemp

62

Stephen Strasburg, Wsh SP  

James Kennedy's Team

63

Aramis Ramirez, Mil 3B

Team Pujols

64

C.J. Wilson, LAA SP

Team Braun

65

Elvis Andrus, Tex SS

Team Cabrera

66

Carl Crawford, Bos OF

Team JB

67

Mariano Rivera, NYY RP

Team Tulo

68

Eric Hosmer, KC 1B

Team Votto

69

Paul Konerko, CWS 1B

Team Doc

70

B.J. Upton, TB OF

Team Verlander
Looking back, I dislike my choice in this round more than in any other, and I know exactly why.  Choosing Strasburg is pure risk in its most simple sense. The über-phenom has to do the impossible: return to pre-Tommy John form, while white-hot Eric Hosmer was passed by. St this point in the draft, I hadn't figured out that First Base was, for the first time in a long time, wasn't a deep position. In fact, it was just the opposite.
That said, it felt like Round 7 had a generic, "take the highest ranked player available" feel. Mike Morse (joking?), Aramis Ramirez (boring), CJ Wilson (the best of the worst this round), Elvis Andrus (can he do anything but steal?), Carl Crawford (last year's winner of the 'How did you become so bad, so fast?' award), Mo Rivera (really?), Paul Konerko (hit or miss) and BJ Upton (a consistent disappointment) were all picked.  Hosmer, on Team Votto, is the gem here, and now has me looking at Team Votto as my main competition.
Let's take a step back and look at Team Votto's team through the first 10 rounds:
Team Votto
8
Joey Votto, Cin 1B
13
Hanley Ramirez, Mia SS
28
Ian Kinsler, Tex 2B
33
David Wright, NYM 3B
48
Hunter Pence, Phi OF
53
David Price, TB SP
68
Eric Hosmer, KC 1B
73
Lance Berkman, StL 1B
88
Adam Wainwright, StL SP
93
Michael Pineda, NYY SP
108
Shin-Soo Choo, Cle OF
Without analyzing the team too much, I feel Team Votto is imposing a similar strategy as I am, and looks super-strong after 10 picks.  So I turn to the readers, and ask you this…