Jeff Saturday Signs with Green Bay, Will Not Affect Packers' Draft Plans
March 23, 2012

Rob Carr/Getty Images
Everyone knows the Green Bay Packers philosophy at this point: build through the draft, sign the odd roster-filler here and there and every once in a while, offer a contract to a 36 year old center.
Okay, maybe the last part is a deviation from the philosophy.
As most have heard and discussed, Green Bay agreed to terms with free agent center Jeff Saturday. Saturday, who joined the Colts in 1999, has developed a reputation as one of the league's most intelligent centers and was expected by some to follow Manning to Denver. 
As a four-time NFL All-Pro, most recently selected in 2009, Saturday would have been a significant upgrade in Denver at center. 
Working against Denver however, was the situation Ted Thompson was facing in Green Bay. In many eyes, shaky health and too little depth made the offensive line a top priority this offseason, and losing Pro Bowl center Scott Wells to St. Louis forced Thompson's hand.
Saturday has missed just four games since 2005 and none in the past three seasons. He represents a healthy stop-gap at center, a one-to-two year fix and too old to be considered anything more or less.
But as expected, the move has swayed perception of Green Bay's draft plan. It appears less likely the team lands an offensive lineman in the first round and sorry, Wisconsinites, the odds of Badgers center Peter Konz coming to Green Bay have dropped precipitously.
But Saturday or not, Green Bay still has gaps on the offensive line. Depth is a serious concern and (also Badgers) guard Kevin Zeitler could be available at the tail end of the first round.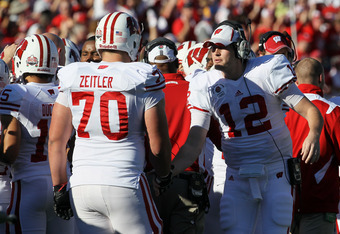 Stephen Dunn/Getty Images
Before getting carried away, consider the draft history of Ted Thompson.
Green Bay has picked two offensive tackles in the first round of the past two drafts, but the Packers have never selected an offensive guard earlier than the fourth round.
The point: Green Bay was likely never intent on drafting an offensive lineman in the first round of the 2012 draft. Instead, Thompson and McCarthy prioritized the defense in the draft, likely seeking a linebacker or defensive back in the first round.
First, let me qualify this by noting the defense wasn't as bad as some argued last year. Yes, Green Bay ranked 32nd in yards per game allowed last season.
So what? The defense was opportunistic, leading the NFL in turnovers per drive, and allowing just 22.4 points per game (14th).
The issue isn't starters' talent but rather injuries representing a risk because Green Bay lacks quality depth. Nick Collins' future is in jeopardy after a spine and neck injury against the Panthers on September 18, increasing the likelihood both Morgan Burnett and Charlie Peprah start.
Furthermore, the defense allowed 4.7 yards per carry to opposing runners. That number is far too high and suggests Green Bay could pursue an aggressive linebacker to pair with Clay Matthews. AJ Hawk's tackling is suspect to the point of being a running joke among Packers fans.
Perhaps some young blood will jog the memory of the former fifth overall pick, reminding him how to wrap up the ball carrier.
But don't expect Green Bay to draft an interior offensive lineman early. It is simply not the top priority, nor was it ever.