Jeremy Shockey a Snitch?: Warren Sapp Is True Tattletale in Saints Bounty Scandal
March 22, 2012

Kevin Winter/Getty Images
With the sanctions being handed down on Wednesday with regard to the New Orleans Saints' bounty system, it is quite clear that the league was tipped off by somebody. NFL Network analyst Warren Sapp believes he knows the snitch, but blowing him in is equally as bad.
According to a tweet by Sapp, who was a seven-time Pro Bowl defensive tackle with the Tampa Bay Buccaneers and Oakland Raiders, he has heard that former Saints tight end Jeremy Shockey is the one who clued investigators in on some possible wrongdoing.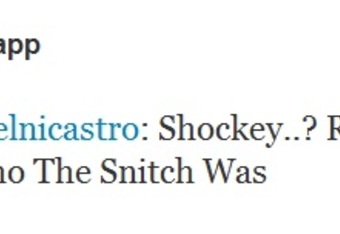 While Sapp didn't actually come out and say Shockey was responsible, somebody suggested Shockey and Sapp confirmed. Shockey has denied any involvement to this point, but even if he was the one who notified the league and Sapp's sources were correct, it was wrong to out him.
It's certainly possible that Shockey divulged the information, as he played for the Saints from 2008 through 2010 and then moved on to the Saints' divisional rivals in the Carolina Panthers last season. It isn't inconceivable to think that Shockey felt spurned by the Saints or that he simply didn't like what was going on while he was with the team.
If Shockey was the whistle-blower, then perhaps it wasn't the most noble thing to do, but at least the ramification was that player safety was increased. As for Sapp, however, the only upside to him revealing Shockey as the snitch is that he gets increased media attention and people get to have fun at the expense of a maligned player like Shockey.
Some people might say that there is nothing worse than a snitch, but somebody who snitches about snitching is even lower. Throughout his playing career, Sapp was all about hogging the spotlight with his crazy antics and lame dances, so it's no surprise that he continues to try to be the center of attention.
None of us have any real idea what Shockey's true intentions were if he blew the Saints in, but it's quite obvious what Sapp is doing. Sapp has been the man of the hour in sports media over the past day, as every news outlet is reporting his suggestion that Shockey is responsible for the Saints getting caught.
When you take Sapp's actions into account, it's almost laughable to think that he could possibly call someone else a snitch. Whatever Shockey may have done was done under the condition of anonymity, and whether you like him or not, Shockey had the right to tell the league about the bounty system if he wasn't comfortable with it.
We may never know the truth with regard to how the league picked up the Saints' scent, but one thing is for sure. Sapp looks like a major hypocrite for getting involved in something he had nothing to do with and trying to ruin the reputation of another player.