Robert Griffin III Pro Day: Goals QB and Other Baylor Bears Must Achieve Today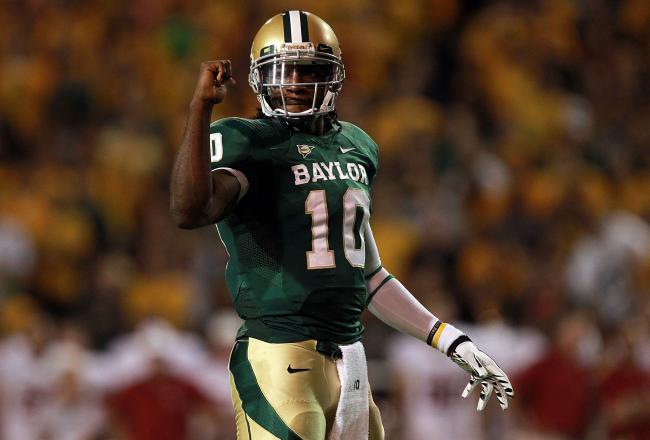 Ronald Martinez/Getty Images
Baylor football has seen a lot of marquee moments in the last calendar year; a top-15 finish, a Heisman Trophy winner and national spotlight to name a few.
Today will mark another in that long line of big moments in Waco, Texas, as the school hosts their annual pro day.
This is not the Bears' first pro day that has had major implications; both Phil Taylor and Danny Watkins made a splash at the 2011 event en route to being first-round draft picks.
However, with Robert Griffin III sitting at the second pick to the Redskins, this will be the Bears' most-viewed and most-hyped pro day ever.
Big schools, the football factories of the world, have seen their pro days become hype machines, as elite prospects work out for the scouts.
Players post numbers and improve their stock in this yearly exercise, and now Baylor's pro day has, for 2012, moved into the rarefied air normally reserved for the likes of the USC- and Alabama-types of this world.
RGIII will be showcased today in so many ways. The kid who elected not to throw at the combine will be put through his paces as teams get their first true chance to see just how "NFL ready" Griffin is coming out of Art Briles' system.
For Griffin, today is all about closing the gap that exists between himself and Andrew Luck. To do that, he must prove he can take three, five and seven step drops.
He must prove that he can throw more than just the screens, short quick passes and the deep streaks that were prominent in his college offense.
That means throwing an NFL passing tree; the deep out, the dig, the post, the post-corner, the drag and anything else the scouts want to see out of him.
The event will be televised on ESPN, and that means not only will the scouts' eyes be upon Griffin, but everyone will be watching him perform.
Folks are going to nitpick; did he take a good drop, what does his throwing motion look like, was he accurate, did he put the ball out in front to give his receivers a chance to make a play.
The pressure will be on the kid from Copperas Cove, Texas, but if RGIII has shown us anything, it is that he can get the job done when the eyes of the nation are upon him.
But, Robert Griffin III is not the only player with a lot to show today when the pro day starts. Kendall Wright, Terrance Ganaway and Philip Blake all are looking to impress scouts to improve their stock.
Ganaway and Blake are holding steady as far as the draft is concerned. Both are looking to show that they are solid options for teams looking for help at running back and along the offensive line, respectively.
Wright is a guy who needs to have a good day, probably more so than any notable player in the Baylor group.
The wide receiver, who showcased his speed against Big XII defenses for the last few seasons, ran a 4.61 40 at the combine. For the 5'10" Wright to avoid slipping on draft boards, he needs to have a solid day across the board.
That starts with proving he is the speedster people watched all season, capable of getting behind defenses and making plays once the ball was in his hands.
Working with his college quarterback should help him feel comfortable, and as long as he gets his 40 time down he will be in great shape.
At noon eastern time this whole thing kicks off, and we'll keep you updated both here on Bleacher Report and via twitter Follow @InTheBleachers
Update: Kendall Wright posted a stock boosting 4.37 unofficial in the 40 yard dash.
This article is
What is the duplicate article?
Why is this article offensive?
Where is this article plagiarized from?
Why is this article poorly edited?