2012 NFL Draft: 5 Players the Pittsburgh Steelers Could Trade Up for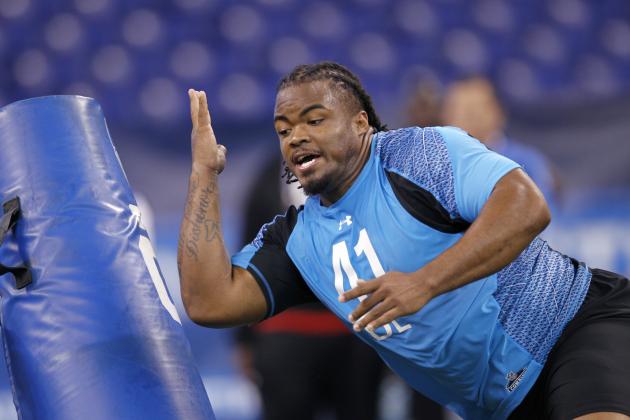 Joe Robbins/Getty Images

The Pittsburgh Steelers make a draft-day trade? It has happened before, although the rarity of it is something to behold. The Steelers simply have a different strategy than most when it comes to their draft picks. They believe firmly that they will get their guy at their assigned pick.
It's worked out. Their rare trades also have worked. Whom might they target in a trade-up scenario this year? Let's have a look at five candidates that are realistic.
Begin Slideshow

»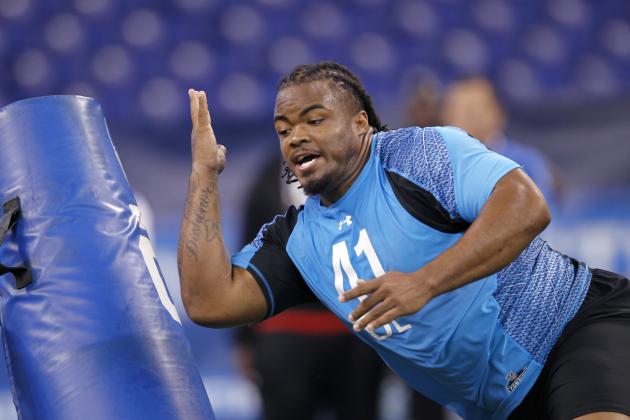 Joe Robbins/Getty Images

This is the dream scenario for Pittsburgh, which has a very evident and obvious need at defensive tackle. Casey Hampton is still there and just recently redid his deal to take a pay cut.
He's aging, though. He's not the same player he was three years ago. He also is coming off an ACL injury, and at his age and weight, that could be a major issue. He's improved his conditioning in recent years, which is good, but his ability to recover will be tested.
Poe is athletic for his size (his time in the 40-yard dash was faster than some linebacker prospects) and he's got big-play potential. He's got every tool you'd want in a 3-4 nose tackle.
He improved his stock at the combine and might have moved above the team's reach. Still, he's a very reasonable trade-up candidate.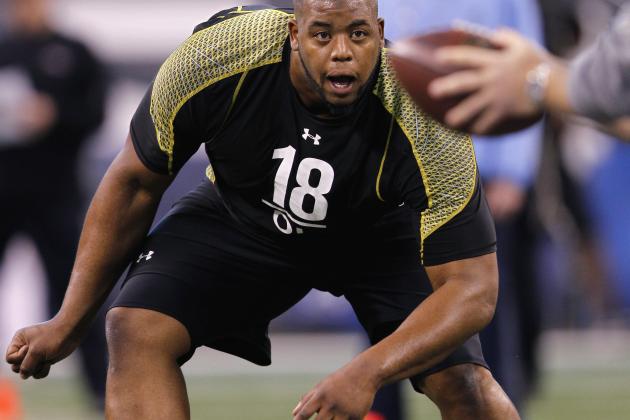 Joe Robbins/Getty Images

Glenn is a great prospect with athleticism and size for his position. He has seen his draft stock rise as well, although he may still be available when Pittsburgh selects. If the team were to covet him, it could reasonably move up a pick or two and still get him.
The Steelers have the need. They cut long-time guard Chris Kemoeatu loose after he never developed into a consistent, productive player. His mental mistakes and ill temper led to too many errors in the field.
The Steelers want to improve their running game. They could do that with Glenn. They seem to have less trust in current starters Doug Legursky and Ramon Foster than you'd like to see, and the run blocking in the last couple years, particularly up the middle, has been questionable.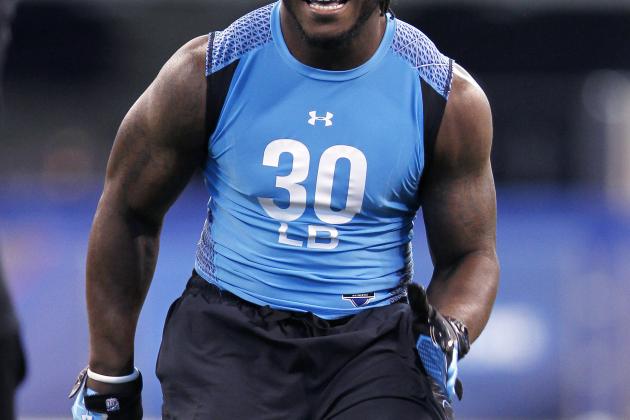 Joe Robbins/Getty Images

The Steelers might be targeting another Alabama player with the 24th overall pick (Dont'a Hightower at inside linebacker), but Upshaw, who has a similar talent to that of LaMarr Woodley, would be hard to pass up if the team thinks it could make a little move to get him instead.
We've heard the arguments several times that James Harrison is on the wrong side of 30. I'm not a subscriber to that. He has less miles on him than most players his age because it took him almost four years to get employed steadily in the NFL.
What I do subscribe to is the Steelers' love of taking linebackers at least once a draft. They struck gold when Woodley landed with them. They could force the issue and trade up for Upshaw, a mid-round prospect.
What does that do to the team's current makeup at the position? Who knows. That's a question for 2013.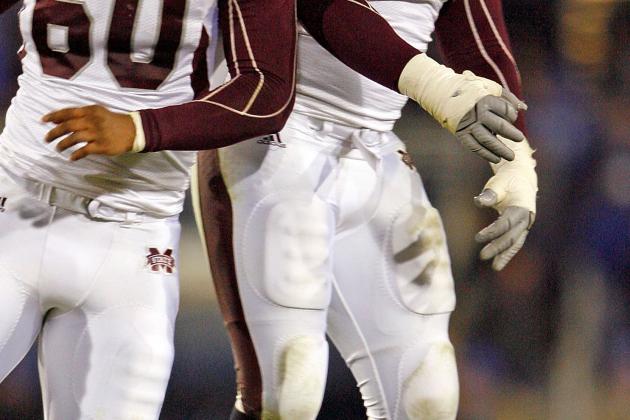 Andy Lyons/Getty Images

This is a situation similar to what we discussed with Poe. Cox is a mid-round prospect who improved his stock to that point recently. He was originally a late first-, early second-rounder. Now he's being mocked near the middle of Round 1.
Defensive tackles can either be coveted or be ignored in the first round. Last year, we saw a run on the defensive line prospects and almost all the top ones were gone before the end of Round 1. That was part of the reason Pittsburgh likely chose to wait out another year.
I'm not sure the Steelers can afford to do it again. Steve McLendon isn't making anyone think he's a permanent solution if Hampton goes. Hampton has issues we've discussed already. If the team can make a play for Poe or Cox, it almost has to do it. If one comes off the board very early (I've seen Poe in the top 10), the Steelers might decide to make a move.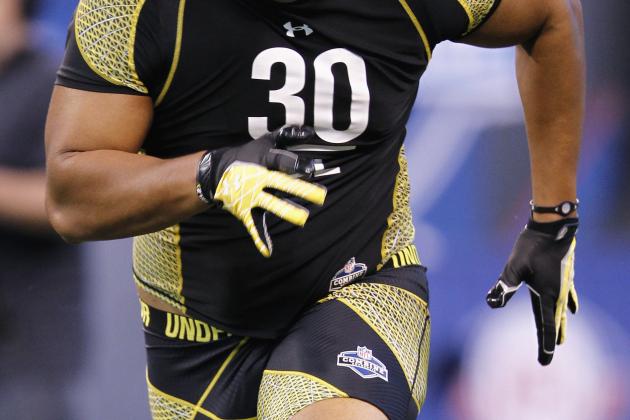 Joe Robbins/Getty Images

The Steelers have moved Marcus Gilbert, their second-round pick in 2011, to left tackle. They will start the often-injured Willie Colon at right tackle, his old spot before spending two years on the shelf with various injuries.
As their depth stands, Jonathan Scott, who played awful in 2011 when asked to step in, is the backup at either spot. As the swing tackle on a team that has no guarantees from the starters, he stands to play more than he should (which, honestly, is never).
So how much does Pittsburgh trust a second-year guy protecting the blind side and a guy with two major injuries on the right? My guess is not much. Moving up and getting a good prospect like Martin might be preferable. The team needs to upgrade its line in some way, and Martin is someone who could start as soon as this season. He'd immediately be an upgrade over Scott as the swing guy. That's maybe the most appetizing part of the whole thing.