Hines Ward: Pittsburgh Steeler Great Will Make Hall of Fame, Eventually
March 20, 2012

Gregory Shamus/Getty Images
Not to oversimplify things, but Hines Ward is a Hall of Fame player.
It took all of three seconds to ask the question and answer it. No thought was involved at all. However, Ward will have to wait, probably a long time, too.
There are many qualified Hall of Fame candidates at wide receiver right now and the list will grow as the years go by.
Cris Carter, Tim Brown and Andre Reed are all deserving, but have yet to be enshrined. On the horizon are Marvin Harrison, Isaac Bruce, Terrell Owens and Randy Moss.
Ward may not have had the stats or big-play abilities as many of the receivers on that list, but he was a different type of receiver.
Playing on a primarily running team for most of his career, Ward made the most of his talent, and that is an understatement.
Ward had nowhere near the talent of a player like Moss, but he found his niche with the Steelers and capitalized.
There was no receiver who could block better and while blocking is not the primary job of a receiver, it is a nice bonus. He made it in vogue for receivers to block in the NFL.
The NFL made a rule against blindside hits on defenders because of Ward. No one did it better.
But Ward was more than a blocker, much more.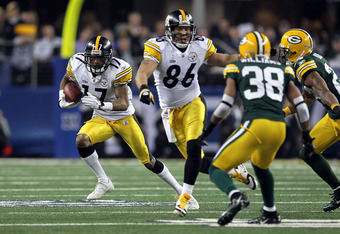 Al Bello/Getty Images
Pittsburgh has two Hall of Fame receivers with Lynn Swann and John Stallworth, and Ward owns the Steelers' record books over both of them.
Not a big play receiver, Ward managed to catch 1,000 passes (eighth all-time) for 12,083 yards (18th all-time) and 85 touchdowns (13th all-time). He led the Steelers in 100-yard receiving games (29) and either led or tied for the team lead in receptions from 1999-2009. He achieved many of these feats on a team that ran the ball more than just about every team in the league.
That helped earn Ward four Pro Bowl selections and three Second Team All-Pro selections. His best season came in 2002 when he had 112 receptions for 1,329 yards and 12 touchdowns.
Beyond the stats, Ward was outstanding in the red zone as there were few better at going over the middle of the field for a touchdown reception. Fearless does not even begin to describe him.
But for some voters, being the best blocking receiver in the league and putting up the stats that he did in a pass-happy NFL will not be enough.
What sets Ward apart from others are what he was able to accomplish in the playoffs.
Ward played in 18 playoff games and made 88 receptions for 1,181 yards and 10 touchdowns. He was excellent in his three Super Bowl appearances (including playing in one with a leg injury) with 14 receptions for 244 yards and two touchdowns.
Ward had five 100-yard receiving games in the playoffs and three games with 10 or more receptions.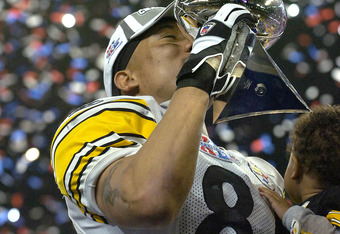 A. Messerschmidt/Getty Images
The highlight of Ward's playoff career came in Super Bowl 40 when he had five receptions for 123 yards and a touchdown, earning him MVP honors.
The Super Bowl victory was one of two for Ward on top of three AFC Championships.
Few receivers in the history of the NFL can match Ward's accomplishments and only Jerry Rice has more than 1,000 career receptions and multiple Super Bowl wins.
When you look at Ward's whole body of work, there is no doubt that he is a Hall of Fame player. He may not get in on the first ballot, but he will one day be enshrined in Canton and it will be well deserving.
Follow me on Twitter @ChrisG_FC