Pittsburgh Steelers: Expect Mike Wallace to Sign a Long-Term Deal This Offseason
March 19, 2012

Jared Wickerham/Getty Images
Art Rooney and Kevin Colbert have both stated that Mike Wallace would be a priority this offseason. There is no reason to believe any different a week into free agency.
The Pittsburgh Steelers placed a first-round tender on Wallace, and it has been enough of a deterrent so far to keep other teams from signing the restricted free agent to an offer sheet.
Though free agency is still young, Bleacher Report's Cian Fahey says that the market for Wallace appears to have dried up.
"The San Francisco 49ers and New England Patriots brought in receivers yesterday to essentially guarantee that no team would make a move for the Pittsburgh Steelers' RFA Mike Wallace."
San Francisco bolstered its receiving corps with Randy Moss and Mario Manningham (via Bloomberg). The defending AFC Champions added Anthony Gonzalez and Brandon Lloyd (via NESN).
With virtually no potential suitors for Wallace, the ball is back in the Steelers' court and the Steelers want to ensure that they can work out a long-term deal with the Pro Bowl receiver. 
"We're going to do everything we can to make sure Mike Wallace remains a Pittsburgh Steeler," Colbert said (via Pittsburgh Post-Gazette).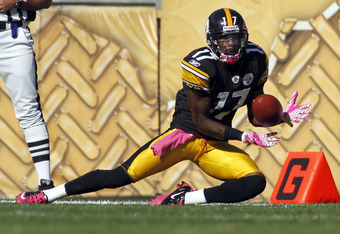 Justin K. Aller/Getty Images
Pittsburgh has already made a number of moves to free up cap room, partially because they were well-over the cap, but also to help free up space for their current crop of free agents, including Wallace.
Most recently, the Steelers reached an agreement with Casey Hampton to reduce his cap hit by about $3 million (via Pro Football Talk).
The Steelers may have to make a couple of more moves to free up enough space to sign their free agents and rookies as well as extend Wallace, but they have plenty of time to get that done.
Last season, Pittsburgh reached long-term contract agreements with Ike Taylor, LaMarr Woodley, Lawrence Timmons and Troy Polamalu beginning in late-July with the last not happening until September 10th.
Expect Wallace and the Steelers to take a similar timetable, with a deal being reached sometime during training camp. Neither side has any incentive not to sign a deal this offseason.
Wallace, one of the top up-and-coming receivers in the league and arguably the NFL's best deep threat, will make only $2.75 million this year and risks a drop-off in play or injury which could severely hurt future earnings.
When given the opportunity to cash in now, there are very few instances where a player should pass up on that opportunity.
This is not one of those opportunities for Wallace.
The wide receiver market is sky high and his value may never be higher. He is the Steelers' No. 1 receiver and the run on receivers this year may reduce the market next offseason.
Pittsburgh wants to lock up one of their best offensive weapons in for the long haul, and they do not want to risk losing him, or having to use the franchise tag next year.
Wallace could wait things out and take the chance that he could make more on the open market, but the safer bet would be to sign a deal this offseason.
The Steelers will make Wallace a fair offer and Wallace will have financial security with the guaranteed money that he receives.
Pittsburgh always treats their offseason priorities fairly and Wallace will be no different. It is only a matter of time before a long-term contract is reached.
Follow me on Twitter @ChrisG_FC