NFL Free Agency Tracker: Listing the 6 Most Underrated Signings so Far
March 16, 2012

Ezra Shaw/Getty Images
While many fans are salivating over Carl Nicks, Mario Williams and Vincent Jackson signing monster deals to play for new teams, and others are laughing at the deals that the Washington Redskins seem to hand out every single season, the best NFL fan is able to pick out the deals that will really help teams without breaking the bank.
Every year, whether it be Carlos Rogers, Laurent Robinson and Stephen Tulloch last year or whoever else in years past, there are always underrated stars who outperform the deals that they receive.
Outperforming yourself individually isn't always the most important thing, however. Depending on the team that you sign with, value can be attained in multiple ways. There have been multiple signings already this year who represent excellent values for their new teams in various ways.
Here is a list of just a few: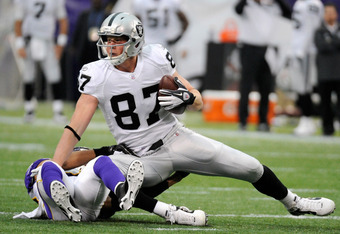 Hannah Foslien/Getty Images
Kansas City Chiefs Sign Kevin Boss and Peyton Hillis
These deals represent value as a package for the Chiefs. The Chiefs have a lot of cap space available to spend but have so far made smaller signings to boost their roster in multiple areas. Two of those signings should prove to be huge additions.
In Kansas City, the team does not have many major needs. However, they did need some role players who could be part of a championship onslaught. Signing Hillis, for a lowly $3 million, gives the Chiefs a bruising back to pair with Jamal Charles in the place of the departed Thomas Jones. He is a former starter who will wear down defenses for Charles to slice through without overexposing his ball-security issues.
The other addition, Kevin Boss, is also a former starter arriving to play a role at a cheap price. Depending on the health of Tony Moeaki, Boss will either be the starting tight end in Kansas City or play the secondary role. Unlike the John Carlson signing in Minnesota, the Chiefs are adding a tight end as opposed to trying to compensate for a lack of quality at receiver.
Outside of their performances on the field, the fact that Hillis and Boss are stretching their value with smaller contracts will allow the team to invest heavily in a right tackle such as Eric Winston.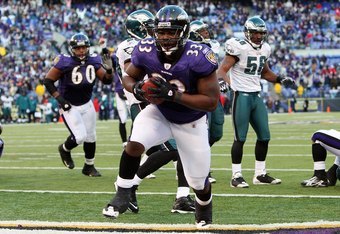 Jim McIsaac/Getty Images
San Diego Chargers Sign LeRon McClain
Staying with the AFC West theme, and dealing with an ex-Chiefs running back, the San Diego Chargers signed former Chiefs and Ravens running/full back LeRon McClain to a three-year deal. McClain will get an opportunity to both carry the ball and block for Ryan Mathews next year in the Mike Tolbert role.
McClain is arguably more talented than Tolbert, but he's never had the opportunity to really show that off because he has always shared the backfield with very talented running backs. In San Diego, he should see a lot of work as the offense adjusts slightly.
Re-signing Nick Hardwick and Jared Gaither should allow the Chargers to run well to the left next year with McClain powering over defenders to blow open holes for Mathews. With Vincent Jackson replaced by Robert Meachem and Eddie Royal, the Chargers won't be running with such a vertical offense next year.
This will see Philip Rivers, who already likes to check down to his running backs, throw a lot more shorter routes. McClain is capable of being any kind of back for the Chargers. From one ex-Raven to another...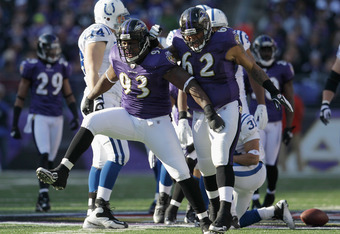 Rob Carr/Getty Images
Indianapolis Colts Sign Corey Redding
The Colts, under new head coach Chuck Pagano, are transitioning from a 4-3 defense, which the Colts have run for a very long time, to a 3-4 in the mold of the defense Pagano ran in Baltimore. As such, Pagano was always going to want to sign some of his former players.
Corey Redding has been the overlooked man in the Ravens' front seven in recent years after people began to take notice of Jarrett Johnson's play. Redding is a fantastic defensive end who brings a veteran presence and competitive attitude to a defense needing a boost.
Redding's most notable aspect of his game is his consistency. He won't take over games like Haloti Ngata, but he will also rarely make any mistakes. He can solidify the run defense while still providing a presence in the passing game against double-teams.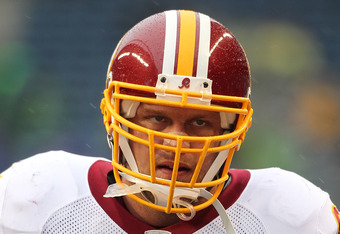 Otto Greule Jr/Getty Images
Washington Redskins Re-Sign Adam Carriker
Another 3-4 defensive end is representing excellent value with the deal he signed this offseason. Despite making mostly poor decisions, nobody could argue when the Washington Redskins re-signed Carriker for only $7 million in guaranteed money.
Carriker, despite struggling as a 4-3 defensive tackle in St. Louis, has been a very reliable piece of Jim Haslett's 3-4 defense in Washington. Along with Barry Cofield and Stephen Bowen, the Redskins have built a very versatile and talented front three through free-agency additions.
With 5.5 sacks, Carriker broke out last year as a pass-rusher while already being a solid run-stuffing defender.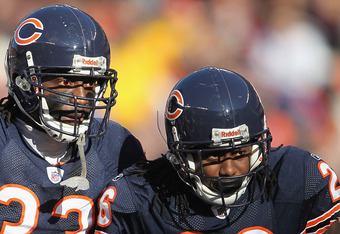 Jonathan Daniel/Getty Images
Chicago Bears Re-Sign Tim Jennings
Despite being a scheme-reliant player, Jennings is an outstanding cornerback and perfect fit for the Chicago Bears' defense. Last season, Jennings was one of only two cornerbacks to not give up a touchdown all season long.
If Jennings had signed elsewhere, this deal would not have been so impressive. After four years of obscurity in Indianapolis, Jennings signed with the Bears two years ago and has proven himself in 28 starts in two seasons.
Jennings is a vital cog for the Bears to retain.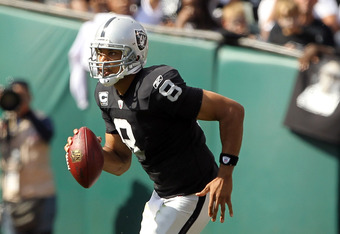 Ezra Shaw/Getty Images
Chicago Bears Sign Jason Campbell
The Bears found out the true value of a backup quarterback last season when Caleb Hanie and Josh McCown finished the season in place of Jay Cutler. Had Cutler lasted the full season last year, the Bears would have been serious contenders for the Super Bowl.
While they may not have contended for the Super Bowl with a better backup, they would have earned a playoff berth. Campbell proved himself last season in Oakland as a starter prior to being lost for the season through injury.
Playing behind the Bears' offensive line always makes Cutler susceptible to injury more than most. Therefore, having Campbell is a major coup for the Bears.
Wonder who's the first person to notice the trend?
I tweet @Cianaf.