Detroit Lions Mock Draft: Best Case and Worst Case 7-Round Scenarios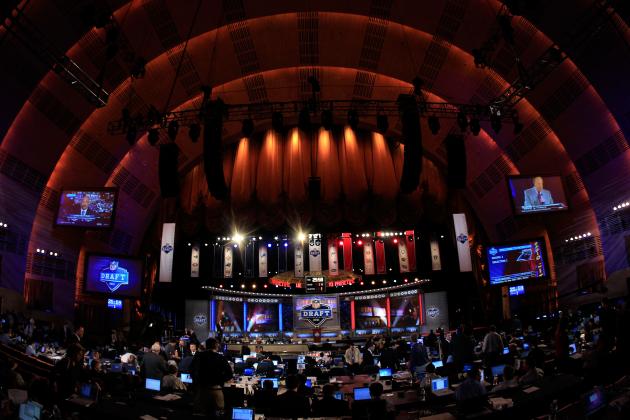 Chris Trotman/Getty Images

Every year, we faithful football fans agonize about the NFL draft.
"Who should we take? Who should we not take? Who will lead us to the promised land, and who will drag us back to the basement? Who's a reach, and who's a value?"
It's never enough for us to think about one player at a time in the draft—we have to consider all the possibilities. That's how the pros do it, and quite frankly, it's more fun for us that way.
So here's our chance (or my chance, to be more specific) to weigh the best and worst possible outcomes for the Lions in the upcoming draft.
Now, to lay some ground rules before we get started. First, these are obviously subjective picks. Most likely, you can think of a pick you'd rather see in every single one of these spots (especially the ones in the late rounds), and if that's the case, I encourage you to let me hear it. That's what the comment box is for.
Second, these picks must be grounded somewhat in reality. It would be great if the Lions somehow got a shot at drafting LSU cornerback Morris Claiborne in the first round, but there's basically no way a top-five pick drops to 23.
Finally, as is the case with most mock drafts, no trades. These picks are all made assuming the Lions will draft in their original spots.
Got all that? Good.
Now get ready to disagree with me.
Begin Slideshow

»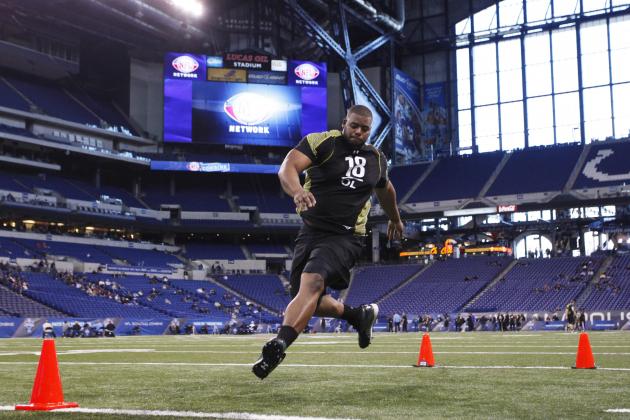 Joe Robbins/Getty Images

The more I see of Cordy Glenn, the more convinced I am that he is one of the biggest missing pieces for the Lions.
How do you argue with a 350-pound man with the athleticism to play no less than three offensive line positions?
For that matter, how do you argue with putting one of the best run-blockers in the draft on a team with some of the worst run-blocking in the league? Especially when that team has an aging offensive line which needs at least three upgrades already?
The only question at this point should be whether the Lions can draft Glenn, not whether they should.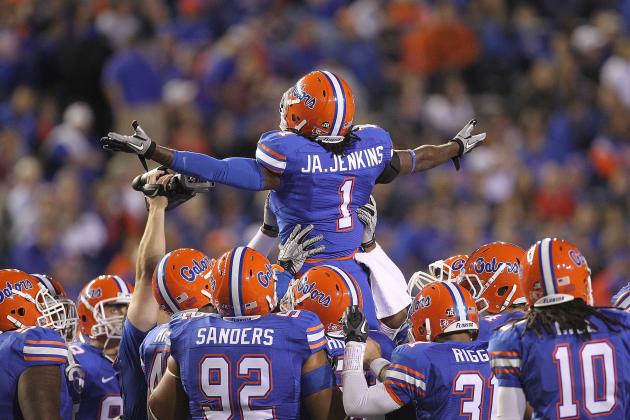 Mike Ehrmann/Getty Images

I already know there are some of you out there who can think of much worse things than getting Janoris Jenkins in the first round.
But look closer. Did you think I made a mistake when I listed Jenkins from Florida? I didn't.
I don't want the Jenkins that played at Florida, who got in trouble with the law on three separate occasions, no matter how minor those offenses may or may not have been.
Because that player is a first-round bust, guaranteed. I don't care how good he is—if he still thinks he's bigger than the game, he is doomed to fail in the NFL, especially Roger Goodell's "zero tolerance" NFL.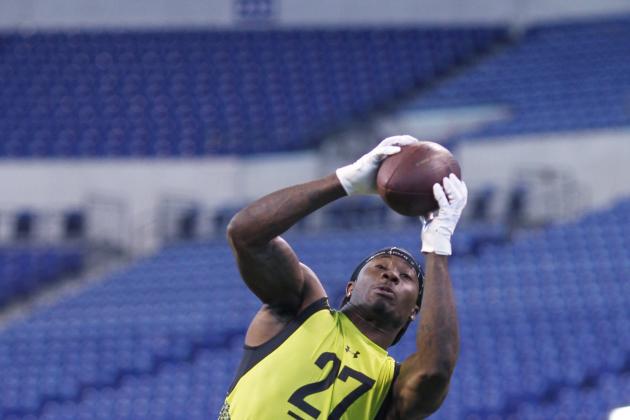 Joe Robbins/Getty Images

This is the Janoris Jenkins I want to see in Detroit. A humbled, reformed, team-oriented Jenkins with all of the talent and none of the off-field issues.
And the second-round price tag only sweetens the deal.
Now, this is highly unlikely, but not impossible. Several mocks have Jenkins sliding into the second round, and while most have him stopping around the middle of the round, it would only take a couple of teams going a different direction to give the Lions this shot.
Not only is Jenkins less of a risk in the second round, he's also an incredible steal if he works out. I would take humbled, clean-nosed Jenkins in the first round. In the second, he's the pick of the century.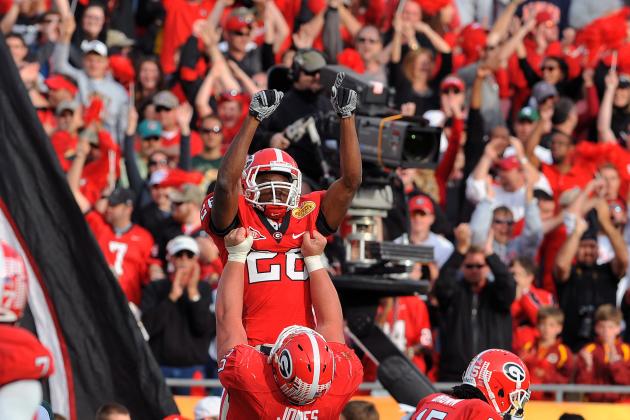 Al Messerschmidt/Getty Images

There are two big things wrong with this pick.
One is that Jones is projected to be about average, like the second coming of Dominic Raiola. He's the second-best pure center in the draft, but this is an incredibly thin class of centers. Even Peter Konz, the supposed cream of the crop, is surrounded by question marks regarding his strength and health.
Which brings me to the next big problem: Jones is a big reach in the second round. There's no question that the Lions need to find a successor to Raiola sooner rather than later. But this would be a classic example of placing position at a higher premium than need.
Worse, it would be doing it at a non-premium position, for a non-premium player. It's not like the Lions would be reaching for the second-best quarterback or left tackle, just to fill a need. They would be after the second-best center, in a draft with precious little center talent.
I have nothing against Jones, and I wish him well in his pro career. I just have reservations about spending a high pick on a middling player.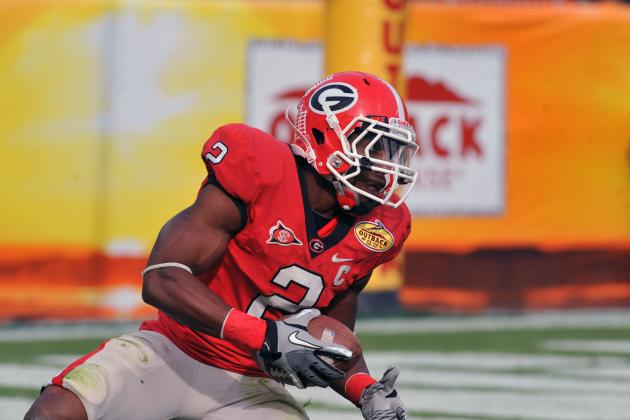 Al Messerschmidt/Getty Images

I promise, this is the last Georgia Bulldog on the list. I'm looking at players from other schools, really.
And yes, I know I just had the Lions double up at cornerback. But is that really that big a problem?
Considering I'm proposing drafting a first-round corner late in the second, and a second-round corner late in the third, this lines right up with the Lions' mantra that talent trumps need. Besides, Chris Houston is only under contract for another year, and Eric Wright has already signed with Tampa Bay.
In other words, it's entirely possible that the Lions have no starting cornerbacks in 2013, especially if Chris Houston's performance warrants a major payday (and it might, at his current rate).
So wouldn't it be kind of nice to have players ready to step in after a year or two of seasoning? Gunther Cunningham couldn't even complain about having to start a rookie cornerback.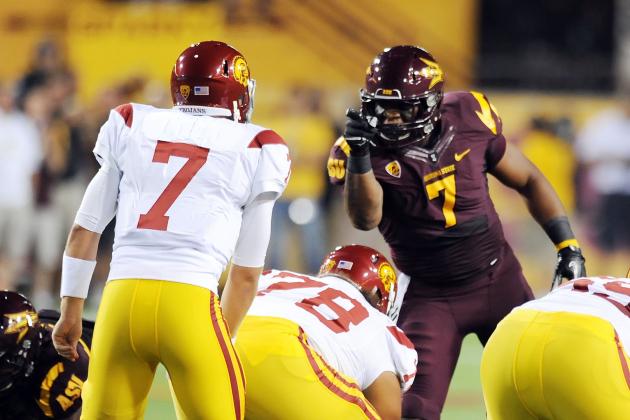 Norm Hall/Getty Images

Vontaze Burfict is the Lions' kind of player. He's strong and mean, and he likes to hit people.
He would also take the Lions' personal foul issues in the wrong direction. Burfict is prone to the post-play personal foul, and he hasn't done himself any favors since the season ended. Burfict tanked at the combine so badly, he ended up with a slower 40 time than 350-pound lineman Cordy Glenn.
He also fell off a bunch of teams' big boards during combine interviews, with one report calling him "completely out of control" and questioning why Arizona State didn't cut him from the team entirely.
It's not too late for Burfict, who was once considered a top-10 pick, to turn things around in the long run. But it's definitely too late for him to rebuild his image before the draft, which is why a third-round pick is much too high.
Incidentally, I'm not above rolling the dice on Burfict with a fifth or seventh-round pick. If he gets into a locker room that can keep him under control, he could be an incredible steal, and while I think that's more a typical job for the Patriots, the Lions might be able to manage it.
I'm just not willing to bet more than about a fifth-round pick on that possibility.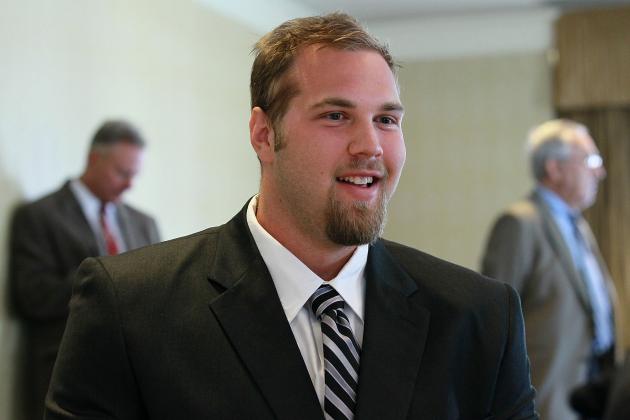 Justin Sullivan/Getty Images

Mitchell Schwartz (no relation to the Lions' head coach) grades out around the second or third round, and he fits in just about every system. So the odds of this are not great, but that's kind of the point.
Mitchell is a bit overshadowed in a year when fellow Pac-12 linemen (Matt Kalil, David DeCastro, Jonathan Martin) are basically dominating the market. But Mitchell has top-tier potential and is a smart, high-character player.
Schwartz played right tackle at Cal, and I don't know if he has the physical tools to play left tackle in the NFL. But he does have the physical tools to push Gosder Cherilus, which doesn't seem like a bad idea.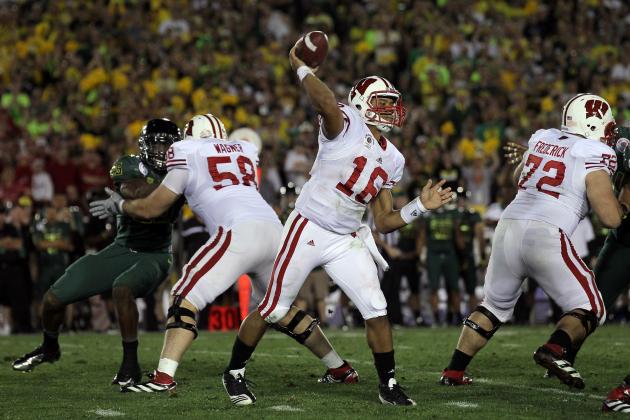 Stephen Dunn/Getty Images

I might take a little heat on this, given that Russell Wilson has appeared in one of my mock drafts.
Well, yeah, but I also put him in the seventh round, not the fourth.
The Lions absolutely do need a developmental quarterback in the fold, and Wilson could be that guy, but there are way, way better prospects to be had in the fourth round.
First of all, I'm not even sure Wilson is worth a fourth-round pick for a team that is actually interested in him as a possible eventual starter. But even if he was, I can't see the Lions springing for him in a middle round where they could get some players that might, you know, actually play for the Lions someday.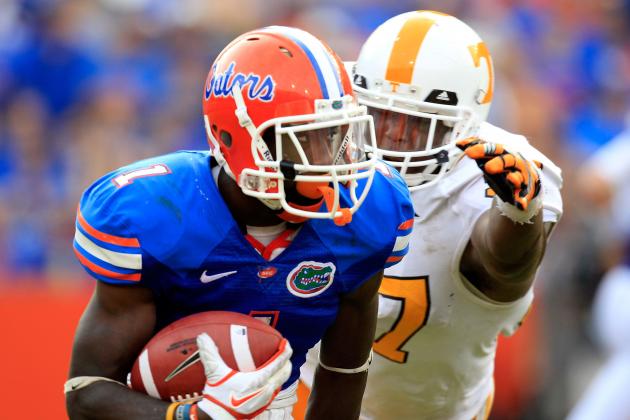 Sam Greenwood/Getty Images

If the Lions take Malik Jackson in the fifth round, it will actually be just about right for him.
He won't have to tumble on draft day, and he won't particularly be a steal. But I still like the pick because the Lions have had success with developmental defensive linemen (Sammie Lee Hill, Willie Young and even Lawrence Jackson as a first-round reclamation project).
Jackson seems like a logical choice for a team that simply can't get enough pass rushers. And although Kyle Vanden Bosch doesn't appear to be going anywhere this season, he's an annual health risk and not getting any younger. It wouldn't harm the Lions at all to start giving some thought to his future replacement.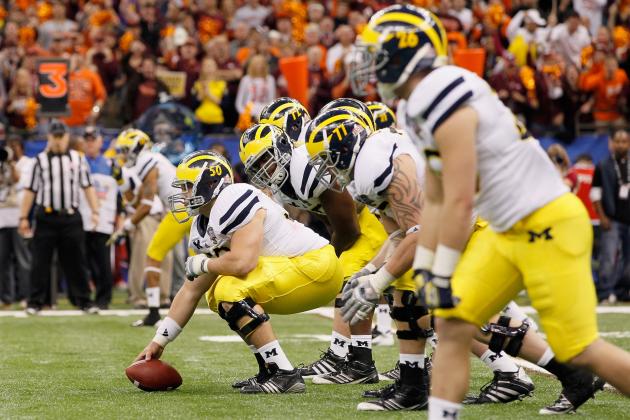 Kevin C. Cox/Getty Images

I know there is a lot of hype surrounding David Molk based on his exceptional combine performance (particularly the bench press), and there really isn't any such thing as a "worst case" scenario in the fifth round, I don't think.
But hear me out. Everybody complains about Dominic Raiola, and how he's undersized and overmatched against bigger defensive tackles and nose tackles, right? He doesn't generate much push in the run game?
Dominic Raiola, according to NFL.com, is listed at 6'1", 295 pounds.
At the combine, Molk impressed scouts by bulking up and gaining weight. He measured 6'1", 298 pounds.
Raiola has great upper body strength. Molk did 41 reps in the bench press.
Raiola is a good technician in pass protection but can get driven into the backfield. Molk doesn't give up sacks but is susceptible to the bull rush.
Are you starting to see what I'm saying here? Why would the Lions replace Dominic Raiola with a poor man's Dominic Raiola?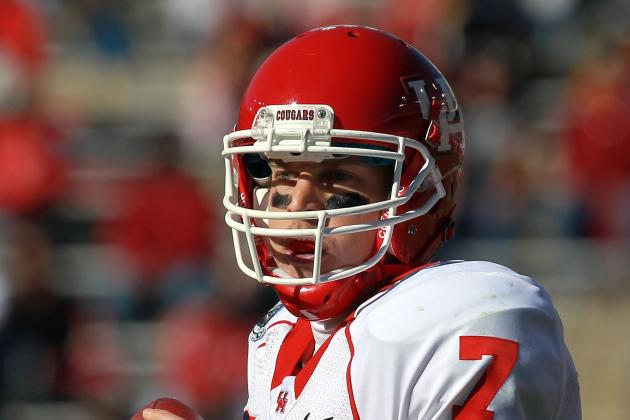 Ronald Martinez/Getty Images

Matt Miller made this call in his post-combine mock draft, except that he listed it as the Lions' sixth-round pick, and the Lions shouldn't have a sixth-round pick.
But I loved the pick as a sixth-rounder, so why wouldn't I love it as a seventh-rounder?
As I mentioned before, the Lions sorely need a young quarterback to develop on the roster, especially now that Drew Stanton is drawing interest from other teams. Keenum was productive in college, but isn't elite in much of anything except raw stats.
Still, Keenum has decent skills and the same kind of "me and my new team against the world" mentality Zack Follett had when he was drafted in the seventh round. In the seventh round, those intangibles are worth rolling the dice on.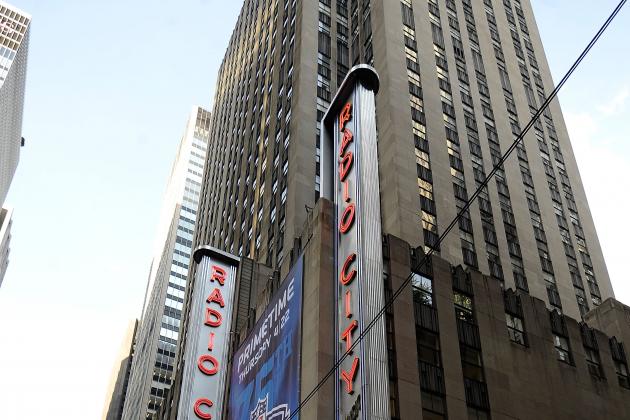 Jeff Zelevansky/Getty Images

Here's the thing. If you're shouting down an NFL general manager for picking a player in the seventh round of the draft who failed to make an impact, you probably just have anger issues.
The last player picked in the seventh round of the draft is called "Mr. Irrelevant" for a reason. Once in a while, players from the seventh round make an impact. But that's a bonus, not an expectation.
It's hard enough even for competent scouts and GMs to land impact players in the second and third rounds. We're talking about 200 picks later. The talent pool thins a bit at that point.
Ultimately, the worst case scenario on any of these picks is that the player busts and makes no impact on the team. But is there really any such thing as a seventh-round bust? That's like being disappointed that the TV you found next to the dumpster doesn't work.