Detroit Lions Free Agency: How Cliff Avril Franchise Tag Changes Everything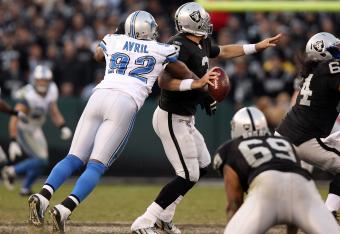 With the impact Cliff Avril's franchise tag will have on the team, $10.6 million had better buy a whole lot of strip-sacks.
Ezra Shaw/Getty Images
The NFL free agency period is set to start, right on time, this Tuesday at 4 p.m.
Free agency hasn't even started yet, but the Detroit Lions have already made some decisions which have pretty much determined the direction free agency will go for them.
Not the least of these decisions is using a very expensive franchise tag on star defensive end Cliff Avril.
With this move, which uses up most if not all of the Lions' remaining salary cap space, the Lions are looking at an extremely quiet free agency period.
Now, just to be clear, I don't expect Avril's $10.6 million franchise tag to actually count against the cap. I assume the Lions front office was merely using the tag to extend the amount of time they have to negotiate a new long-term deal with Avril.
Negotiating a new deal will help the Lions in the long run, but it does nothing at all for them right now, unless they plan on hammering out a new deal with Avril or Calvin Johnson between now and Tuesday. Right now, Avril accounts for $10.6 million, and that's going to be the case for most, if not all, of free agency.
That means the Lions will be invisible for the early part of free agency, even in retaining their own free agents.
That means Stephen Tulloch, possibly the best interior linebacker in this year's class, is hitting the market and listening to offers. Same with Eric Wright, Maurice Morris and possibly even Jeff Backus.
For that matter, at the time of publication, the Lions have not even extended restricted free-agent tender to DeAndre Levy, Corey Hilliard or Sammie Lee Hill. The Lions have until Tuesday to make a qualifying offer to those players if they want to keep them off the open market.
Hitting Cliff Avril with the franchise tag is...
I expect that to change in the next day or two, but the fact that the Lions have taken so long to tender players that are obviously important to the team shows just how carefully they're considering their financial options.
Of course, to say the Lions will be completely inactive in free agency is overstepping just a tad. There are two major phases to free agency. The first is the opening in March, or the period where teams with cap room go nuts on elite-tier free agents like Mario Williams and Cortland Finnegan.
The Lions won't be a part of that, and for good reason. For a team with half the salary cap tied into a handful of players, the last thing they need is to overpay for another one.
It's the second phase of free agency where the Lions are going to have their work cut out for them. The second phase comes after the draft in April, when teams start picking through what's left of the free-agent class on the lower tiers, to fill the spots that absolutely must be filled by the start of the season.
It's at this point that price tags start to come down as players stop worrying about their ideal offers and start worrying about finding a team for next season. As a result, it's at this point that the free-agent market is filled with square pegs toting clearance stickers.
It's also this point that the Lions should have a long-term deal in place for at least one of their one-year wonders (Avril or Johnson), a draft class in the fold and a much clearer idea of what they need for 2012 and what money they have to spend as a result.
It's likely that the Lions were always going to make the majority of their moves in the bargain bin of free agency, but the Lions' insistence to keep Avril (as well as Corey Williams and Nate Burleson) pretty much seals it.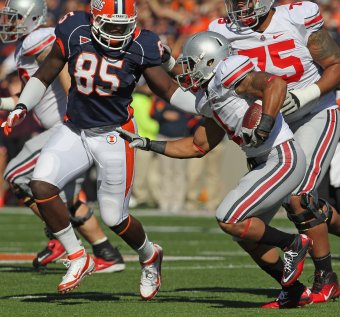 Jonathan Daniel/Getty Images
And it doesn't just change their free agency outlook. No matter what the Lions may say about drafting based on talent, not need, the chances the Lions look for a defensive end early in the draft just decreased dramatically.
Likewise, with the increased odds that the Lions lose Tulloch to free agency, there's a good chance the team gives a harder look to some of the linebacker prospects in this year's draft.
Of course, there's no guarantee of any of this. If I had to guarantee one thing for last year's draft, it would have been that the Lions would undoubtedly avoid either a quarterback or a defensive tackle in the first round.
I would have been a Nick Fairley away from hitting on that prediction, so I won't claim that there's no way the Lions spring for any position at any point in this draft.
Still, at least on the surface level, it appears the Lions have drastically changed the outcome of this offseason by giving Avril the franchise tag. And by extension, they have certainly changed the outcome of the 2012 regular season.
Whether they've changed it for better or worse remains to be seen.
This article is
What is the duplicate article?
Why is this article offensive?
Where is this article plagiarized from?
Why is this article poorly edited?

Detroit Lions: Like this team?