Baltimore Ravens: Zone Blocking Makes Impact on the Field and in the War Room
March 9, 2012

At the end of the 2010 season, Coach John Harbaugh and General Manager Ozzie Newsome made it known that creating a stronger running game in 2011 was a priority.  The numbers in 2011 showed improvement when compared to 2010.
During the 2010 season, the Baltimore Ravens ran for a total of 1,831 yards and 11 rushing touchdowns in 487 attempts.  They averaged a meager 3.8 yards per carry and 114 yards per game. 
The 2011 season produced better results, particularly in the yards per carry statistic.  In 459 attempts, Ray Rice and company rushed for a total of 1,996 yards and 15 rushing touchdowns, resulting in 4.3 yards per carry and 124.8 yards per game.
There are many differences between the two teams, and not just in personnel.  Baltimore changed how they blocked, and brought in players over a period of time to allow for that change. 
Gone are the prototypical big bruisers like Orlando Brown (may he rest in peace) and Edwin Mulitalo.  They have since been replaced with more athletic lineman such as Ben Grubbs, Marshall Yanda and Michael Oher.  Their center Matt Birk is known to be an intelligent finesse blocker.  Perhaps the one hold over from the "old guard" is Bryant McKinnie, but he was brought in to be a short-term solution.
The current type of personnel usually allows for better pass blocking, but sometimes suffer in run blocking when employing a traditional man blocking scheme.  With that in mind, the Ravens changed their blocking strategy and implemented a zone blocking scheme.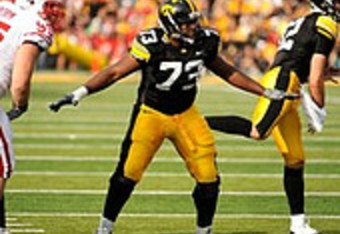 Man blocking is pretty self explanatory: Pick a man and block him.  Zone blocking is a little different. 
Like the name insinuates, linemen focus on a zone to block in, which is dictated by where the point of attack is and not necessarily where defensive linemen and blitzers are located.  If a lineman's zone is empty, he moves to the next zone, creating a double team, or they move to the second level. 
This scheme is very much so a team concept, which involves a lot of movement, athleticism and cohesiveness.  It is also an effective answer to teams with athletic defensive linemen and linebackers (the Steelers anyone?). 
Under this system, big immovable objects are not needed or desired.  Quick moving, agile linemen are almost a requirement to make the zone blocking scheme a success.
To improve on their running game and assist in implementing the new system, the Ravens signed Pro Bowl fullback Vontae Leach.  After being with the Houston Texans for four seasons, Leach was very familiar with zone blocking.
Entering the draft, the Ravens have needs along the offensive line. 
Center Matt Birk will forgo retirement for at least one more season, but the Ravens will most likely try to find his heir apparent in this year's draft.  If Ben Grubbs cannot be retained, the guard position will need to be addressed.  Although Bryant McKinney played well at times, a long-term solution at left tackle will also be on Ozzie Newsome's shopping list.
I asked ESPN's Kevin Weidl via Twitter what linemen in the upcoming draft best fit a zone blocking scheme.  According to Weidl, "Matt Kalil, Zebrie Sanders, Kevin Zeitler, and an underrated mid-round pick Adam Gettis from Iowa" are some linemen that could flourish in a zone blocking system.  All of these linemen come from zone blocking systems. 
It is safe to say that USC's Matt Kalil will be off the board when it is the Ravens' turn to draft.  The others could be available when it is Baltimore's pick, whether it is the first round or later in the draft. 
Florida State's Zebrie Sanders is considered one of the better tackles in the draft, but would probably be a reach in the first round.  If the Ravens had interest in Sanders, they would likely have to trade their first round pick to move down or trade up in the second round to get proper value. 
Zeitler is projected to go some time between the second and third round.  He is considered to be the third best guard in the draft by many experts, and could be a good value pick to replace Grubbs should he decide to leave. 
Iowa guard Adam Gettis' draft stock is rising after turning heads at the NFL combine, and he could be a steal in the later rounds. 
As for centers, many drafts link the Ravens and Wisconsin's Peter Konz, although I still maintain his combine performance is a bit of a concern.  Michigan's David Molk could be another excellent value in the mid to late rounds.
The Ravens' new blocking scheme appears to be effective, and they will most likely draft more linemen to stay in the zone.