2012 NFL Draft: University of Tennessee Running Back Tauren Poole Will Surprise
March 8, 2012

Kevin C. Cox/Getty Images
Tauren Poole, Running Back, University of Tennessee
Tauren Poole is a shifty, explosive running back out of the University of Tennessee.  At the combine in February he measured in at 5'9 ½" and 205 pounds.  Poole is a gifted running back and will be a threat in the passing game as he is very explosive and has a lot of burst in his game.  He played at Tennessee during a time of transition and his numbers suffered from it.
I had the opportunity of talking to him about his time at Tennessee.  He said that it was an incredible opportunity for him and he was glad that he had gotten it.  He said that his teammates were great and that he "wouldn't replace it for anything in the world."
When you go to Tennessee you're supposed to win, but the program is in transition.  During Poole's time at Tennessee wins were scarce but criticism was not.  He said that "criticism comes with the tradition of winning" but that being around guys like Arian Foster and Montario Hardesty was a great opportunity for him.  He takes pride in their success in the NFL.
There were three coaching staffs in his four years at Tennessee, and I asked him how difficult it was for him and the other guys on the team.  He said that it was difficult to try to find stability within the program and that he had four different position coaches in five different strength coaches at his time there and that "you can just imagine how unstable the program was."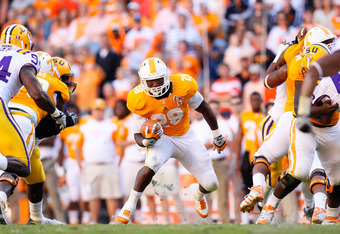 Kevin C. Cox/Getty Images
It was hard for him as he didn't know who to trust and that "it was hard for a coach to bring in their philosophy and hard to get players that fit their system in" and that it was difficult "going coach to coach to coach."  He said that "Coach Derek Dooley is going into his third year and he is going to do a good job in terms of getting his players" and that "things are looking up at Tennessee."
We talked about adversity and how through adversity there is opportunity for growth and learning.  When I asked him what his biggest lesson was he said "that no matter what life goes on" and "you just have to continue to move forward and work hard."  He talked about his work ethic and how we never stop working hard no matter the circumstances.
Everybody wants to know what it's like to play in the SEC.  I asked him what it was like playing the SEC on a weekly basis from a running back's perspective.  "It's fast and it's physical.  It's hard because it isn't just big guys, they are fast guys" and "as a running back you try to make only one cut because you're going get caught or killed." 
He talked about the vision necessary and having to prepare to have everything right to be able to play in the SEC and survive.  He mentioned that "football is football and you can't disrespect any other conference but the SEC is a whole different monster."
We turned our focus to the future.  We talked about the NFL and we talked about the things that he could offer to an NFL team.  He said that he would do "whatever they want, whether it's at running back or on special teams" and that he was very unselfish and that he would be happy to fill whatever role they wanted him to fill and that's how he had been his entire career.
He talked about how he has been compared to Ray Rice because of his running style, the way he moves his feet, his vision and quickness.  He said that things that Rice does without the ball in his hands are things that he can do.  Things like pass protection and catching the ball out of the backfield.
Watching him play he looks very natural in the passing game, whether it's picking up the blitz in pass protection or catching the ball out of the backfield.  I asked him if this was natural or something he had to work on.  He said that he really has to work at and that his mentality "is not to come off the field and that's how I play and I take pride in pass protection." 
He laughed and talked about how a little guy like him can get run over so he has to be very physical in pass protection and they does take pride in it and he works at it.  He said that he has "learned that if you can't pass protect or if you can catch the ball out of the backfield and you aren't going to play much."
He told me they wanted the fans to know that he would be "loyal to the organization and give his all every time they played" and "they are going to get a guy who's going to work hard and be dedicated to bringing value to the team and to the organization."
Tauren Poole is a bit of an unknown because of the struggles at the University of Tennessee.  Make no mistake, he is a very talented running back, and in the right situation he can be very productive.  In his own words, he's going to work very hard to take advantage of any opportunity he gets.
Scott Bischoff is a Contributor for Bleacher Report. Unless otherwise noted, all quotes were obtained first-hand or from official interview materials.