Pro Day Tracker: 2012 NFL Draft News from Alabama, USC, and Texas A&M's Pro Days
March 8, 2012

Chris Graythen/Getty Images
Big time programs Alabama, Wisconsin and USC had their pro days today, along with Texas A&M among others, and there was no lack of draft news around the country.
In Tuscaloosa, OLB/DE Courtney Upshaw joined injured teammates S Mark Barron and RB Trent Richardson on the sidelines because of knee tendinitis per CBSSports Rob Rang, and Packer Report said that they were told that "scouts (were) not happy with Upshaw's non-workout."
SI.com's Tony Pauline was on top of all things pro day related as always, and he reported on those that did take part in the workout. According to Pauline, potential first-round ILB Dont'a Hightower "showed some stiffness changing direction and was not quick in coverage drills." Pauline also criticized Hightower's burst out of his "mechanical and ford" backpedal. Pittsburgh Steelers GM Kevin Colbert was in attendance (along with Tennessee Titans GM Ruston Webster), so you have to wonder if he is thinking twice about using the team's first-round pick on Hightower.
Pauline raved about Crimson Tide LB Jerrell Harris:
Harris measured 6-2 1/2 and 241 pounds. He cracked 4.6 seconds on a number of stopwatches and tapped 35 inches on the vertical jump. During drills, Harris looked quick, athletic and fast. He easily changed direction and showed lateral speed in coverage drills. With his size and speed, Harris can line up at a number of outside linebacker positions in the NFL.
Crimson Tide nose tackle Josh Chapman is still sidelined with an ACL tear, but he did do 29 reps of 225 pounds on the bench press. ACL tears aren't as big an issue with nose tackles as with other positions, so he should still be a second day pick as one of the few true 3-4 nose tackles in the draft.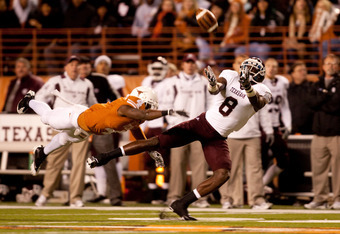 Darren Carroll/Getty Images
Pauline had sources in College Station, where Texas A&M's pro day was held. He reported a 4.53 40 time for Jeff Fuller, which is excellent for a 6'3 1/2" 224 lb receiver. Pauline added that Fuller "looked solid in pass-catching drills and looked comfortable running routes", but he'll have to overcome some poor game tape to get into the draft's second day.
Interestingly, NFL.com's Gil Brandt reported that some think Fuller should add weight and covert to tight end. Brandt also reported that RB Cyrus Gray caught the ball well in drills, but underperformed in the three cone and short shuttle because he wasn't wearing the right shoes. Brandt still has him in the third or fourth round.
At USC's pro day tackle Matt Kalil and defensive prospect Nick Perry did nothing more than positional drills, according to CBSSports Rob Rang. Rang also reported on medical drama with DT DaJohn Harris, who revealed that he did not work out at the combine because of a heart defect called "patent foramen ovale," discovered by a Cleveland Browns doctor, and with DT Armond Armstead, who was not allowed to work out because of liability issues related to an unspecified medical condition. Former Trojan defensive back standouts Cary Harris, Josh Pinkard and Kevin Ellison did work out, as they try to keep their NFL dreams alive.
Madison, Wisconsin had one very important Wisconsite in attendance as Cheesehead TV's Brian Carriveau reported that Packers GM Ted Thompson was there for Wisconsin's pro day. Carriveau also told me that top-rated draft center Peter Konz did not work out due to injury, but also gave me a scoop that OG Kevin Zeitler was taken aside and given some reps as a center by the Kansas City Chiefs. WR Nick Toon ran his 40 at the pro day, and Pauline reported that his time was in the low 4.5s.