Anthony Spencer: How Franchise Tag Could Help and Hurt Dallas Cowboys
March 7, 2012

Chris Graythen/Getty Images
Despite the fact that this story is no longer breaking news, I can't help but ponder the most visible act by the Dallas Cowboys so far this offseason.
By placing the franchise tag on outside linebacker Anthony Spencer on Monday, the speculation now moves up a few notches as the first indicator arrives following the NFL Scouting Combine in Indianapolis last month. I think this move could go either way and it has to be treated as one of several moves the Cowboys will make.
On the plus side, Spencer is a very solid player and excels in run support. The knock on Spencer is obviously his sack production. His six sacks in 2011 were good for second on the team behind
the 19.5 posted by DeMarcus Ware.
On the down side, there's Spencer's career total of 21.5 sacks since being chosen in the first round of the 2007 NFL Draft.
The Cowboys have reason to believe, as any Dallas fan does, that there is more to gain from Spencer. Since becoming a starter in 2009, the former defensive end from Purdue has never had fewer than five sacks and twice has tallied six.

If nothing else, Spencer has been consistent and his career total of 364 tackles offer further proof of this fact. It's important to remember that former outside linebacker and defensive end Greg Ellis really limited Spencer's playing time his first two seasons.
It is very seldom that the franchise tag gives the team using it very good value. Many will feel that paying Spencer $8.8 million this coming season is far too much for a player of his caliber and I say that time will tell whether or not this move pans out.

Having limited history using this collective bargaining tool, Dallas used this option in 2002 on offensive tackle Flozell Adams and again in 2008 on safety Ken Hamlin. Neither of those previous teams even made the playoffs.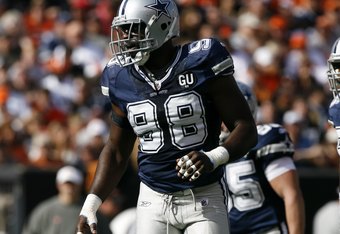 Kevin C. Cox/Getty Images
Without a crystal ball to gaze into, we can speculate all day long about how Spencer's future will play out in the near future. But there's a few things we are beginning to learn about the 2012 Dallas Cowboys.
By franchising Spencer, we know a couple of things that I find a bit troubling.
This likely means that the Cowboys will not place too much attention on pass rushing personnel in the first round of the 2012 NFL Draft in April.

So if you're a fan of players like Courtney Upshaw of Alabama, Whitney Mercilus of Illinois or Melvin Ingram of South Carolina, you might dial down the enthusiasm for now. First-round pass rushers, be it ends or linebackers, have a very high bust rate, and apparently the Cowboys have no interest in making this position or function their top priority in the draft.
With Ware capable of 20-plus sacks per year, I can see the logic here.
If we switch over to free agency, which is set to begin in less than a week, we can probably assume that Houston Texans star Mario Williams will not wear a bigger blue star on his helmet in the future, at least not unless Dallas wanted to play him at defensive end opposite Jay Ratliff—we'll keep an eye on this possibility.
Yes, Spencer is capable of 10 sacks in a season. The reality is that other areas of this defense really have to be improved before this defense begins to reverse its reputation as being either soft or simply not that good.
In other words, get bigger and stronger on the defensive line and inject some youth and good talent in the secondary, and I include safety here, and Dallas could be surprisingly good in a very short time.
Can Spencer a play a part in this turnaround?
Yes.
Will Spencer play a long-term role?
Maybe.
We do know that Spencer will have at least one more season before the Cowboys determine whether or not to make a long-term commitment to their productive five-year veteran.