Are the New Orleans Saints Not the Only Cheaters in the NFL?
Sean Gardner/Getty Images

Unless you've been living under a rock the past few weeks, you know about the Saints apparent "bounty" allegations. Rumored bounty options were given to players for cash rewards if they hurt opponents—$1000 for a knockout and $1,500 for a cart-off. But were they the only teams doing this or should they be the only team to investigate? Commissioner Roger Goodell is looking out for the safety of the players right?
Begin Slideshow

»
Looks like someone was getting paid for this hit.
"Steve Breaston out with a knee injury". -So lets take out his replacement too???
Ricky Williams is old, they put him out easily.
I think the Jags thought they were the ones that were supposed to get paid. Weird.
Harrison "knocks out" everyone as usual.
"Ward picking off Raven's DB's all night," said the announcer.
Ward began pointing down to Reed after the hit. Was he alerting the Ravens to send help or was he point out the fact that he took out a player on the bounty list? See how easy this is?
Saints star running back Pierre Thomas "Knocked out" on first drive of the playoffs at the goalline.
Another team obviously paid to take out Brett Favre. What a shame.
Harrison must be "ballin'"!!!
So was Reggie Bush really fragile or was he just a victim of massive bounties week to week??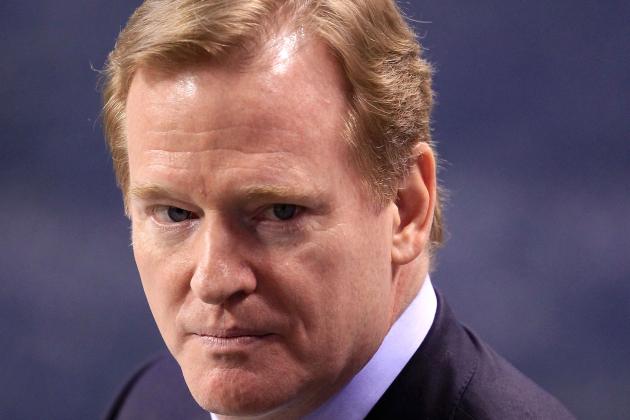 Chris Trotman/Getty Images

If you've missed my point so far, then you might want to crawl under a rock like the rest. This entire thing is ridiculous. $1,500 to injure someone to risk a $10,000 to $20,000 fine just doesn't add up. I know some of the guys aren't the brightest stars in the sky but it just makes no sense. The Saints have trouble tackling moving targets to begin with, much less injure someone. How many Saints players have been fined for illegal hits versus the rest of the league since 2009 or versus their own players for that matter?
I'm for safety of the game, but I'm more for letting the players play. They don't need babysitters or their mothers on the sideline. They're grown men. They made a decision to play and to play at their own risk.
How is it when a Saints player makes a good play it's a bounty? A measly $1,500 bounty at that. And everyone else gets the excuses of "The rules are for pansies" and "He was just being aggressive".
My slides would have had to total over a 100 just to show the non-Saints hits on players that were injured. Before jumping on the bandwagon and trying to drag a team down or pile on more useless garbage, sit back think about what I've just said. Ravens, 49ers, Jets, Lions, and especially the Steelers have shown more intent to harm players than any team in the league.
Not a word has been said about them. On top of that, the players that the Saints were supposedly trying to harm never left the game or only left for a down or two, while when Saints players left for the game, missed multiple games or remainder of the season.
Let's just play football guys. Can we? The monetary value of the plays vs punishment, using simple math just doesn't add up. The so-called visual evidence just doesn't add up. Don't punish these guys because some unhappy player decided to stir things up after the coach left. Now every time the Saints make an aggressive play people will scream bounty.
Obviously, every time a play is injured it's going to be considered intentional from now on. And they wonder why so many QB's threw for 5,000 yards last season. PLAYERS ARE AFRAID TO PLAY!!!